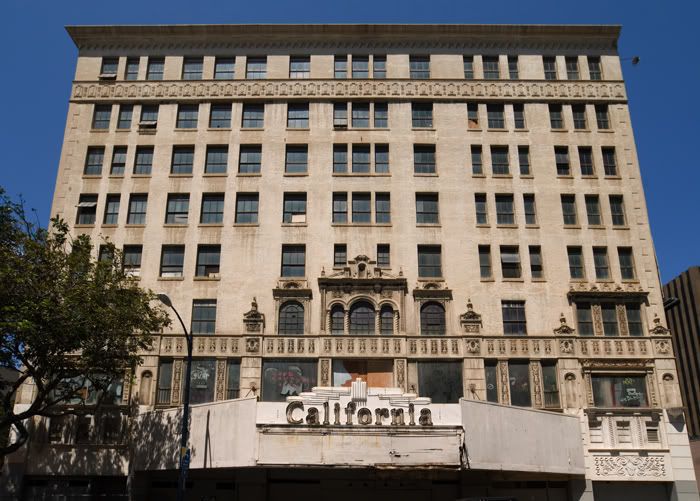 Two old grand movie palaces survive in San Diego. Happily the Balboa in Gaslamp has been returned to her former glory after decades arduous effort to gain preservation. Sadly The California sits in utter dilapidation. In the words of an urban poet: "She's a wounded survivor, limping but displaying her teeth."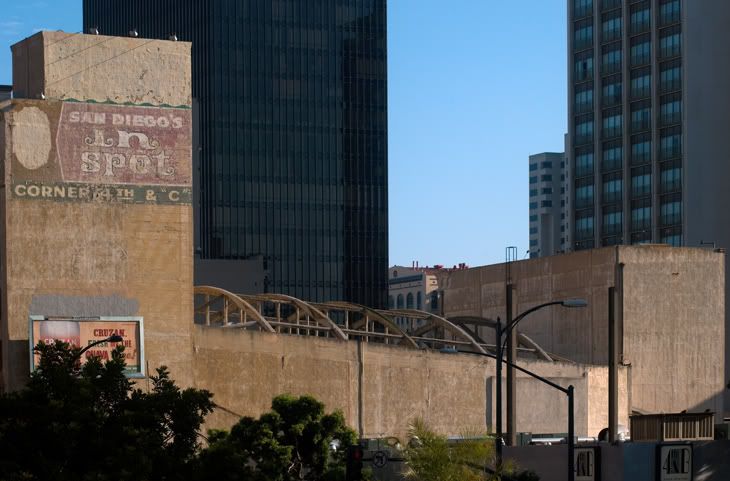 Showing its teeth, or from this view, showing its bones–the bow string truss. Likely the truss wasn't visible before an adjacent building was razed.
The "In Spot" ad is painted on the theatre entrance and office tower along Fourth Avenue. That portion is nine stories high. The auditorum stands nearly five stories high and contains 2,200 seats. The proscenium area facing third avenue is six stories high.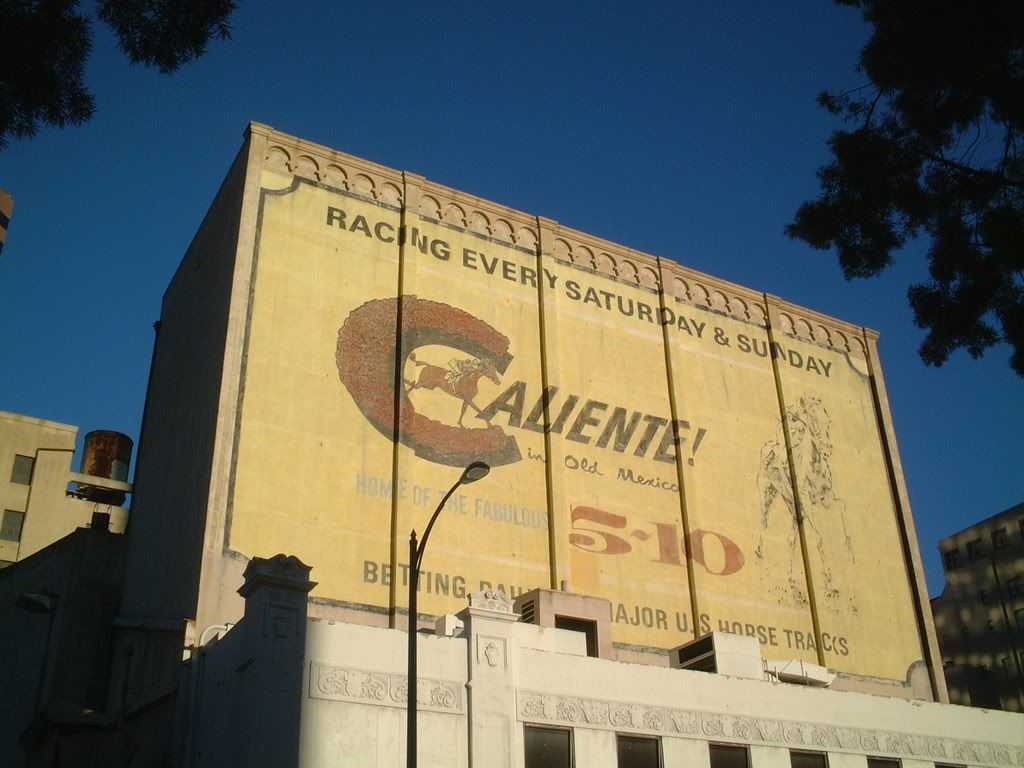 I don't recall a time in my life when this Caliente billboard wasn't on the back side of the proscenium structure. Certainly the movie palace alone represents a by gone era. But so do these advertisements, the "In Spot," and the Caliente horse racing ads. There was a dog racing ad too.
The Caliente dog racing advertisement was painted over. However, a bit still shows through. The race dogs used to chase "'Pepito,' the mechanical bunny." The sport fell out of favor after revelations of inhumane treatment received a lot of press.
Details of the Spanish Colonial Revival ornament.
Upon opening in 1927 the California was celebrated as "the cathedral of the motion picture" and "an enduring contribution to the artistic beauty of the entire Southland"
Cracked and broken but still holding strong. Waiting for a developer with a heart, not just a lust for making a buck.
At its grand opening on April 22, 1927, the theatre presented Constance Talmadge and Antonio Moreno in "The Venus of Venice", Fanchon and Marco's "Book ideas."
The movies I saw here included several James Bond pictures. I remember seeing a Mel Brooks double feature of The Producers and Blazing Saddles. The California went dark as a movie theatre in 1976.
In 1978 an arson fire destroyed the Old Globe Theater in Balboa Park. The California became the temporary Old Globe Theater during reconstruction.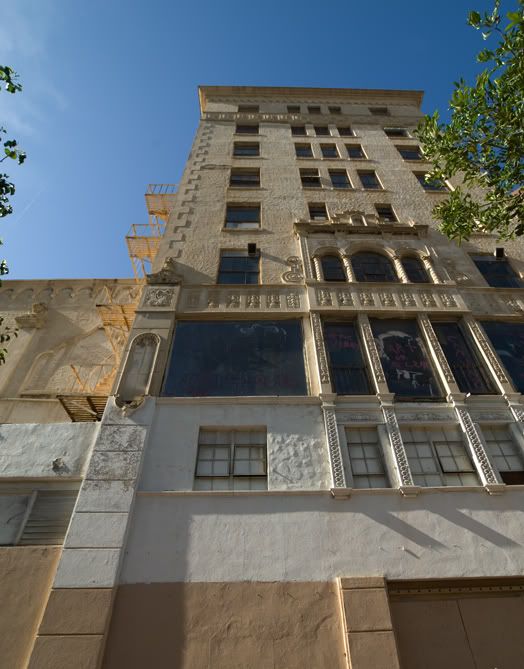 The interior was decorated in gold leaf and murals. The side walls of the auditorium were inspired by a Spanish church. A huge Wurlitzer organ was also a proud asset. Things were looking up for the California in 1988. A lot of fixing up went on.
It was about that time I saw a concert there. English Beat was the band.
The California's run as a concert venue was short lived. By 1990 it was slated for demolition. However, the wrecking ball has yet to arrive.
In the mean time it suffers demolition by neglect. Each passing year makes it more impossible for the "beast" to be a beauty ever again. But we can hope for a reverse of fortune.
Historic Photos
"Open All Night" The California in the 1940s