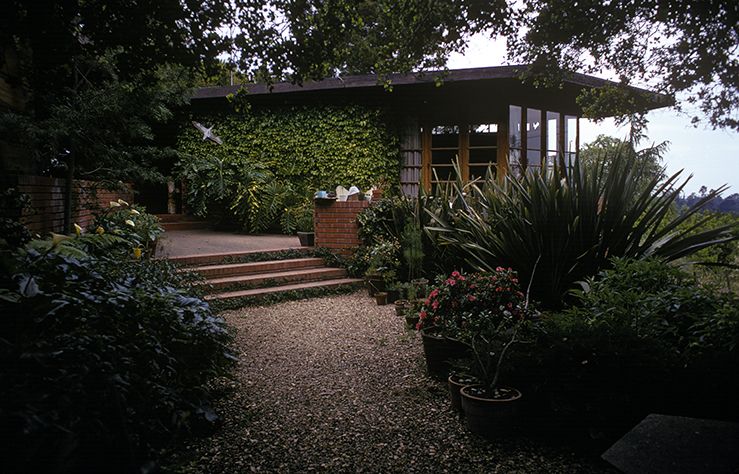 I surveyed a number of Northern California Frank Lloyd Wright structures in April of 1971. One of my favorites is the Bazett House in Hillsborough, 1939. It is one of Wright's finest "Usonian" houses. This is a category of house characterized by reduced building cost via simplified design.
Wright's Usonia doctrine includes flat roofs. "Visible roofs are expensive and unnecessary."
Carport instead of garage. Slab foundation–no basement. Simplified plumbing. Radiant heating.
This house was designed with a hexagonal grid or layout. Note the playful pattern this creates with the glass living room wall. Wright loved blending where exterior space ends and interior space begins. It is a common trait for the Usonian houses to be wide open toward the garden, but closed and private on the side facing the street. That closed side was often butted up along the street to maximize garden space and vista at the open side.
Wright utilized a cost efficient wall system known as "Board and Batton."
"It is possible to build the inside and outside of the house in one operation," Said Wright.
The system consisted of a plywood core with a moisture-proof membrane. Finished horizontal bands of wood were placed over the core inside and out, secured by screws.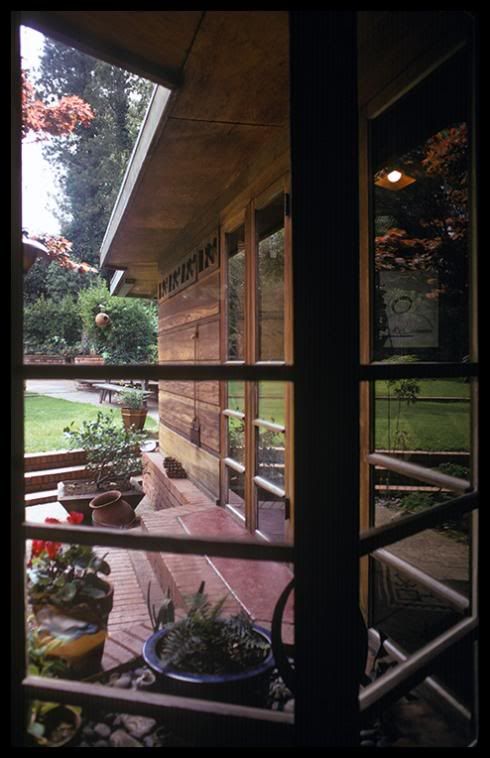 Wright's Usonian houses were not large. The most generous amount of space was devoted to the living area. The kitchen was galley like. Modest bathrooms. The Bazett House is 1,480 square feet.
The building was over budget. $7,000 was the allocation but projected costs were nearly $12,000. Yet the Bazetts by all accounts were enthusiastic owners.
Many of Wright's over runs have been highlighted and widely publicized.
However Architect Bob Green, once an apprentice to Wright, offers some perspective on the subject.
"..It was said that all of the buildings of Frank Lloyd Wright leaked, and all were over budget. Not true! He did many houses for teachers, college professors and people not highly paid and who did not have the money for the building to be much over budget. And as far as leaking roofs: maintenance must be done on buildings–as well as cars–or in time neither will not work very well."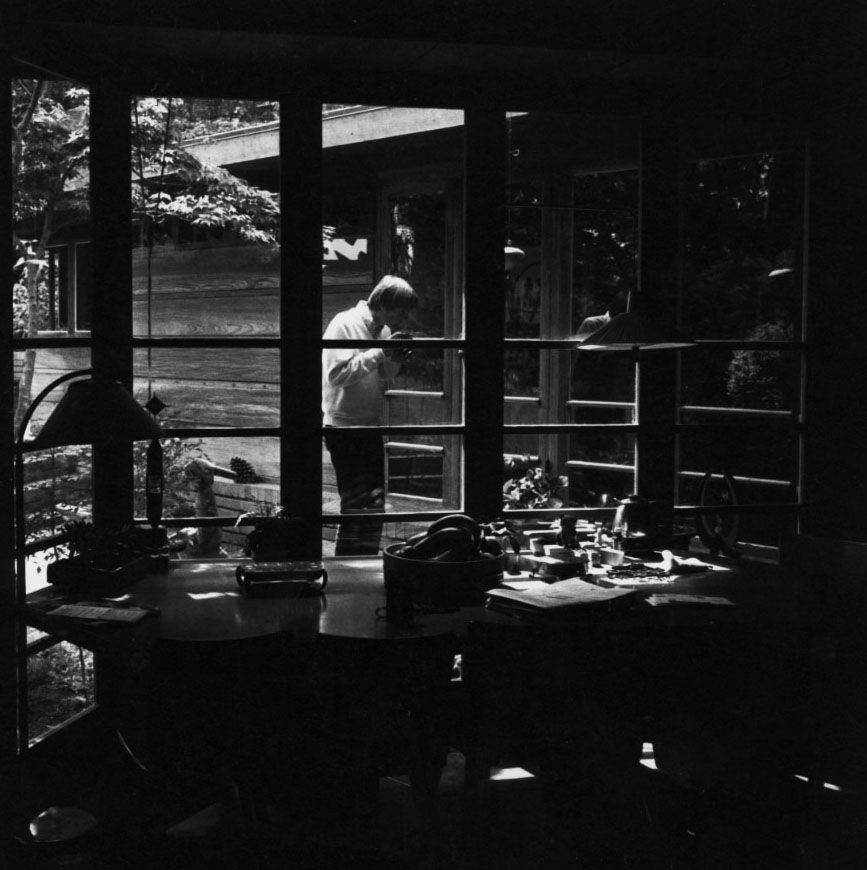 Sadly there was trauma for the Bazetts. The birth of a still born child. After only two years of residence, they moved out and lived separate lives.
The residents I spoke with were the second owners of this property. They were kind enough to talk about their life in a Frank Lloyd Wright house and allow me to take these photographs.
They said living in this house is a perpetual source of fascination. Every day brings some new light, pattern, glow, shadow or reflection they hadn't seen before. From morning to night. From Winter to Summer. "The house always delights us with surprise and wonder. It is uplifting to live in this beautiful space. We're as thrilled now as the day we moved in."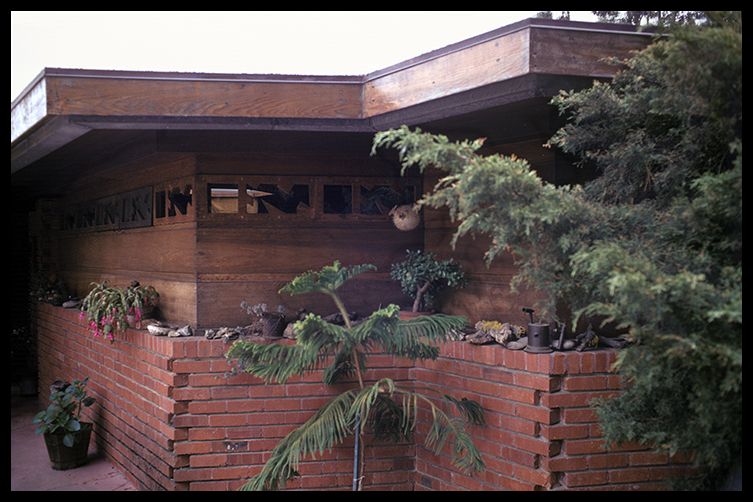 The closed side of the house facing the street. The purpose of the patterned cut out window design is mainly decorative and for interior lighting effect.
The owner's story I enjoyed most was about waking up early one Sunday morning to the sound of "squeak, squeak, squeak." They went to look and viewed the unmistakable low brim hat, the flowing cape, walking cane hooked over an arm, and dapper attire of non other than Frank Lloyd Wright as he stood outside cleaning windows with his handkerchief.
Many a Wright owner I've spoken with had similar stories. Wright showing up with an object of art and knowing exactly where he wanted it placed. Wright coming in an moving furniture around, arranging things.
He liked to say his favorite design was "always the next." It seems these unexpected appearances indicates he also he had old favorites as well.