Part 3 of My Family Story, Marstrand, Sweden. Gunild returns home to Marstrand. Her Mother is ailing.
The journey began somewhere around the first week of May 1938. The first leg was a Greyhound bus trip from Los Angeles to New York City.
"I don't remember much about the trip on the bus, except my mother's ankles were swollen, and I was sort of bored. Mother tried to keep me occupied and still by reading stories to me. I made faces at the passengers," recalls Greta.
1938 Vintage Greyhound Buses and the common Post Houses and Stations
"The food at the places we stopped to eat was not very good. We were on a budget so my mother didn't buy very much to eat for herself."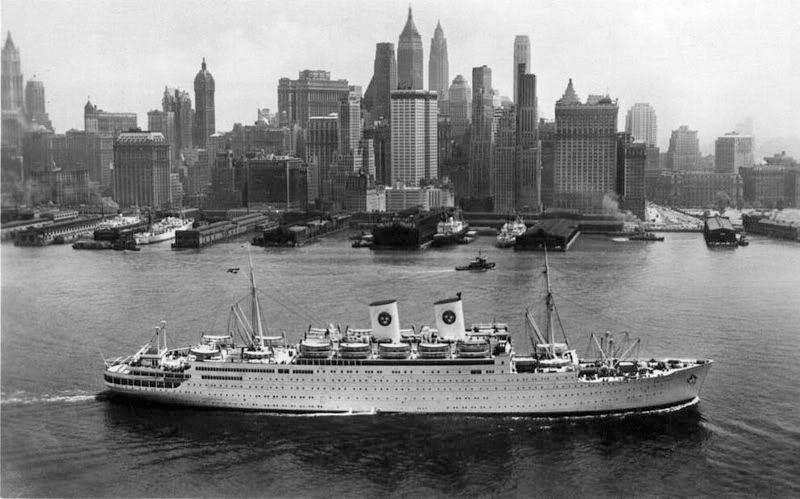 "We finally reached the Swedish American Line, the ship, M.S. Gripsholm. I spent the first few days exploring the ship and engaging the captain and passengers."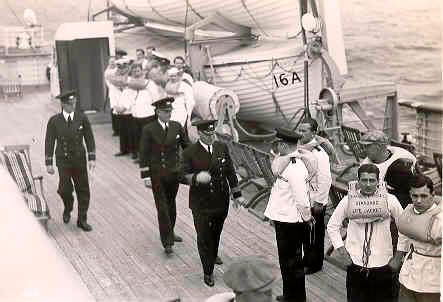 Gripsholm lifeboat drill.
"During the trip there were lots of seasick people, but we were fine."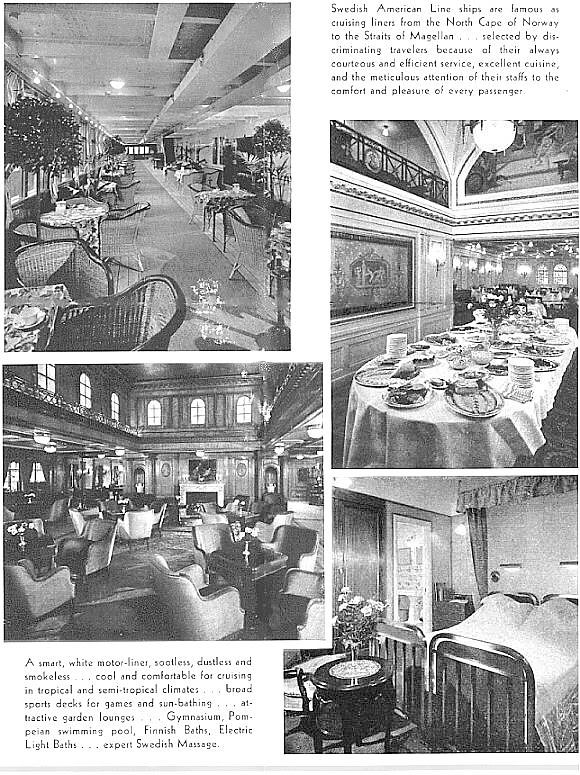 Gripsholm sales brochure–the First Class view. Gunhild and Greta had Economy Class, but still enjoyed pleasant accommodation.
"Life at sea seemed to agree with us. We never missed a meal and the food was quite good. Lots of ice cream. There was a large padded play area. All closed in and 'safe.' There were swings and slides and games to play. I remember playing here with children my age while my mother visited with new friends she made.
"There were also concerts and shows every day. Puppet shows and dances."
Likely not as many white coats, as seen here, for celebrations in Economy Class. All photos, 1938 Gripsholm.
"When we crossed the International Date Line there was a huge celebration."
"There were 274 passengers on board this trip. When we reached Halifax we had fog for four days and four nights. The fog horn blew every 30 seconds. It sounded sort of spooky and lonely."
Gripsholm Skipper

"Our skillful Captain didn't leave the bridge day or night as we had to travel very slowly. We didn't see land or even another boat for seven days. When we came near Scotland we had 24 hours of wind. It wasn't until we sighted Norway that we saw the sun for the first time that whole day. We saw at least four ice burgs which they said made the weather so cold.
"I can't remember how long the trip took, but I know we arrived at Goteborg, Sweden at eleven P.M. July 10, 1938. We were told we could disembark or remain on board for the night. We decided to sleep on board and have breakfast in the morning before disembarking to connect with our ferry to Marstrand. We arrived there at One P.M., July 11, 1938. We were very tired from the long journey."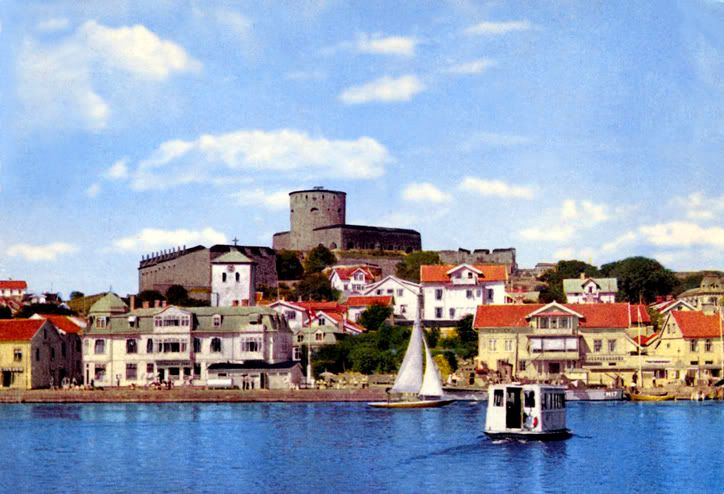 Marstrand, 1938 Postcard

As Greta looked around to take in the unfamiliar sights, she suddenly found herself lifted into the air and looking down into the blue eyes of a smiling handsome older gentleman. She thought he looked a lot like Bill.
"This is your grandfather," said Gunhild. They looked around. "Where is grandmother?"
Alma came along the wharf slowly and appeared frail. So many years had passed; she was slow to recognize Gunhild. Once the reality of reunion set in, it was a most happy occasion. They looked for a horse and wagon that was arranged for. Alma tired easily, though. During the wait she closed her eyes.
Gunhild explained to Greta how sick Alma had been. And how the death of Alma's son–Gunhild's brother, Algot–was a wound in her heart she never recovered from.
"Uncle Algot"
Algot Fredrik Palm was a career sea captain. An accident at sea claimed his ship. He managed to pull everyone off the sinking vessel. But was unable to save himself. This tragic event left Alma with a sadness in her eyes. An oldness in her face. A smile that was never seen again.
As Gunhild, Greta, August and Alma rode the horse drawn wagon to the walkway of the house, Alma began a narrative that would take hours and days to complete. All the news of the past 15 years on Marstrand.
Some men unloaded and carried the trunk up the winding pathway to the house. The family followed. Alma breathing heavily with each step to the top.
Gunhild, at the window center. Greta, far right
The 1938 August Palm residence had the highest perch of any house on the island. The house was encircled by a gravel walkway. The stairs, as seen here, lead to a large porch or veranda. Highly ornate "gingerbread" cut outs were above and to the side of the veranda.
The house retains a spectacular total peripheral view of Marstrand's northern harbor entrance and bay.

Marstrand Flowers
A flower garden was to the side and to the back. Large multi color poppies. Lilacs with an intoxicating aroma. White, lavender, and purple blossoms hung down from an overhead lattice.
Gunhild utilized a productive herb garden for her kitchen genius. Parsley, chives, rosemary, dill and basil. A gooseberry bush was used by her to render delicious puddings and pies. The same was true of the rhubarb patch.
.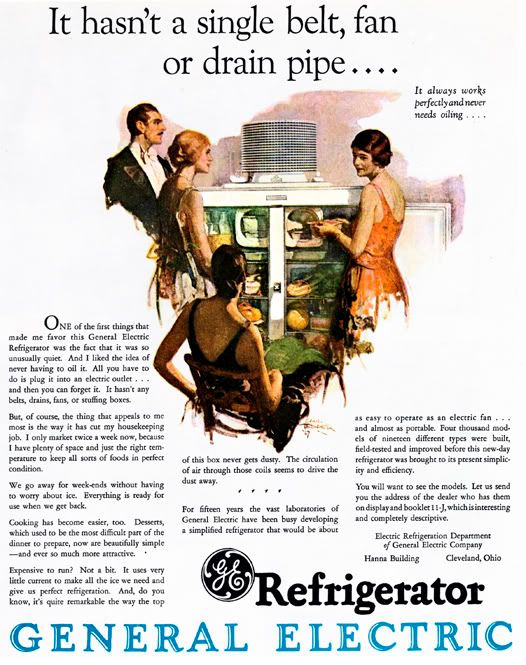 .
The above advertisement boasts 15 years of developing and selling refrigerators. These units were common place in Los Angeles homes well before 1938. But Marstrand was still catching up.
"We didn't have a refrigerator, so cold stuffs had to be kept in the cellar below the house through a door from the back porch off the kitchen. It was carved out of the rock under the house and resembled a cave.
"There was no indoor plumbing to speak of. On the left side of the house, from the front, was the 'outhouse.' It wasn't really 'out,' it was located on the side slightly under the house. When it snowed, or was too cold to go outside, we used the old fashioned chamber pots.
"Bathing in the winter consisted of heating water and filling a large metal tub in the kitchen. Thus we did not fully bathe every day. We took sponge baths.
"In each bedroom there was a stand which contained a bowl and pitcher on top and a chamber pot below. I admired the pretty flowers and designs which decorated the porcelain.
"Everyday, while we were there, my mother filled all the pitchers on the washstands with water so that we could wash our hands and face in the morning and whenever I got dirty. We poured water in the large basin and after washing we could brush our teeth. Soft water came from a rain barrel positioned under a rain spout from the roof. This was used for washing hair–it seemed to make it soft and silky. All this was certainly very different from back home, but I thought of it as a great adventure.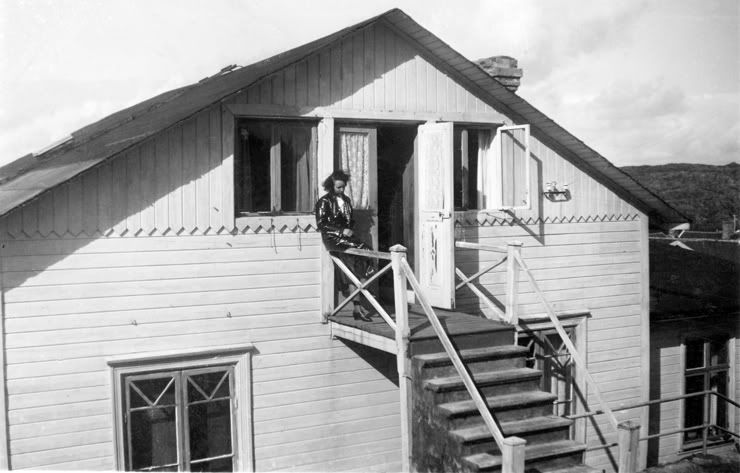 Back View, August Palm Residence. Unidentified guest or friend.
"There were many rooms in this large house and in the summer they were rented out to tourists. When we arrived that July, 1938 the house was full. Mother and I shared a room."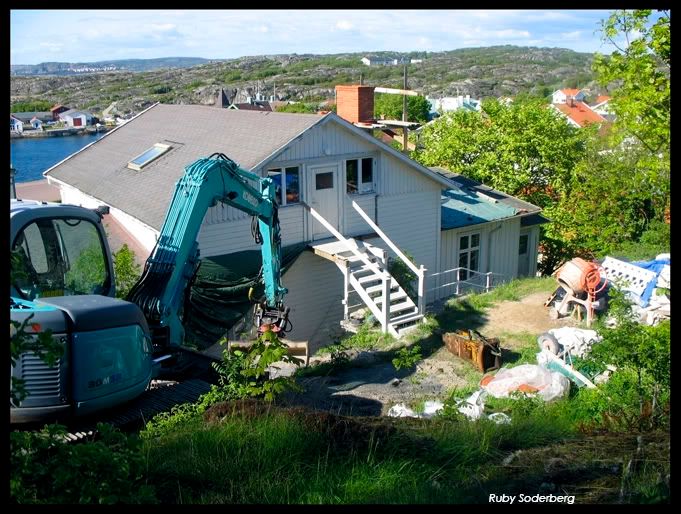 A backhoe is poised for re sculpting the back yard. Construction matter occupies the former herb and flower garden. Only ghost rhubarb and gooseberry plants remain. I wonder if the breeze ever echoes phantom huffs of Greta's friend, the wily bull. (read below).
Greta helped with water pump duty. The only plumbing in the house was an old metal water pump attached to a wooden kitchen sink.
"Sometimes I helped out when the guests were there. When Mama cooked in the kitchen, and busy preparing food at the sink, guests frequently ran out of water for the pitchers on the washstands. Since mama worked by the pump I didn't want to disturb her. So I surprised her by running over to the back of nearby Carlstens Fortress with a bucket to fetch water. This pump was hard for me to operate, but eventually I was able to fill a bucket with the cool fresh water it produced.
"Unfortunately there was a large angry bull who hung out thereabouts and hated me with a vengeance. He often saw me walking with a full bucket and charged at me like a locomotive. I ran for my life and spilled the bucket's contents as I ran. I learned to watch for him and bide my time until he was fast asleep standing in the warm sun–he slept very well on his feet. Sometimes when I ran from him, I slipped on a 'cow paddie.' I fell flat on my face and got manure in my hair and on my clothes. My how that stuff was slippery! He never quite reached me, though. I managed to elude him every time. I wonder now if it was only a game with him. That he didn't really want to catch me, but only terrify me. I'm sure he could have trampled me if he wanted to. I was certain he smiled wickedly at me every time I came into his sight."
Next Chapter: Of Boats, Fish Tales, and Pigeons.