As mentioned in my previous entry on Ljubljana, the Slovenian architect Jože Plečnik was a student of the Austrian architect Otto Wagner (1841-1918).
Wagner produced not only fine buildings but urban plans as well. In 1890 he produced a new city plan for Vienna. The ambitious work, however, only materialized in one phase. The Stadtbahn, Vienna's urban rail network. The stations he designed are still in use today. Functional as ever; beautiful to look at.
The Karlsplatz Stadtbahn Station is the most recognized and iconic jewel of the system.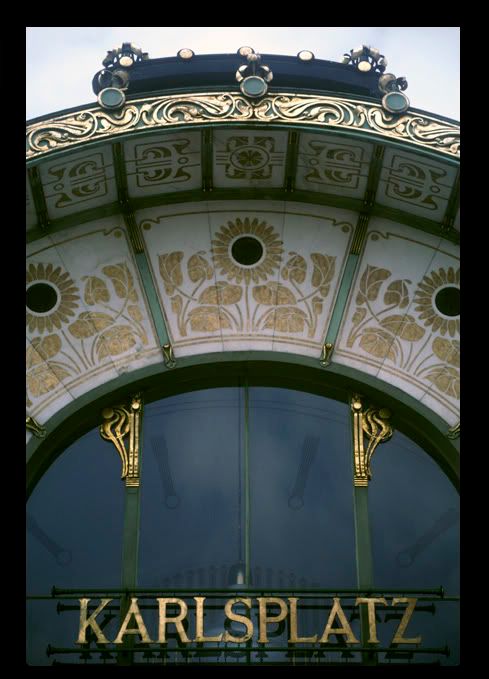 Karlsplatz Studtbahn Station (1894-1902) Detail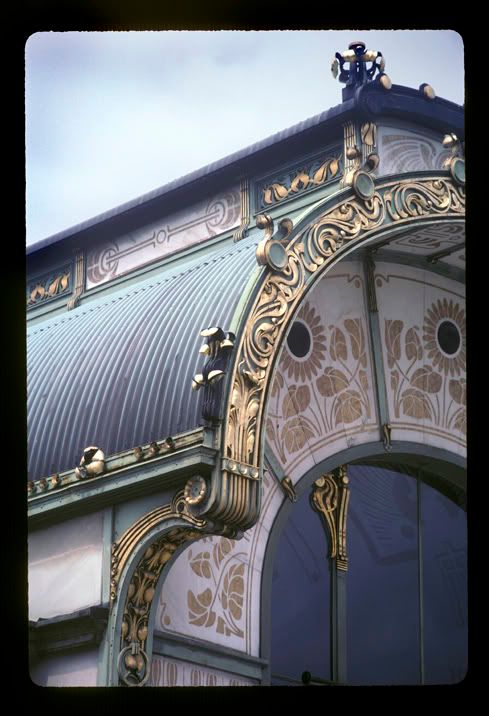 Karlsplatz, detail
Karlsplatz, detail
In 1897 Wagner co-founded the Vienna Sucessionsts, a group of designers, architects and artists dedicated to a new modernity of design. Pure, simple functional lines. New materials and new forms with a strong tendency to naturalistic motifs. Art Nouveau architect Josef Hoffman was also in this group along with designer Kolomon Moser, and painter Gustav Klimt.
Here is the Majolikahouse Wagner designed and built, 1898-1899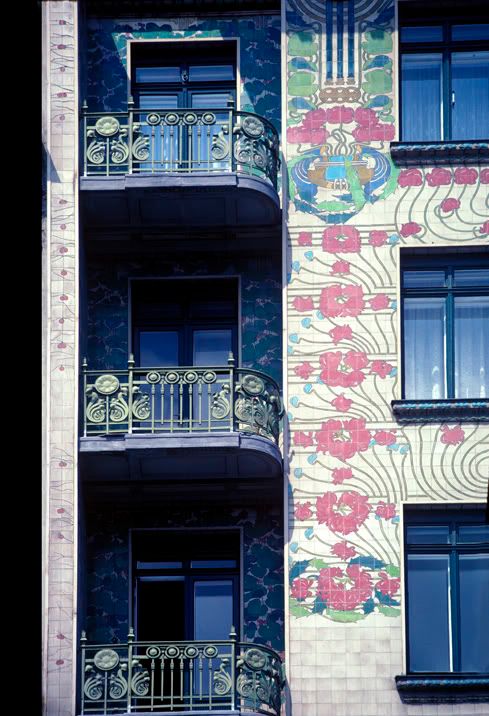 Majolikahouse, balcony detail.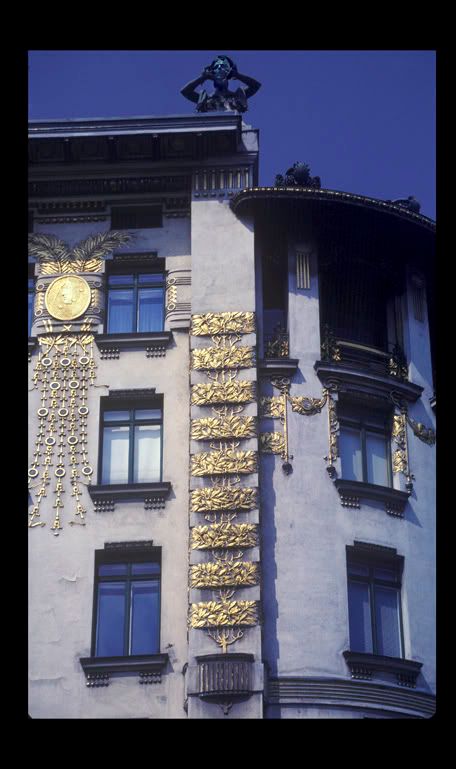 This is a sister to Majolikahouse. The two buildings stand side by side on Linke Wienzeile, Vienna. Back in the day both structures were commonly regarded as "hideous beyond measure."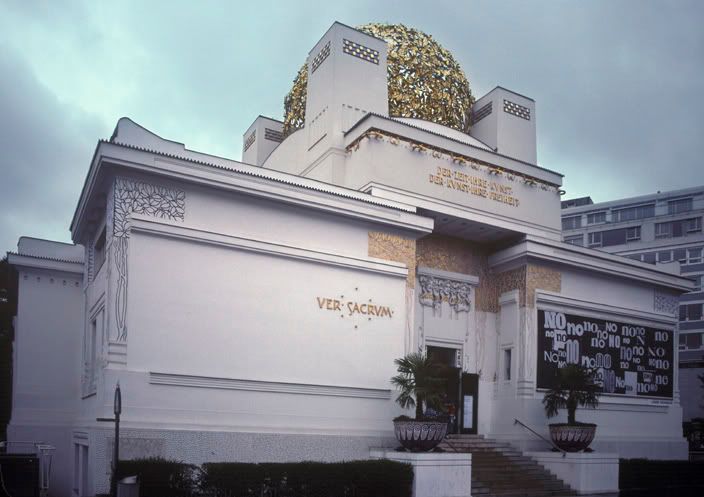 Another Vienna Sucessionist co-founder was architect Joseph Olbrich. He designed the Sucession Exhibit Hall, above, in 1898.
Frank Lloyd Wright biographer Brendan Gill spends more than a few pages of essay about this building's relationship with Wright's 1905 landmark Unity Temple in Oak Park, Illinois.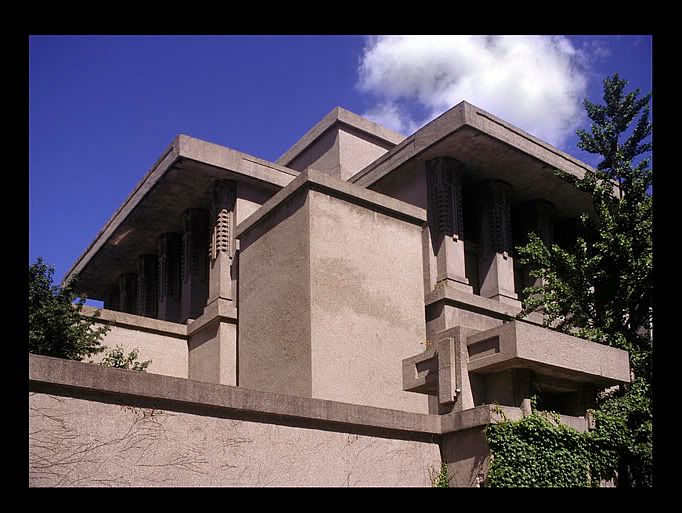 Wright was never one to say "I took someone's great idea and improved on it." He rarely tipped his hat to any influence on his work. As a Guest Of Honor before a gathering of renown architects in Berlin, 1905, Wright must have bristled upon being introduced as "The American Olbrich." His only outward reaction was to say this aroused his curiosity and that he'd have to discover what Olbrich and his work were all about–knowing full well Olbrich's stature.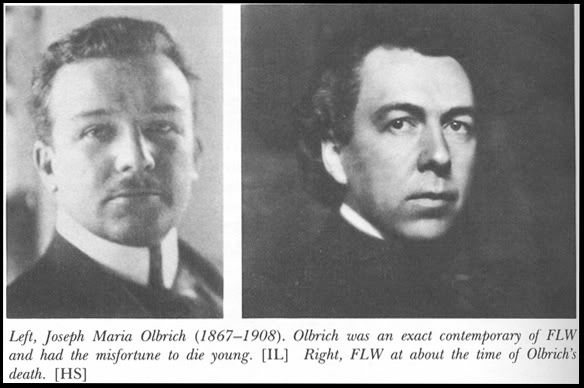 Olbrich died at age 41. Wright still had 50 years of career ahead of him and much of his legacy yet to be written.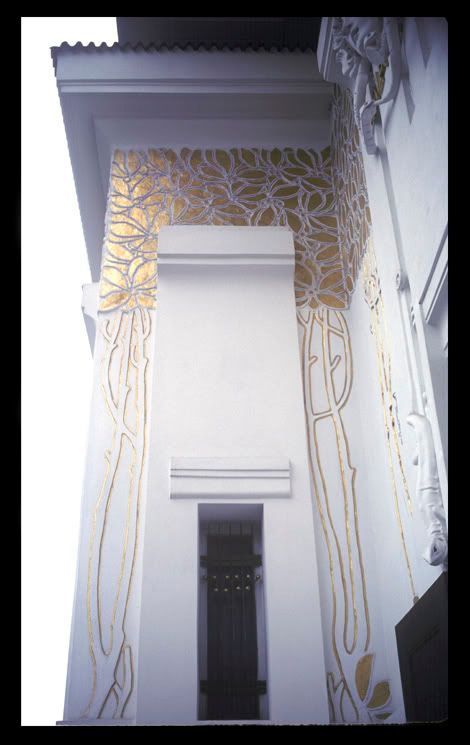 Detail, Wiener Sucession Exhibit Hall
Detail, Unity Temple
Olbrich's signature stone at Sucessionist Exhibit Hall. Wright used a red signature tile on his works.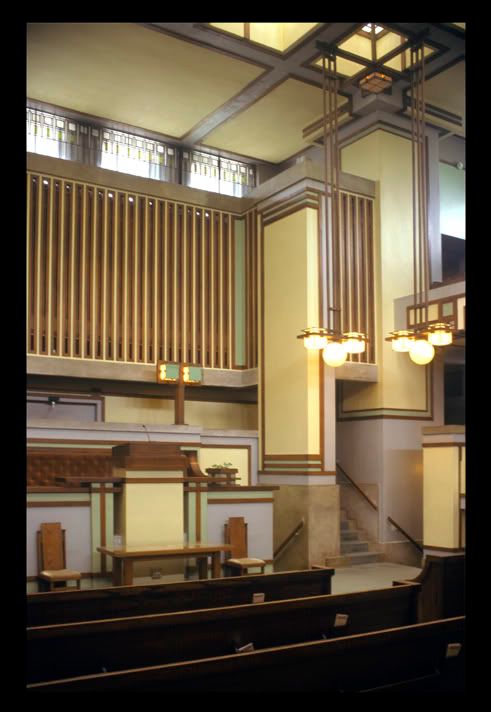 Unity Temple, Oak Park, Illinois, 1905
Vertical lines, Unity Temple, above; Karlsplatz, below.

Karlsplatz (Wagner). The clock above foyer entrance.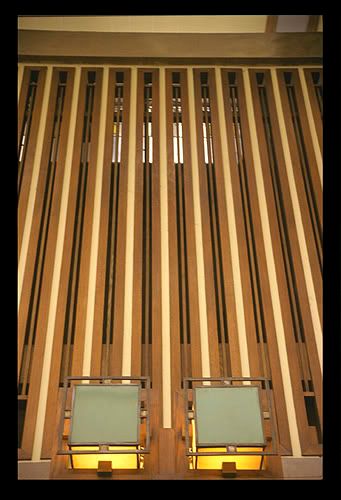 Unity Temple Lighting details. Natural and incandescent indirect light.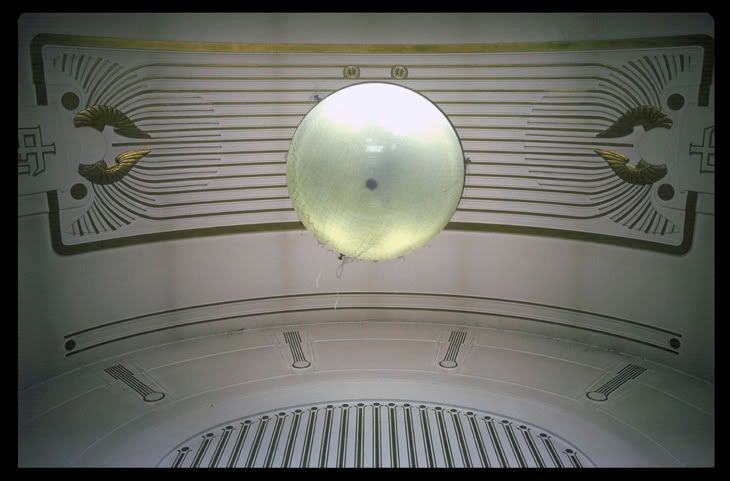 Karlsplatz barrel ceiling detail and light element.