Territory known today as southern Arizona and northern Sonora Mexico was originally Pima Indian territory, the Pimeria Alta. Their settlements nestled along various river tracks. Thus the name "Pima," given by the Spanish, indicates "river people." The natives had an agrarian society that mastered irrigation with diverted river water. Growing corn, beans and squash. They were artisans. Pima made baskets with their distinctive coil construction and geometric patterns which are highly desirable to this day. Their architecture used bent tree saplings to form dome shaped structures. They had their own government, political hierarchy, and means to defend themselves or attack outside forces.
But in the end they were no match for the Spaniards.
A church has been present at Tumacacori since 1753. The structure as it exists now, San Jose de Tumacacori, began in 1800.
The Jesuit Missionary Priest Eusebio Kino (1645-1711) first met the natives at Tumacacori in 1691. He was an educated man that came to devote his life to Missionary work. In the league of Spaniards entering New Spain for such work, he was the "kind" Padre. He took into account Indian ways. He skillfully taught during his 24 years in the region. The Pimas were receptive pupils in learning about wheat, livestock and fruit trees. He presented Christianity by means of pageantry and ritual rather than dogma. He offered communion and baptized children but then also taught many practical skills. He built other missions. He also established and mapped supply routes throughout the region. He was a "good" soldier of souls for the church and Spain.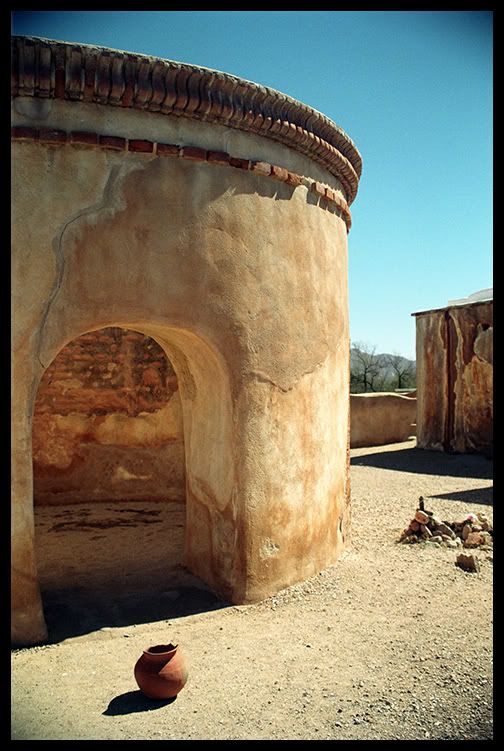 The circular mortuary chapel at Tumacacori.
The Pimas were gently "tamed" under Kino. But some 40 years after Kino, Spain administered the region far more harshly. Pimas found themselves in slave labor at mines and ranches. They rebelled in 1751. At no point were the Apaches agreeable to foreign occupation. Their insurgency had been continual. A presidio built at Tubac was the result. But Apache attacks continued until the late 19th century as the territory transitioned from Spainish domain to independent Mexico, and finally to the U.S. in 1853.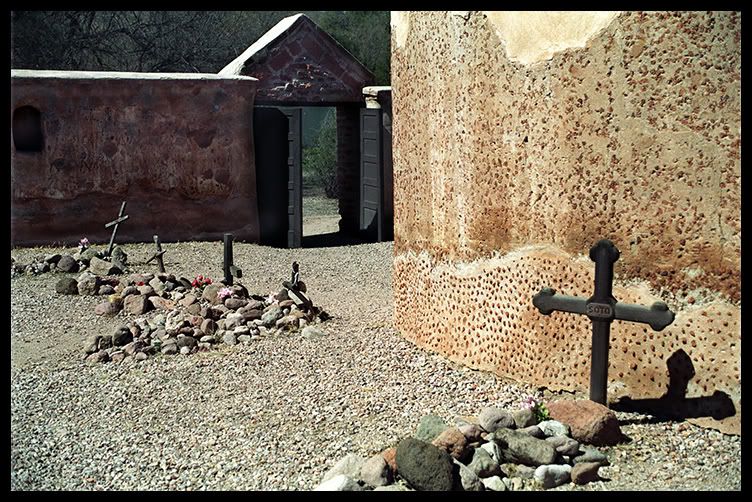 The grave sites are only from the late 19th and early 20th century. Evidence of mission era graves has vanished.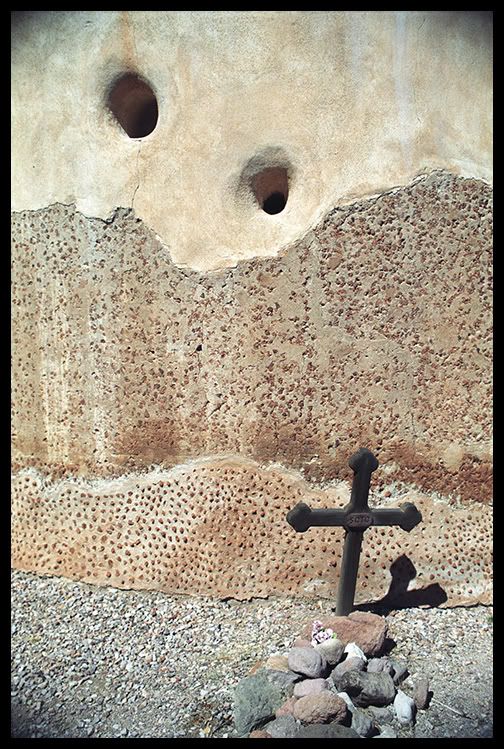 The Soto Family lived in Tumacacori at the turn of the century.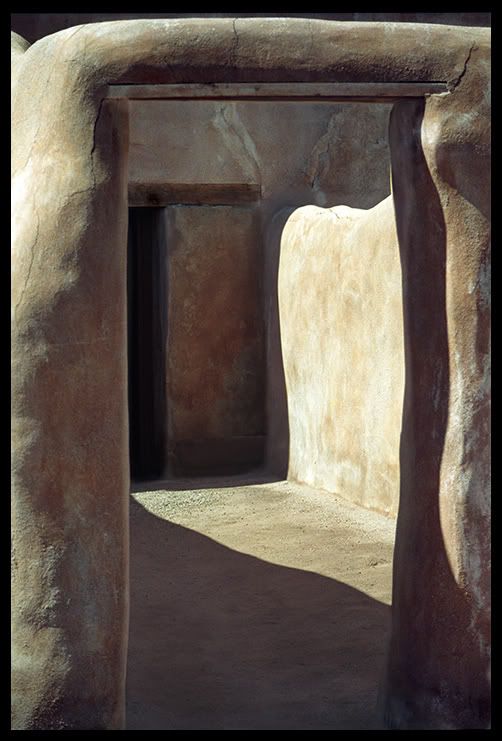 The weathered soft curves of Tumacacori clay walls cast interesting curvaceous shadows.
Tumacacori National Monument is located 45 miles south of Tucson and 19 miles north of Nogalas. It came under protection of the U.S. Forrest Service, and later the National Park Service, by executive order of President Theodore Roosevelt in 1908.