What a fun night it was. Here is a look back at the evening through pictures and quotes from those who were part of the sell out premiere.
Ticket sales seemed kind of slow to me at first. But a lot of times people don't make up their minds until its very close to the date. None the less I was still concerned.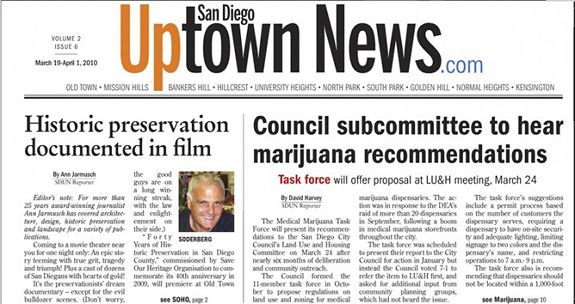 Then came this story on the front page of the Uptown News written by the wonderful Ann Jarmusch. That was a big help.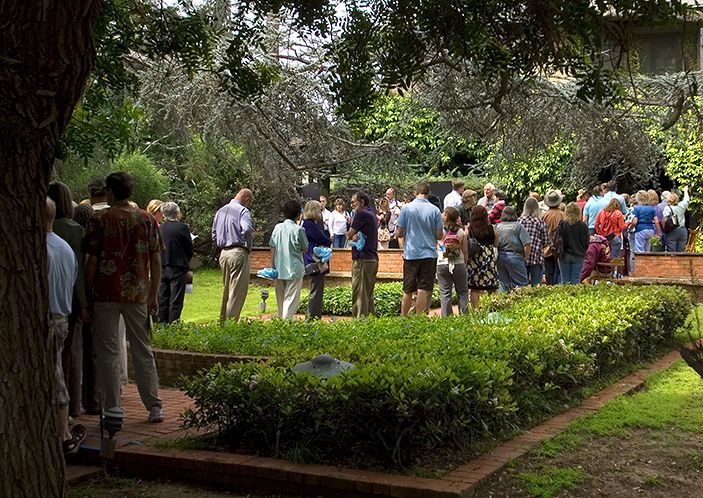 Then on March 21, 2010 there was a record turn out for SOHO's Annual Historic Home Tour. Many visitors took with them from a large stack copies of the Uptown News with a Premiere flier attached.
Then on the afternoon on March 29, it was official–all tickets had been sold.  photo Maggie McCann
It never occurred to me people would want autographs! Here I'm with Todd Pittman and David Marshall. photo Glen Davis
The evening was special for many reasons. Here old friends and neighbors from school days Frank and Kathy Luxem made the trip all the way from OC. I hadn't seen them in decades!  photo Glen Davis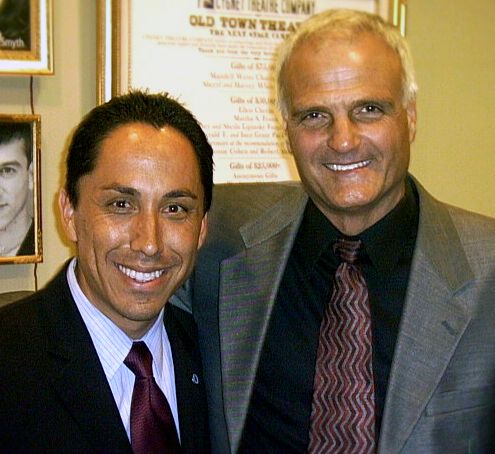 The event was attended by San Diego City Councilmember Todd Gloria. photo Glen Davis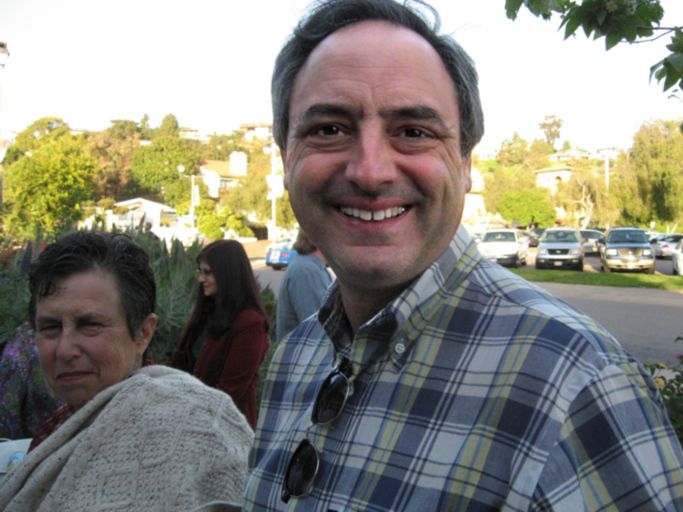 Friend and former San Diego Deputy City Attorney Alex Sachs. photo Maggie McCann
David Swarens and Barry Hager at the wine and cheese reception before the show. photo Maggie McCann.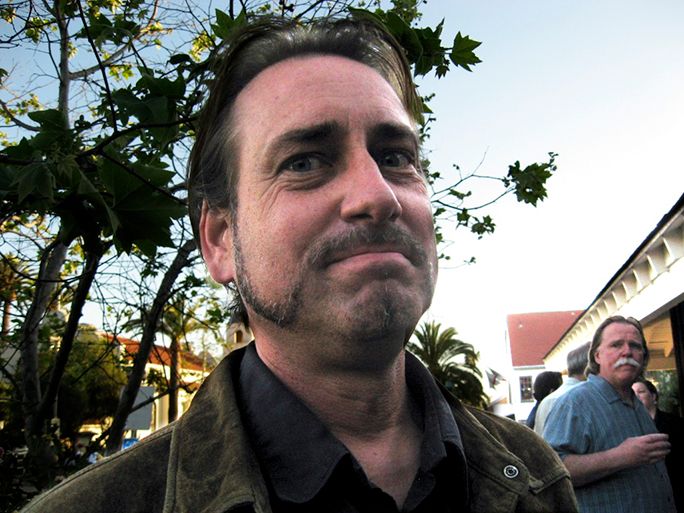 Architect John Eisenhart foreground, Rufus Quail in the background. Maggie McCann
Victor Santana and Kensington's Celia Conover photo Maggie McCann
Ron May, Stephen Whitburn, Councilmember Todd Gloria
Signing still more autographs! photo Maggie McCann
Introducing the film.  photo Glen Davis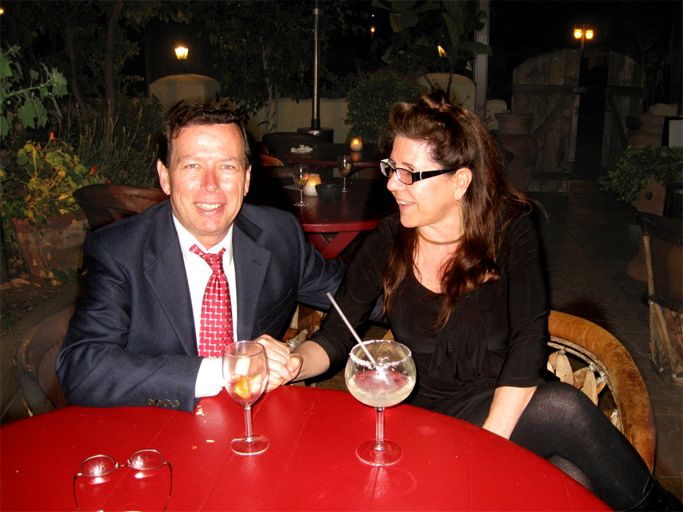 SOHO Executive Director Bruce Coons, SOHO Director of Events and Education Alana Coons.  It was their faith in the project and putting the resources of the organization behind promoting the event that made it such a successful evening. photo Maggie McCann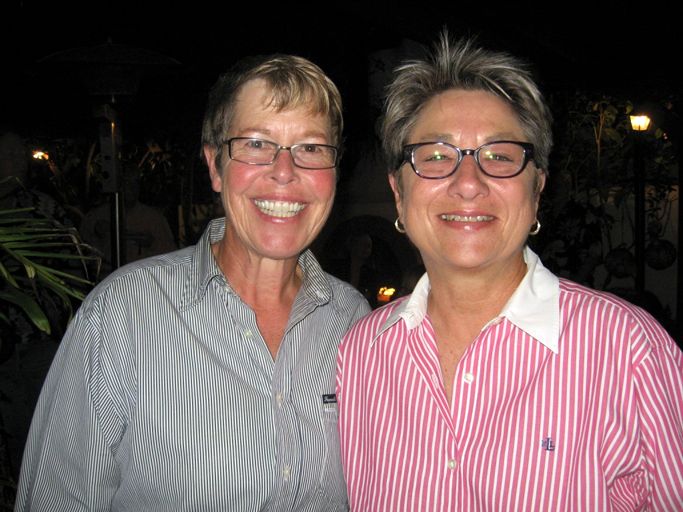 I also got a big help from Ann Garwood and Nancy Moors who promoted the film in HillQuest.  photo Maggie McCann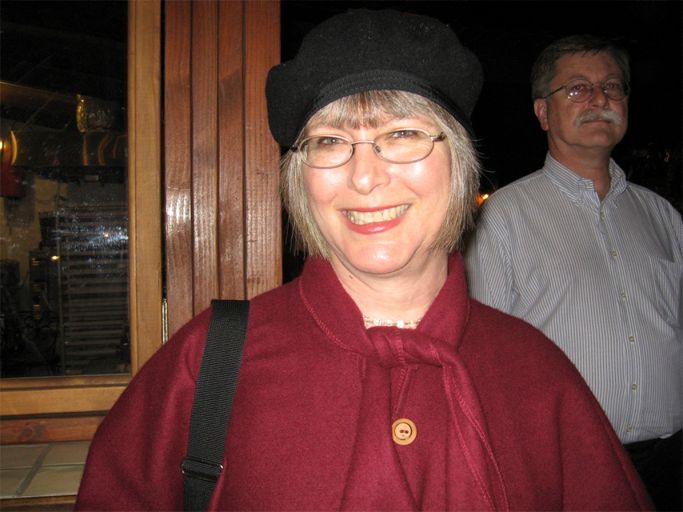 Dale May looking great.  Architect Paul Johnson in the background.  photo Maggie McCann
Ernie Bonn, the champion of bringing the University Heights Library to the Teacher's Annex building next to the Ed. Center.
photo Maggie McCann
REVIEWS
Roxanne Govari  Dan, your movie last night was outstanding. I am so Happy for you and for Our community to have such talent among us.
William Purves  Dan congratulations on a terrific job well done! It really lays out the enormity of what SOHO has accomplished over the years; even liked the nice touch at the end of listing all the board members through the years, lest anyone get the idea these kinds of things happen by themselves! I hope this gets wide exposure for both SOHO and you.
Rufus Quail  Boffo!
.
Don Schmidt  Yes, a wonderful evening…on so many levels. Thank you.
.
Diane Welch  Hi Dan, it was great to see you in person last night Paul and I loved the SOHO documentary. It was inspirational, informative and entertaining. Two thumbs up from the Welchs!
Frank Luxem  Dan, it was wonderful! We had such a great time. Kudos to SOHO and to you. AND…on a personal note, Kathy and I were so glad to see you again after all these years. We do want to get back down to see you again!
.
Rd Riccoboni   Congratulations on your film last night Dan! It was terrific!! What a great contribution to our local and state history! Thank you!
Todd Gloria   Congratulations on a terrific event last night Dan! I really enjoyed the film and learned a lot. Thank you for sharing your filmmaking talent with us and helping to educate more San Diegans about the importance of historic preservation.
Jack Hettchen   Dan, very happy that I was able to come and see your fantastic production. Thanks for the great evening and the history lesson on SOHO and San Diego. You should be very proud !
Ron May   Outstanding job, Dan! Really a wonderful production thar brought everyone together. There is nothing like it in existence and you should be incredibly proud.
Kristin Harms   Congratulations, Dan, on a wonderful production and tribute to historic preservation in San Diego. Two thumbs up!
Veronica McGowan   Brilliant – wonderful – marvelous
I did not think it would be as emotional an experience as it was for me
but Thank you thank you so much – awesome 40 year retrospect – wow.
Todd Pitman   Dan … Great work….. Congratulations.
Ernie Bonn Great production, Dan, just don't head to Hollywood, we need you here.
Don Rudisill   Ruth and I went to Dan's opening premier of his documentary, showing SOHO's successes and opportunities missed from the last 40 years. At  the beginning Dan came on stage and did a fine job of introducing his film. Dan had interviewed the many people important in the preservation movement and had them speaking, telling the story of how SOHO started. He kept our attention for a full hour. There was a good turnout for the event. The Old Town Little Theatre was almost full. He really is good at this.