"It was a beautiful spring and early summer. The cherry trees were in fragrant bloom along with all the rest of the fruit trees."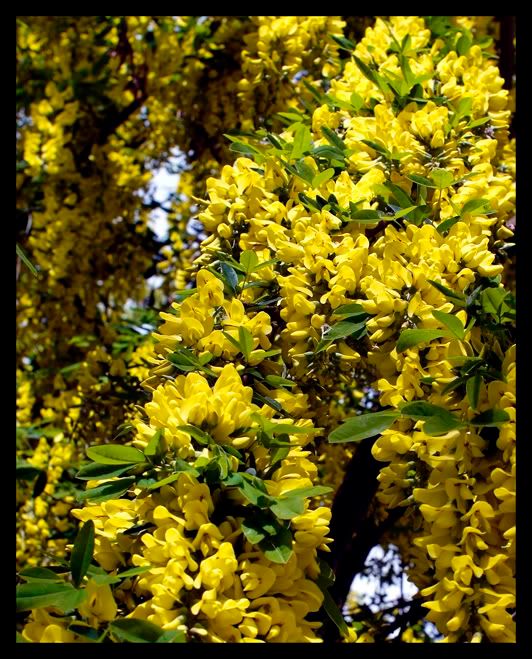 Gunhild and August prepared the house for the summer guests.
By July Marstrand was in high season as the town was filled with tourists. Gunhild spent mornings attending to guests. Then typically she spent afternoons with Greta at the beach swimming. By 5 P.M. they were back home for dinner. Greta went to bed around 8 P.M. Then Gunhild went out again.

"Sometimes she'd go for a walk or listen to music somewhere. There was a two day celebration where Mama danced for the whole two days with some of her old friends." This was an event to raise money for road improvements.
The celebration of the summer solstice in Sweden is called Midsommer. This holiday rivals if not surpasses Christmas in popularity. The third Friday in June starts the holiday and is celebrated all weekend long. Swedes head to the countryside in droves to commune with nature, participate in celebrations of food, drink and dance. Special emphasis is on drinking in many instances. Swedes remaining in cities have parties lasting all weekend. Much anticipation and preparation is devoted to Midsommer. It is much the "talk of the town" weeks and days prior.
Greta enjoyed Midsommer in a most traditional way. She was adorned in a Swedish costume and danced around the Majstång, a May pole.
As the summer progressed Greta lost all track of English in her mind. She thought and spoke only in Swedish. And she became a strong swimmer. Once when Gunhild swam far from shore Greta swam right behind her waving to the boats along the way. Gunhild happened to look back and was surprised. "I thought she would faint right there in the water," said Greta. "She knew there was no sense in wasting her breath in telling me not to go. But I had to promise to wear a swim ring." It wasn't long before the swim ring was discarded entirely. "I could swim a long distance and not be tired."
The enjoyment of those activities only in some degree ameliorated a heavier burden constantly weighing on Gunhild. The sadness she felt having been separated so long and so far from her family in Los Angeles. Bill graduated from High School and was on the precipice of adulthood. Gunhild missed all of Bill's football games, his track meets, meeting the girls he dated, and his graduation ceremony. The passing of that time with so many events left her feeling forgotten about. And missing her husband Keith.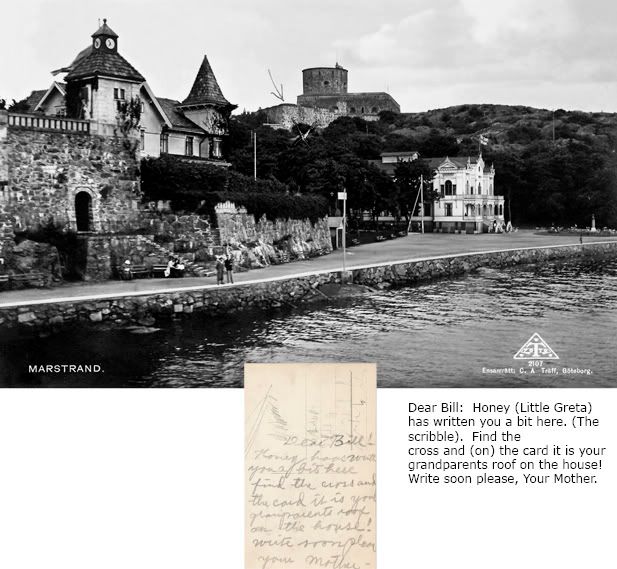 Ë™


With each passing day a way out of Sweden became more difficult. The Oceans brimmed with naval traffic. Warships and U-Boats. Line companies kept more of their vessels in port. With fewer ships carrying mail, a letter was more difficult to send. Nothing direct. Routes only found U.S. ports eventually.

"We should like to get started for California the last of August if not before. You see, the fall storms are very bad. They start in September and last through Christmas. Winter weather is not very pleasant to make a trip with a child," Wrote Gunhild. She requested $200 by August 5th.
$200 in 1939 was no small amount of money for Keith and his policeman's salary. He was loath to borrow money. Now he had to. The time taken to network his friends and family for loans went well beyond August 5th.
In the mean while Germany invaded Poland on September first. Two days later A German U-boat torpedoed a British liner en route from Liverpool to Montreal. Of 1,400 passengers 112 were killed, including 28 Americans. This marked the beginning of World War II.
The Poland crisis changed everything in Sweden. There was national mobilization. 70,000 reserves were called up. The size of her army doubled almost over night with volunteers signing up.
The Swedish government distributed pamphlets requesting people buy and store extra food. They suggested which foods were best to store, and how to best do that. A Royal Evacuation Commission arranged housing and stockpiled food in the countryside in the event of city evacuation.
"The young people of about fifteen years of age were organized into youth groups for various jobs like watching for enemy planes or boats. Sometimes a youth rode his bicycle just to scout around looking for something unusual. I suppose there were other jobs, but those were the ones I knew about, " Said Greta. In fact there was a citizens corps of nearly 45,000 organized to scan the skies around the clock for enemy aircraft. Some 600,000 volunteered as air raid wardens. These were people who patrolled the streets during blackouts and to ensure no light was visible. They were also trained in first aid, firefighting, in dousing incendiary bombs with sandbags.
Swedes volunteered in droves to support the armed forces in many other ways. One group collected money for "The Neutrality Watch." Funds went to buy marching boots, warm sweaters and skis for mountain troops. In Marstrand a group of ladies knit mittens and scarves for the soldiers. Gunhild was among the participants.
At Marstrand Harbor three big fishing boats from Poland sought refuge. An English submarine collided with a Swedish fishing vessel outside the island. German warships were off of Denmark.
"On our way back from fishing one night with some of Mama's friends, we saw far out on the ocean ten or more warships. It was too dark to make out whose ships they were. They moved in close and were hiding. The next day all boats were prohibited from maneuvering in the bay. No more fishing trips!!!
"Fifty big boats were torpedoed at one time and many people died," recalled Greta. To disrupt the flow of goods to Britain, German U-Boat captains had a "shoot first and ask questions later" policy. "I know at this time there was some sort of resistance group or underground forces at work because suddenly Nazi-U boats were being 'mysteriously' blown up. Railroads too. I heard my mother talk about it in hushed tones to grandfather August. Bodies of soldiers and horses washed up on our shores from time to time as a result of those activities."
There was a lot of talk about ocean mines used to protect Swedish territory and neutrality. And how that was dangerous for passenger ships to pass through. The price of tickets increased two fold. Even with money in hand for a ticket, there were few ships venturing out.
"The talk was of war, war, war, and more war! It was really scary. We did not feel safe at all any more," said Greta. "Mama was so worried that she had trouble sleeping at night."
Word came through the American Consulate; all foreigners were ordered to leave. They sent people around to find American citizens to obtain their names and U.S. addresses. Gunhild and Greta were stuck. A distraught Gunhild wrote to Keith suggesting ways to raise money. "The power to return us in in your hands, as soon as you are able to get the money together."
"Another fifty boats were sunk off our island. Half of them were Swedish. We saw one of the Swedish ships en route to England torpedoed by the Germans before our very eyes as we watched from Carlstens Fortress," Greta recollected.
It was in the midst of these stressful events when Greta decided to incorporate experimenting with fire into her doll play.
"Grandfather forgot to watch me when I decided to build a bonfire for my dolls. I went into the house looking for something to ignite the wood I had gathered. I rummaged through Mama's desk and came upon some piles of papers to use. I found matches in the kitchen and walked back up the hill. I placed the dolls in position around the place where I lit the fire.
"I had a roaring fire. It illuminated the surrounding trees and hills brightly. I stood for a minute admiring my handiwork when suddenly out of nowhere I was grabbed from behind and lifted into the air. Three men all dressed in brown emerged from I don't know where. One man quickly extinguished the fire with shovels of dirt. Another man held me tight in his arms. The third man started questioning me. I was so frightened that all I did was wail at the top of my lungs. They took me to Grandfather who quickly sent a man to retrieve my mother who came running as fast as she could. When she saw me she commanded me to be quiet. I stopped wailing at once. She was very stern and angry. 'Didn't I know we were close to war? That what I did was dangerous?' I didn't dare look at her or raise my head. The men thought I was signaling some one in Norway or Denmark with my fire. They even thought for a moment we were spies. Fortunately the papers were of little importance."
Matters went from all that to worse when August had a stroke. And it was Christmas time.
"He recovered nicely so we planned something joyous for him to remember." said Greta. It seemed this would be their last Christmas together, so Gunhild pulled out all the stops in preparing a Christmas feast for the ages.
"In spite of all the shortages Mama managed, with her 'connections,' to come up with a nice fat goose, a small pig and some fish."
Gunhild went to work on the goose, plucking the feathers. "Mama was very adept at plucking feathers off of fowl. She had much experience as a girl in Alma's kitchen. Mama certainly could cook. I was continually amazed at how she could take a little bit of nothing and turn it into a grand feast."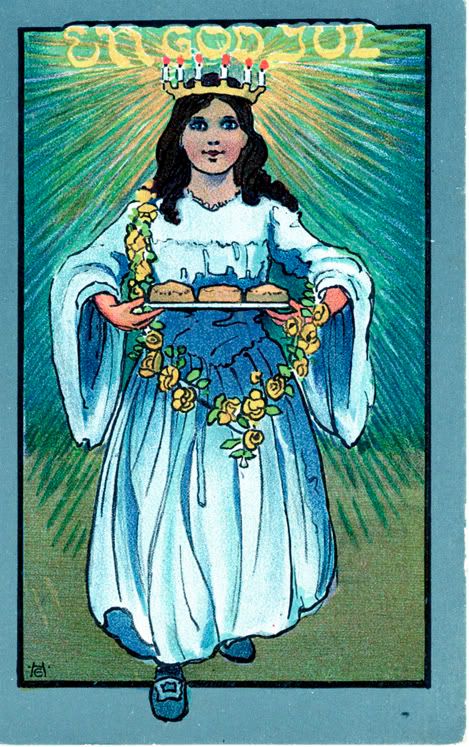 Also on the menu were chestnuts, lingonberries, and rice pudding with rich cream, milk and cinnamon. The pudding contained a single almond which brought luck to the person receiving that serving. There was also a soft fish soaked in brine called lutefisk. It was served with a white sauce seasoned with white pepper.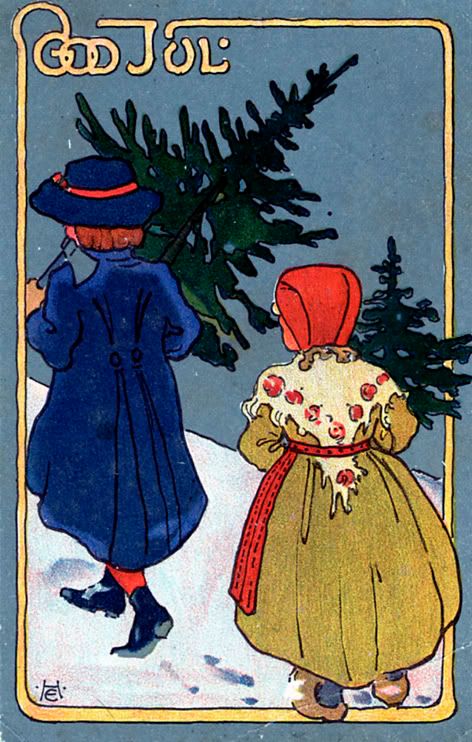 The spread for a grand evening and Christmas Eve dinner was set. "No one had mentioned a Christmas tree, so I never asked about one. I was happy to just be allowed to stay up for the festivities that night."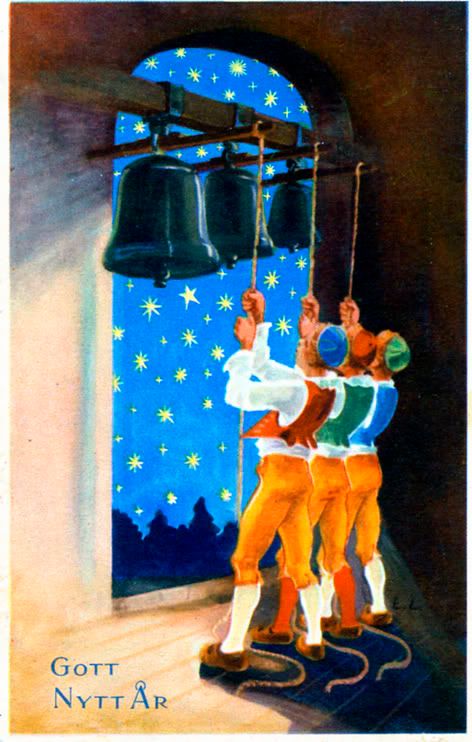 Those festivities began at Marstrand Lutheran Church. In the early darkness of the wintry evening, all dressed in their warmest best church clothes, they descended the long walk way to the street below. There they found a surprise arranged by August. A horse drawn sleigh. The horse was adorned with ribbons and holly. The reins were decorated with jingle bells, which in fact jingled when the horse trotted.
"The church was light and appeared golden inside from soft candlelight. The candles were placed here and there around the sides of the church and from two Christmas trees placed on each side of the altar. This church was never dark like some churches, but it almost seemed celestial that night from its lightness and the airy feeling it gave. The trees were decorated with gold and white ornaments. There were no strings of lights then. Real candles were used. They had an ethereal glow and sent flickering shadows dancing along the wall like Christmas spirits making merry," said Greta.
"There was a lot of singing and a very uplifting sermon," noted Gunhild. Greta thought about all the good food back at the house. "I was getting hungry and looking forward to the ride home in the sleigh."
"After church we piled into the sleigh again. Grandfather August picked up the reins and clucked to the horse. When we reached the house we found it very strange to see all the lights burning brightly. Smoke rose from the chimney. I stared in disbelief. Before church there were only two lights on and no fire. After the long walk up to the house the sight upon peeking in the door was of the tallest fattest Christmas tree I had ever seen. It was decorated with ornaments, but mostly with candy. Some were made of marzipan and others with frosting sugar which were shapes and scenes of the Nativity. But most wonderful were the candles! From top to bottom the entire tree was covered with hundreds of small candles in metal holders clipped on."
Greta pondered how this dramatic transformation was possible. "We were all at church. No one left. And there were dozens and dozens of presents under the tree for everyone. For me there was only one explanation. Santa Claus!
"All of us were together this evening. Mama, Grandfather August, Gunnar and his parents, me, and our closest and most beloved friends and neighbors who were able to be with us. Who knew what the next year would bring. For the time being all thoughts of the impending war were forgotten."
Next–Blitzkrieg, Blockade, and Escape.