Firenze (Florence), Italy. That cradle of The Renaissance and birthplace of modern Western Civilization. Trove of priceless art and architecture. It is only natural to view the parade of Calico Storico (Historic Soccer) with its Renaissance costumes as a quaint colorful and charming affair. In perfect fitting with all that is great with Firenze and Italy at large.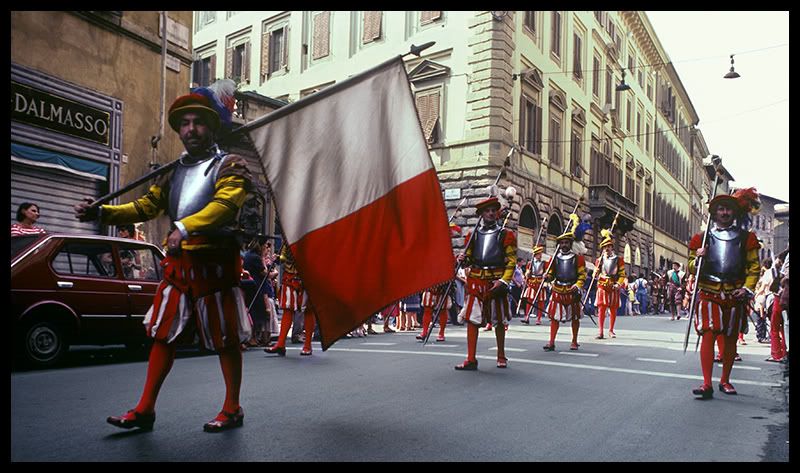 But I truly didn't grasp what I was looking at. When I heard "Historic Soccer" I figured this was in some way akin to modern soccer.
It is not. These are mean nasty tough guys that play a sport that makes rugby look like a game of paddy cake.

A recorded date of 1530 is affixed to the beginning of Calico Storico, but it actually goes as far back as the 1400's.

The child will not be participating. Nor will the older members of the parade. Only men in their 20's and 30's have the bodies capable of enduring the punishment suffered in this "sport." A later day rule prohibits criminals from participating to somewhat mitigate blood letting.

A good wholesome church function? The four major churches of Firenze each sponsor a team. Here the white team is sponsored by Santo Spirito.
=
The ball isn't kicked in this version of soccer. A heavy leather bladder is hauled through a maul and melee across a field. The "goal" is to heave the ball over a 4 foot wall at either end of the grounds. Players literally wrestle, shove and bare knuckle punch or slug. It is part "Fight Club," carnal demolition derby in some semblance of a ball game. By the end players are near naked from gear being ripped to shreds. Bruised, bloodied, dirty, sweaty and spitting mud. A splendid time for all!