When I see the twin roof peaks of this house in Point Loma pointing to its view of the Pacific Ocean, I think of the bows of a catamaran. This 1961 custom designed Pacific Style modernist home was once featured in either Life Magazine or Sunset Magazine–research on that is still in progress. But one member of SOHO's Modernism Committee remembers it.
Although extremely steep peaked roofs were associated with Googie or Futuristic Mid Century Modern architecture. But the landscaping, the lagoon-like pool, the lanai shaded patio area all speaks to a Pacific and Island influence.  It all seemed to coincide with Hawaii being granted Statehood in 1959 and a nation wide fascination  with Pacific Island culture and design, including Tiki craze.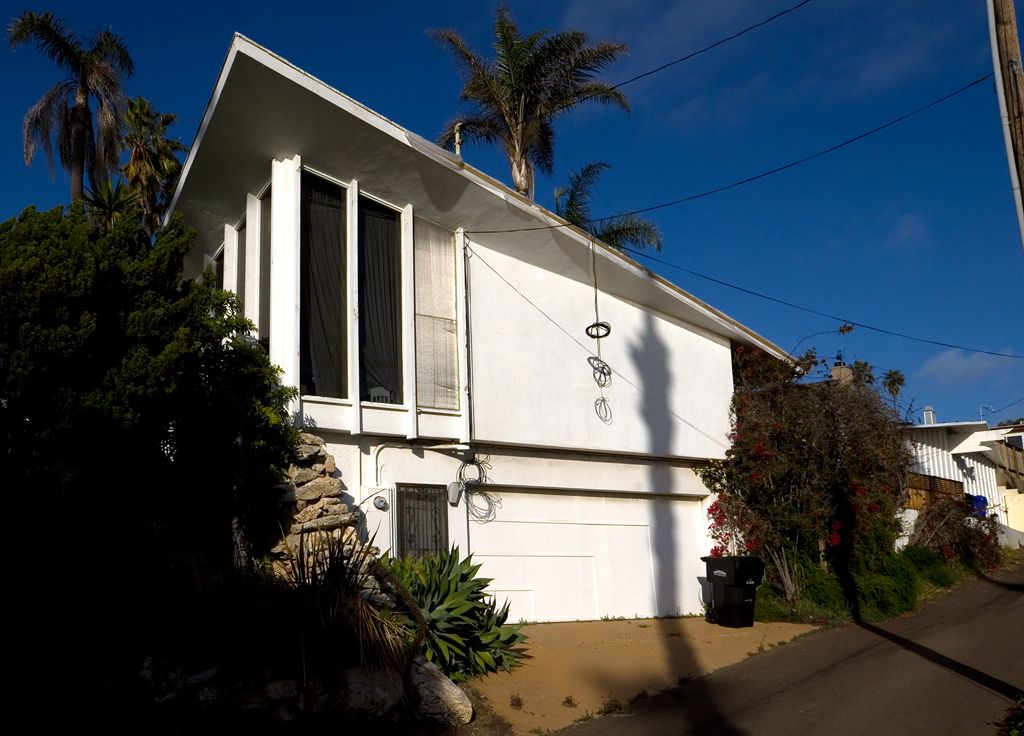 We are learning more about whom the house is built for, but still don't know the designer or architect.  In its day this house had to be one of Point Loma's most spectacular modern homes. Clearly the home is laid out for major social function, capable of hosting over a hundred guests.
On one side the roof line goes down from the very high peak….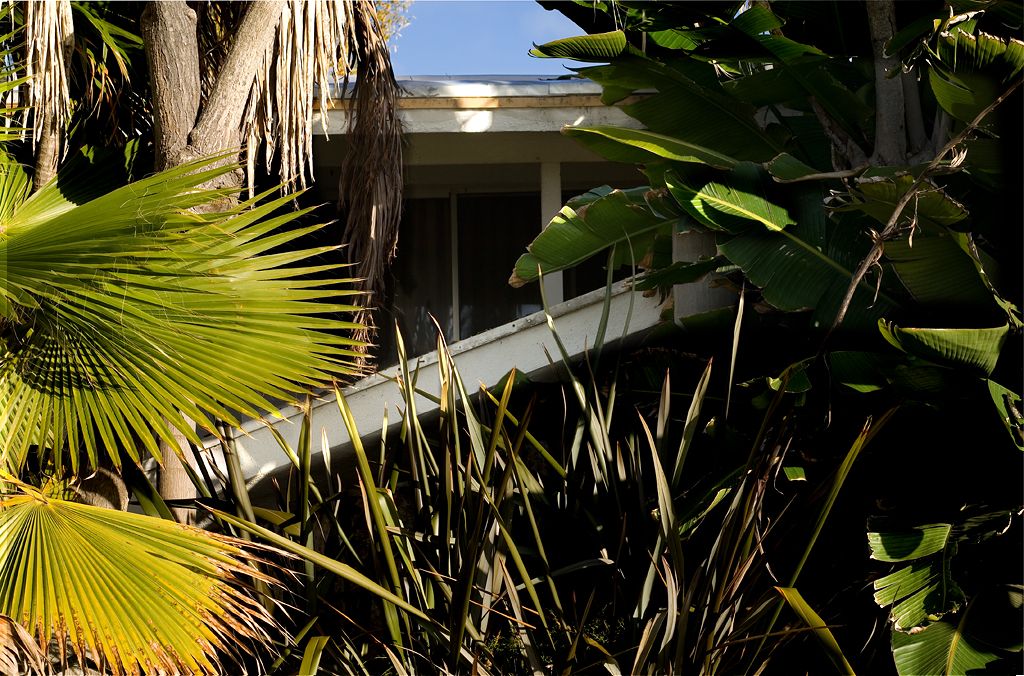 It goes down past a bedroom and private patio…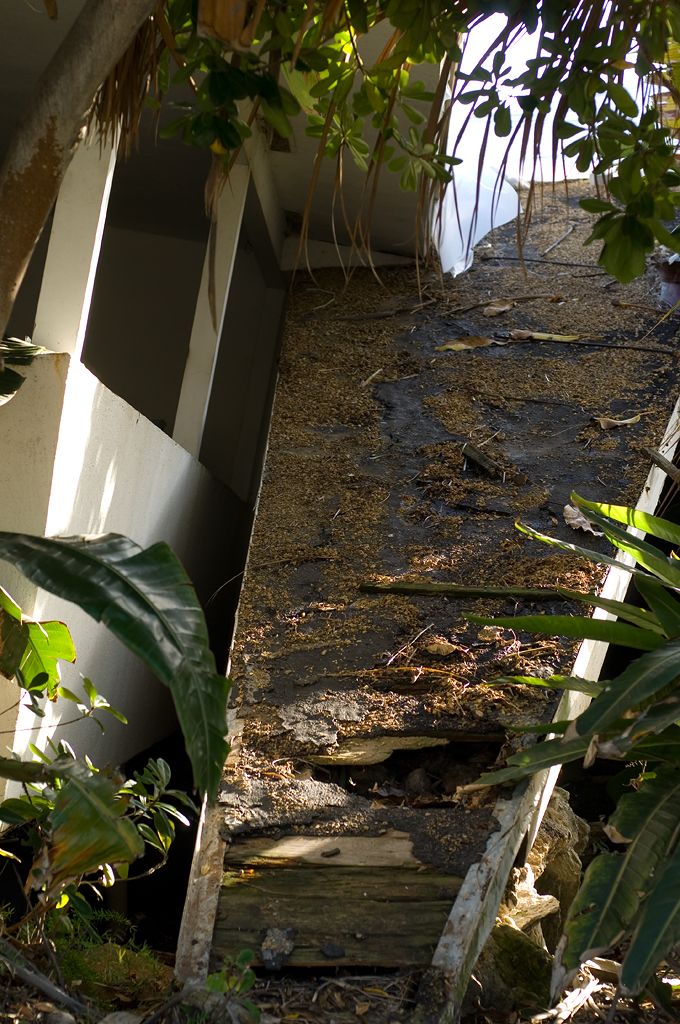 And then it touches down on the ground. Sadly a lot of the wood is rotting. Also note the private enclosed patio.
This is horrible to see. Plastic covering the roof. There appears to be deterioration caused by water damage inside. Aside from serious condition issues we've learned the interior is spectacular, all original and highly intact–including original furniture.
Unfortunately the property has been subdivided.  The former pool house is now a separate residence.  An application has been submitted to remodel this building, add a second story to  create two bedrooms, 2 baths and kitchen.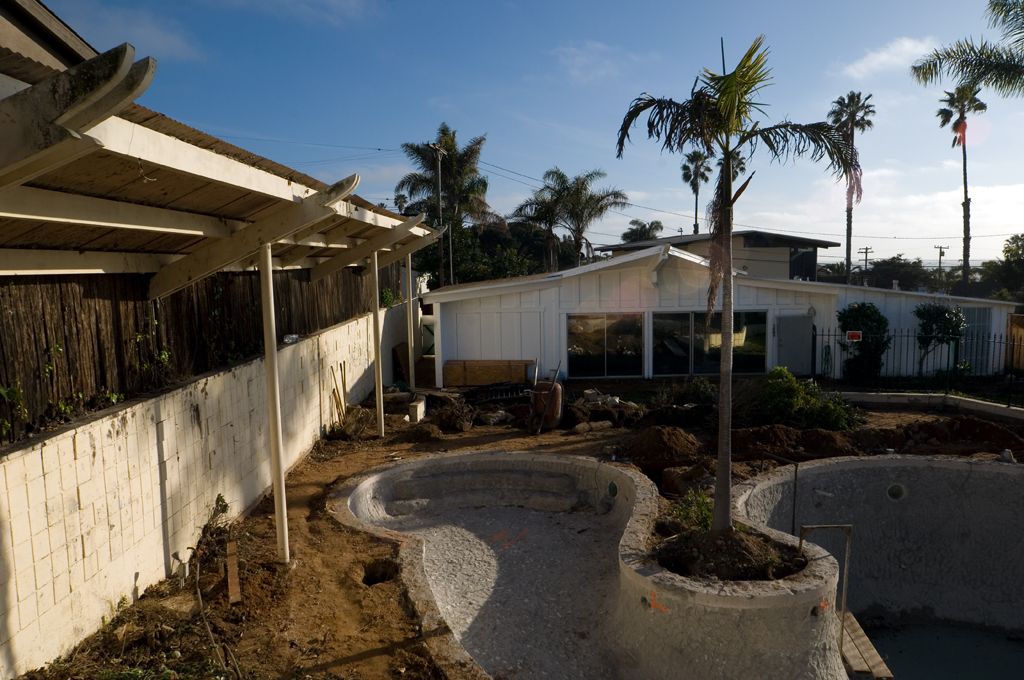 Subdivision of an original lot was cited as an objection to the Kesling designed house in La Jolla being historically designated. I would hate to see the same objection tossed up if the main house at this site goes up for designation.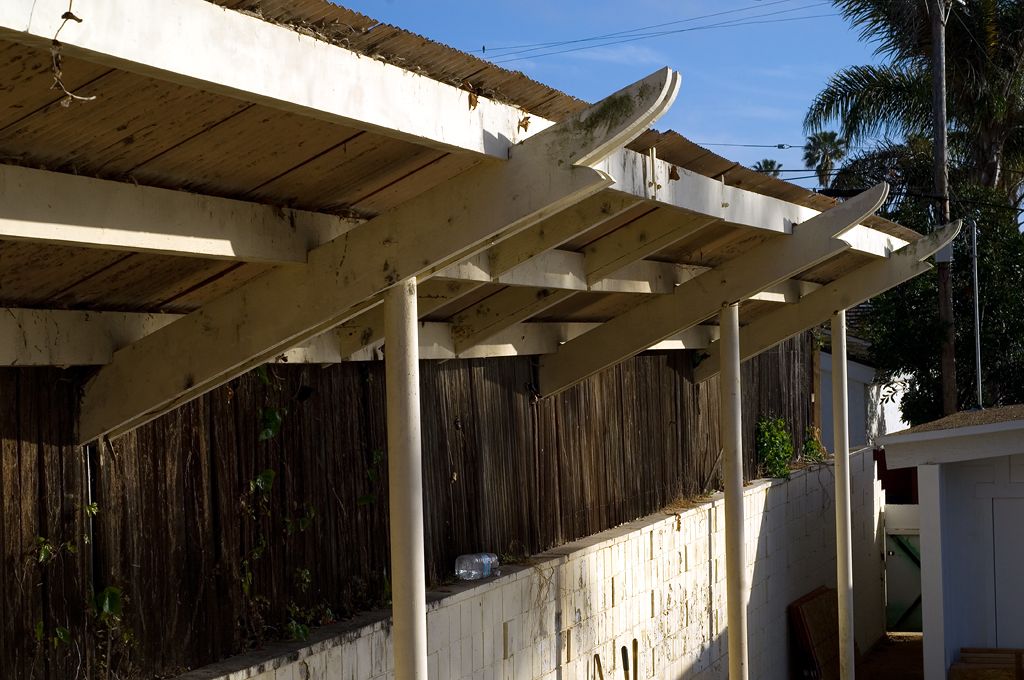 Detail of the lanai.
The pool house falls clearly in the Pacific Ranch Style house category with its board and baton siding and exotic roof beam.
This site was extensively talked about at SOHO's ModCom meeting on March 16, 2011. ModCom meets the 3rd Wednesday of every month, 6:30 pm, at Balboa Park's historic Marston House.