From The Current Series "A Belgian Student In America."

Cowles Mountain. Not a true mountain. It almost never catches any snow. You won't find skiers or snowboarders cascading down its slopes. But it is the highest peak within San Diego City limits, 1592 feet. Pronunciation of the name is debated. You often hear Cowles pronounced (as in moo), a cow. And that's the say locals say it. But descendants of George A. Cowles say it is pronounced Cowles as in coals. Or same as the name Kohls. Family says there's no moo when it comes to Cowles.

George A Cowles was a San Diego County ranching pioneer and achieved fame as the "Raisen King of the United States" resulting from his great production of grapes and raisins. But his farming success in the region was comprehensive. A wide variety of fruits, grapevines, olives, grains, and potatoes. He had about a hundred head of thoroughbred horses and 30 head of cattle. All that in a span of only ten years. He came here from Connecticut in 1877 , then died here in 1887. The town of Santee was originally named Cowles Town.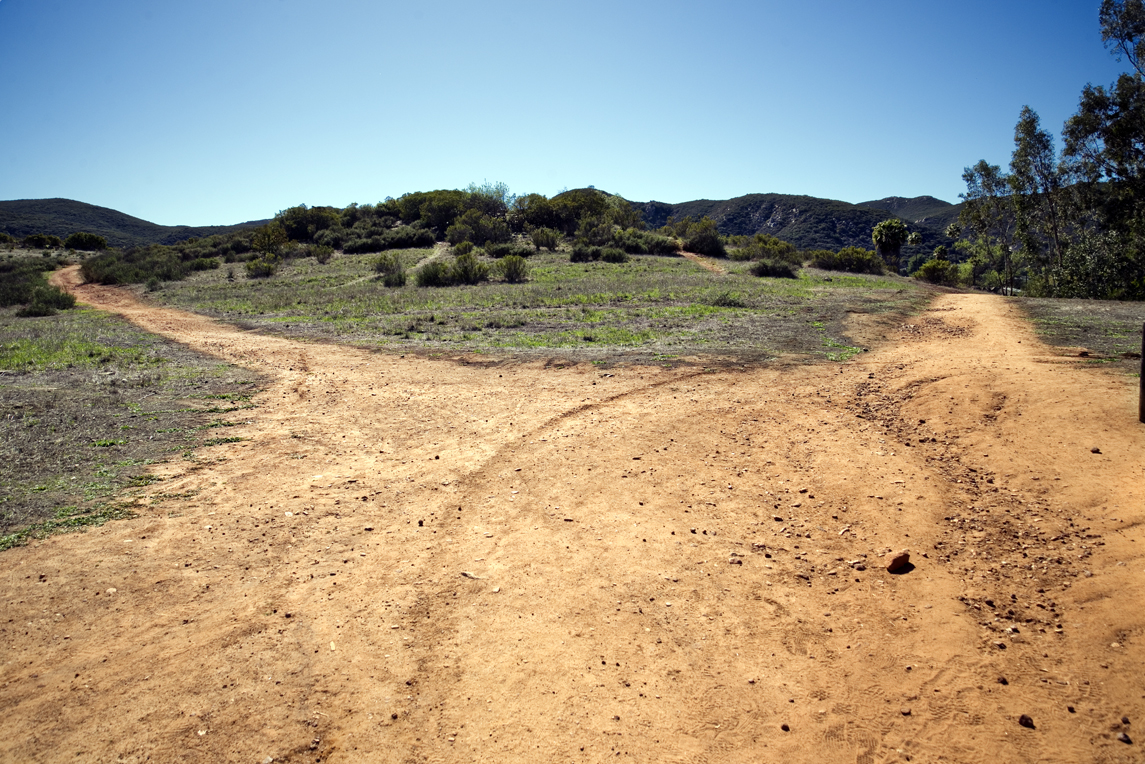 "When you come to a fork in the road, take it." –Yogi Berra.
There are four trails to choose from. The longest and most challenging hike begins from here at Big Rock Park near the corner of Mesa Road and Prospect Avenue. From here you can take either path as seen in this photo.
Destination,Cowles Mountain, center.
Hiking to the top of Cowles Mountain is popular. Often two of the less challenging trails can make Cowles Mountain appear like an ant hill of people. The advantage of taking this longer and more challenging trail is that it is not so crowded.
The hike is nearly 5 miles long and takes about 3 hours, minus time spent atop the peak.
The trail cuts through a thick growth of native bushes and small trees known as chaparral.
Matth is surrounded by Toyan also known as California Holly. The name Hollywood comes from this, a native plant found in the area of what became Hollywood. But it's found all over Southern California where chaparral grows.

Chaparral broom, Baccharus sarothroides
Matthieu surrounded by California Holly, the holly of Hollywood.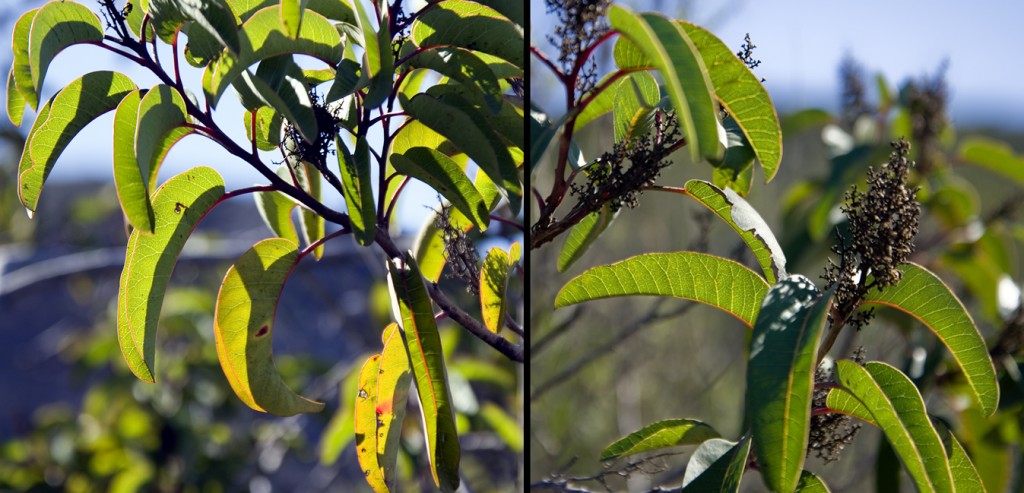 Laurel Sumac. The aromatic leaves of this plant are part of the chaparral fragrance hikers smell along the trail.
The narrow hiking trail intersects with a wide graded maintenance road leading to the summit.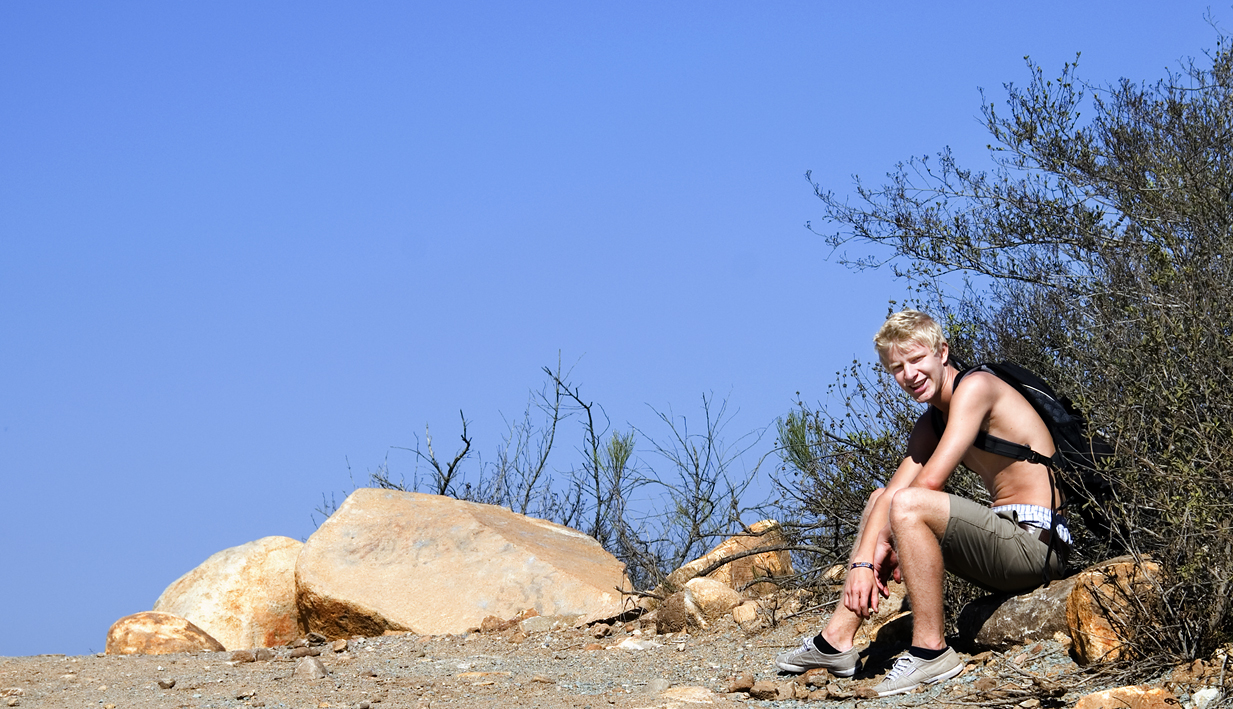 He doesn't tire. He was only waiting for Yours Truly huffing and puffing up the trail.
Looking from one of the numerous switch-backs of the trail leading to the summit, a look back to where we started. Center on the horizon is Cuyamaca peak. A future destination to hike.
And then the summit. On the horizon, to the left, peaks in Mexico. Center, right Coronado Islands. Right and far right, Coronado, downtown San Diego, Point Loma. Foreground, center is Lake Murray. But there's much more to see than this. The view of San Diego County is 360 degrees from atop Cowles.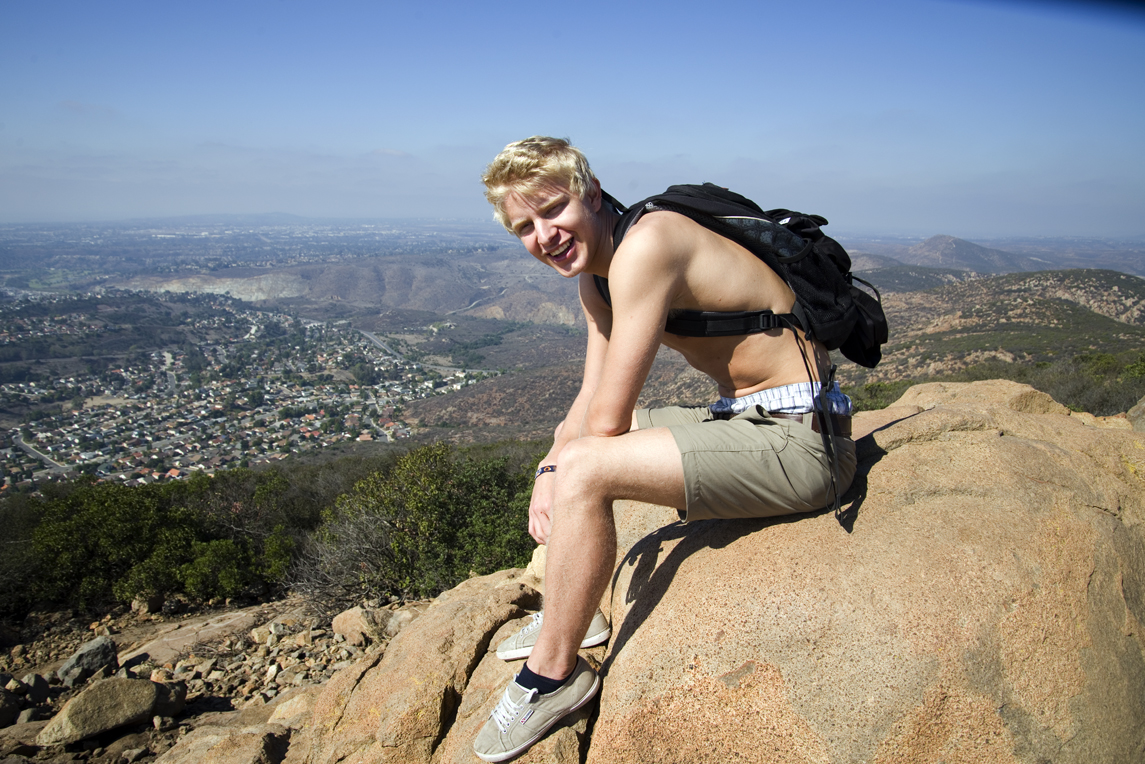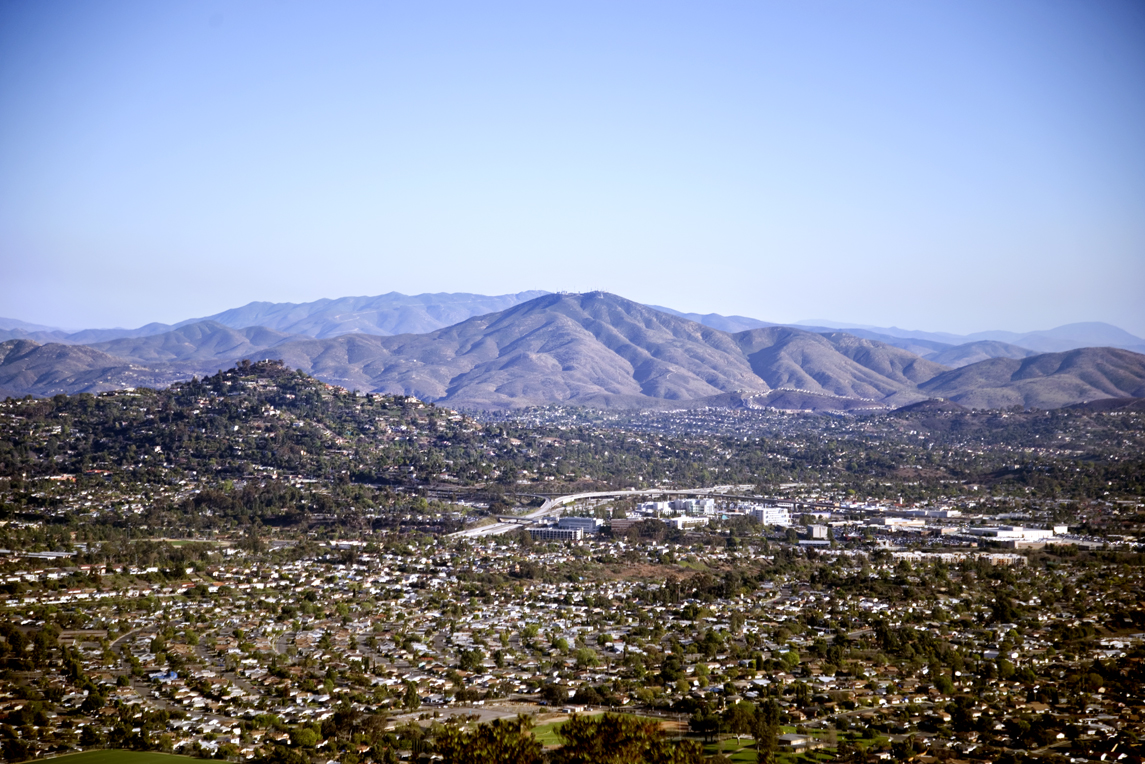 The closest peak on the left is Mount Helix. Center is San Miguel Mountain. Then behind it is Otay Mountain.
El Cajon Mountain or "El Capitan," as it is commonly called. To the far right is Cuyamaca Peak.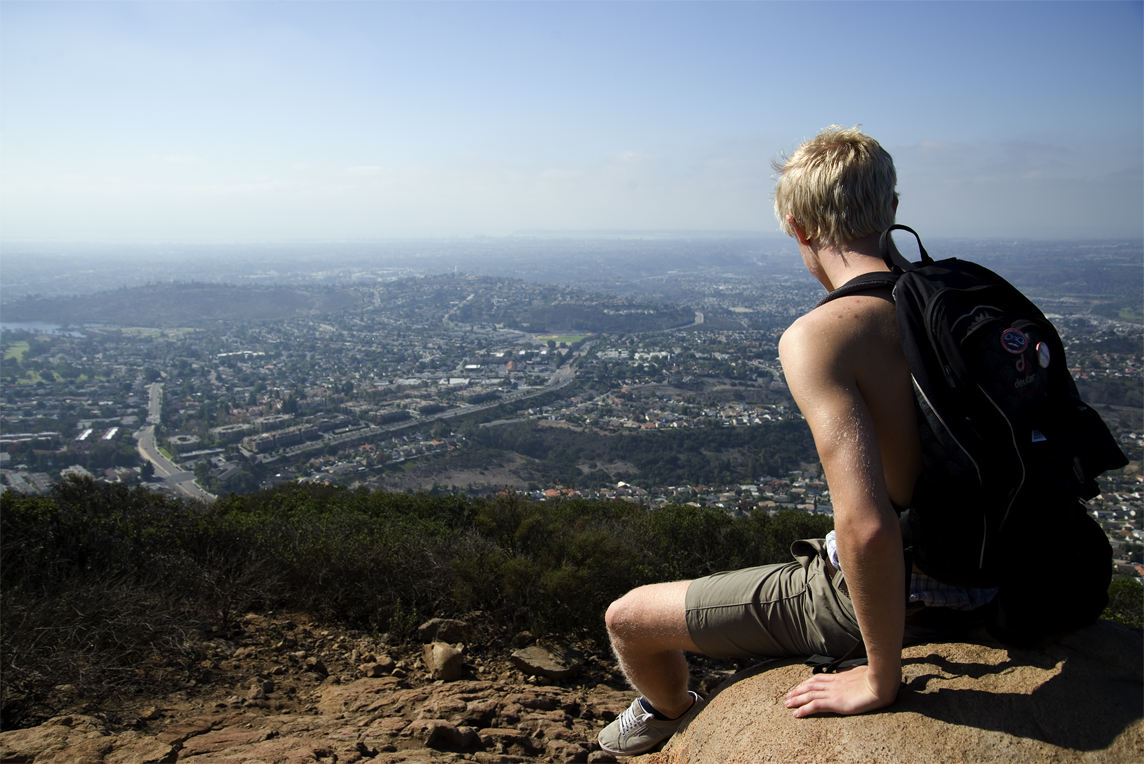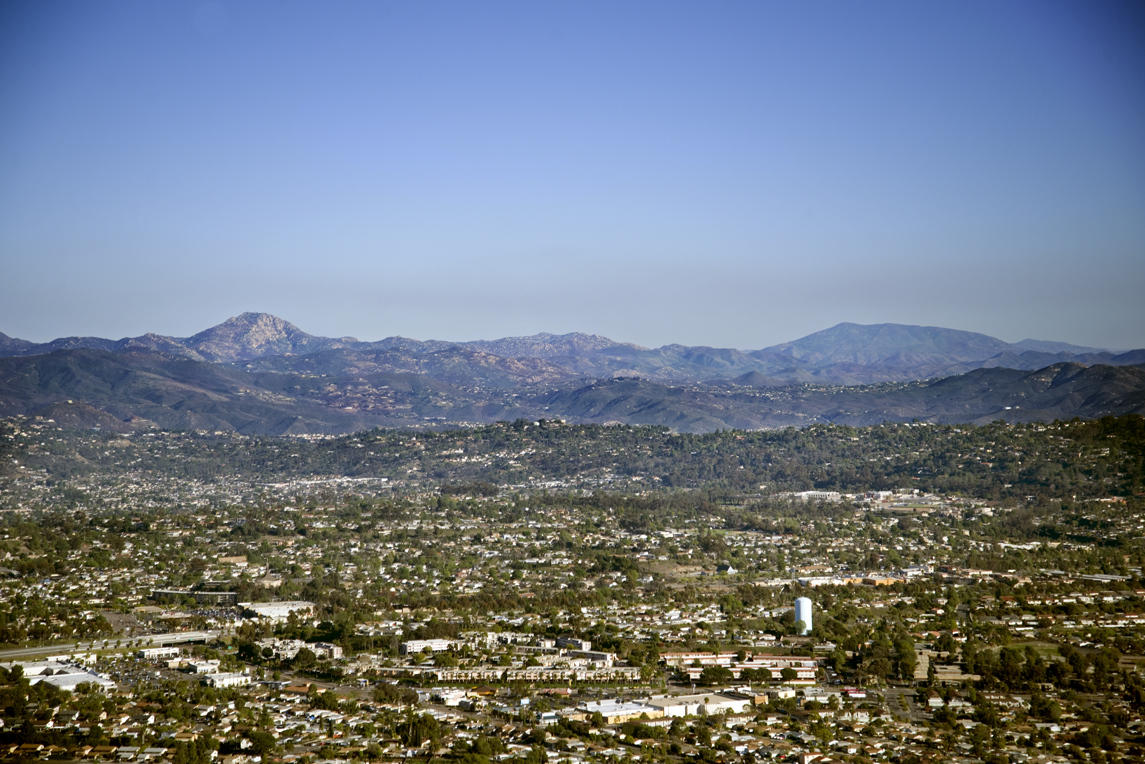 Tecate Peak is to the right. Lyons Peak is left. Lyons Peak had been a favorite hiking destination in San Diego until a crazy man with a rifle bought property with the right of way to the peak. When people ignore his "No Trespassing" signs, he fires bullets at them. So far no one has been shot, but hikers stay away-not wanting to be the first victim.
Date of this hike was Saturday November 2, 2013.