Part 5 of My Family Story in Marstrand, Sweden.
As the month of August, 1938, ended the warmth of Summer was over. Alma's condition continued to worsen. Gunhild detected signs of stroke as Alma became more confused and forgetful. "Perhaps she was just holding on until she saw my mother again," said Greta.
Gunhild arose early on mornings to light the old wood burning stove of August and Alma Palm's large rustic kitchen to warm the house. "Mama cooked wonderful things on that old relic. She cooked in heavy copper pots and pans which had a lip that fit into various holes of the stove top. The rims kept the pots from falling through into the fire below."
In addition to cooking August's fish catch of the day, Gunhild made a curry sauce for shrimp. She also made a mustard sauce or mayonnaise dip for boiled shrimp. "Mama conjured up the most delectable dishes. Each one was wonderful."
Greta discovered by going down to the wharf in late afternoon she could collect all the shrimp and small fish she could carry when the fisherman cleaned their nets. "They permitted me to take what had fallen out of their nets onto the ground."
When August Palm came home in the afternoons he looked forward to Swedish pancakes with lingonberries dusted with powdered sugar. This was served with pea soup. Sometimes there was an oven pancake filled with sweet smoky bacon or ham. Other favorites on the Swedish menu included boiled fish eggs, fish eyes cooked in butter, escargot, caviar, and fish soup. There were pig's blood pancakes. Perhaps because this delicacy looked like chocolate, children clamored and fought for the first one off the pan. Other occasions called for roast pig, goose, meatballs and sandwiches.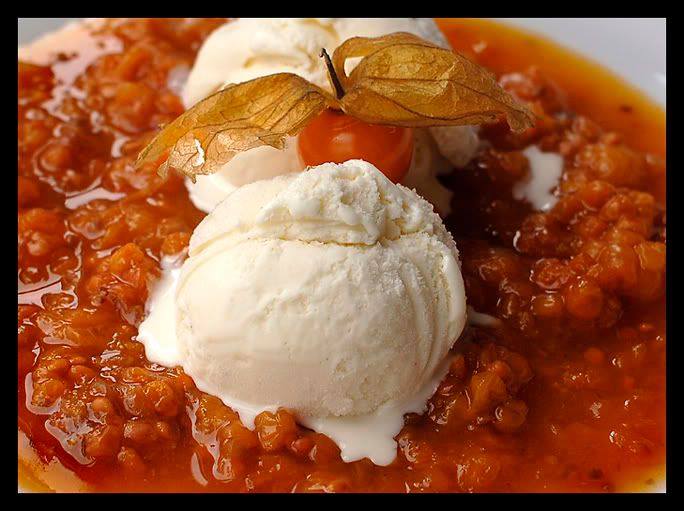 Ice Cream melting in a warm cloudberry sauce.
Gunhild made fruit soups. On that trail though the woods she collected wild rose hips. From this she made a creamy smooth light orange color soup. The blueberries and raspberries were rendered into luscious rich pies.
Four P.M. was a significant hour in Sweden. This is when people stopped to socialize. To go visiting or to have visitors. The coffee pot was the icon of this custom. In addition to serving coffee there was an array of pastries and coffee cakes. Gunhild made an especially good tan color, coffee and cream flavor Mocha Cake. Another favorite was Marzipan Cake. Her French style pastries won the admiration of everyone. Not a day passed in September without Gunhild and Greta visiting friends or neighbors at coffee time. They were particularly fond of a special rich golden apple bread one household offered them.


Lutheran Church, Marstrand's only remaining structure from the middle ages. From the 13th Century when it was a Franciscan convent.
"On Sundays we usually went to church. One Sunday after church we took the little ferry across the bay and walked a long way. We stopped at Mama's friend's house for coffee and coffee bread, and lively conversation.
Gunhild (tallest) center, Greta right, and friends all dressed for Sunday.

"Mama's friends always seemed so cheerful and happy. Like they had just received a very pleasant surprise by our visit. There are numerous islands scattered around Marstrand. It wasn't unusual for people to get together for wonderful food and a picnic on one of the islands. Ladies attending these functions brought the most delectable dishes that they knew how to make. We carried a large copper pot of coffee with a potato jammed onto the spout to keep the coffee from spilling and to keep it hot. When everyone was assembled we climbed into a boat or two and headed off for an island."

Alma held steady by a family friend. Laundry day.
"Monday was customarily wash day. Before it snowed and water froze, we took our laundry to a small nearby lake. We used 'jellied' soap, green or blue, bought by the pound at a little grocery store. We scrubbed the clothes on the rocks at lake's edge. Sometimes Mama made a 'brush' by tying twigs together and scrubbed clothes with it. We rinsed out clothes in the lake. Then hung them to dry on bushes and rocks.
"In winter Mama heated water on the stove and we did our laundry in the large tub in the kitchen–the same one used for bathing. Then hung the clothes to dry."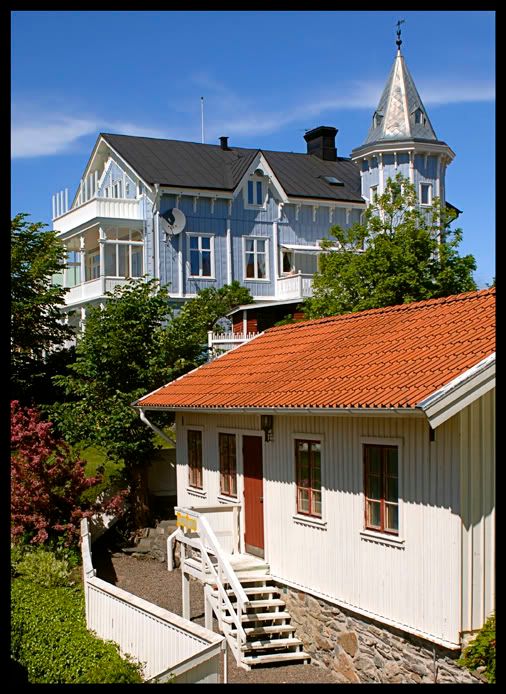 The structure in the foreground houses Marstrand's History Museum. I noted the house in the background is the same house in the background of the previous photo. Alma and the laundry.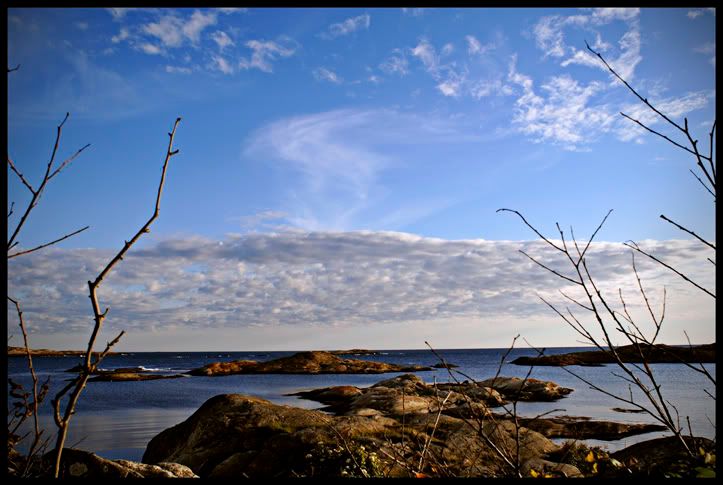 Temperatures dropped significantly in September. Two weeks of thunder and lightening finally yielded to a bit of sun. Gunhild and Greta took that as cue to go swimming. But the water was 5 degrees Celsius. "We thought it was most invigorating, and when I got out of the water my body was a rather lovely shade of blue."
Alma had a birthday in September. She seemed to rally a bit. Greta thought it was because Gunhild was there and the summer guests had all left. One Sunday there was a party for Alma. Ladies gathered for coffee. And in the words of Gunhild, they ate "a lot of junk." Almost every one of them ate 6 to 7 pieces of coffee bread, cookies and birthday cake.
"The price of fruit, vegetables and cheese is so high, they don't eat properly," she wrote to Keith. Shortages only worsened as time went on.
Post Card Gunhild sent to Bill, September 13, 1938. The single X marks the ferry from Koön, the neighboring Island, to Marstrand. The double X indicates Carlstens Fortress. Triple x is the ferry they rode from Göteborg to Marstrand. 1938 is the year a road from Göteborg to Koön was begun. Greta remembers the sound of dynamite used by the road builders.
The old style ferry boat–also shown in the post card–was retired and replaced by a larger modern vessel. The old one lives on today as a boat for hire. Tours and parties.
Modern Marstrand Ferry. The shoreline of neighboring Koön island in view. Today's Marstrand is not only the historic small island but also includes Koön island and Marstrandsön island. There is still only one way to reach Marstrand island. By water. Swim, boat or ferry. The bay crossing by the one and only ferry between Koön island and Marstrand takes only a few minutes.
Town Hall dates from 1647, and is the oldest secular structure in the Bohuslän province. In the days of witch trials, the cellars held indivuduals awaiting execution. If the old poplar tree could talk, it might say it remembers all the times members of the Palm family had walked by. And when Greta ran errands. It was a younger smaller tree she saw on her way to the butcher or the baker.

It was while running an errand Greta was involved in a "freak accident," by Marstrand standards.
No boats were involved. Not even the fierce lightning which grandfather August said often struck people "in these parts of the country." She was struck, but it was by the only motorized vehicle on the island. "There I was lying flat in the street. I couldn't move, not even to cry."
The breadman was nearby and placed her into a large bread basket. They went to the nearest house while others ran to find and fetch Gunhild.
"According to Mama, I was black and blue and bumped and scratched all over. She patched me up. And within a week or so I was nearly back to normal. More or Less."
Next: German soldiers, snow in Marstrand, and Christmas.