Part 4 of My Family Story in Marstrand, Sweden. A view of 1938 life in Marstrand.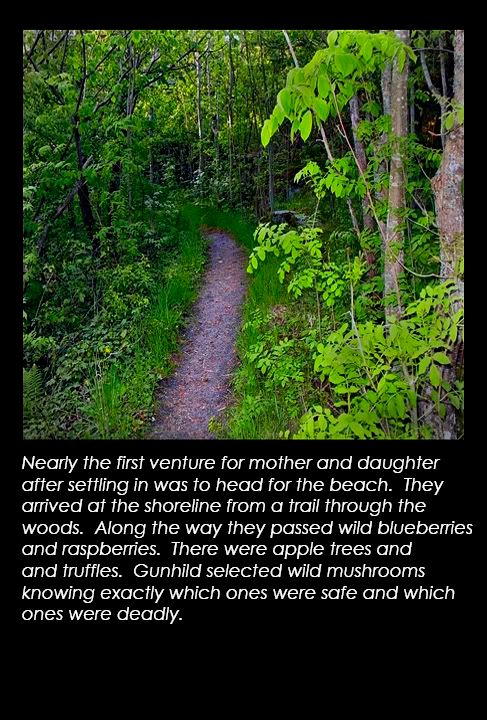 .


The Beach at Marstrand doesn't have a bed of sand. Just boulders; large flat sun warmed rocks to lay or walk upon. A wooden deck is provided. The beach is segregated. Men on one side of a fence; women on the other. The reason, nudity is permitted. There's a small shelter for changing in and out of one's clothing. Gunhild and Greta, though, opted for swim suits.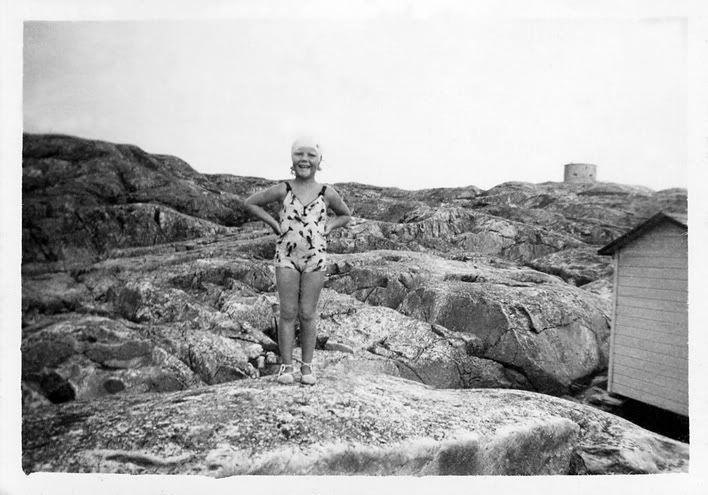 Greta at Marstrand beach in her stylish lobster motif swim suit. That's the same wooden shelter for changing shown in the previous photo. Carlstens Fortress in the background.
Greta learned to swim here. She was in the water up to 3 hours. Even 5 hours. Initially her body experienced some shock doing this.
"I was really in for a big surprise. The water was so COLD!!!. We had a hard time getting used to it at first. There were several times my skin was blue and I shivered when I got out of the water. As time went on we got used to it and found it very invigorating."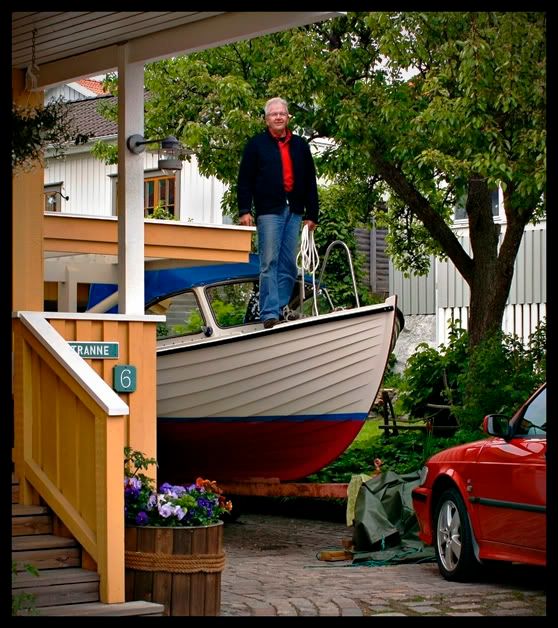 "'All The Swedes in Marstrand love their boats,' Mama always said. 'They have at least one boat of some kind. Some have several. Even the poorest has a rowboat,'" quoted Greta. "Mama's friends had some large grand boats, and took us sailing from time to time."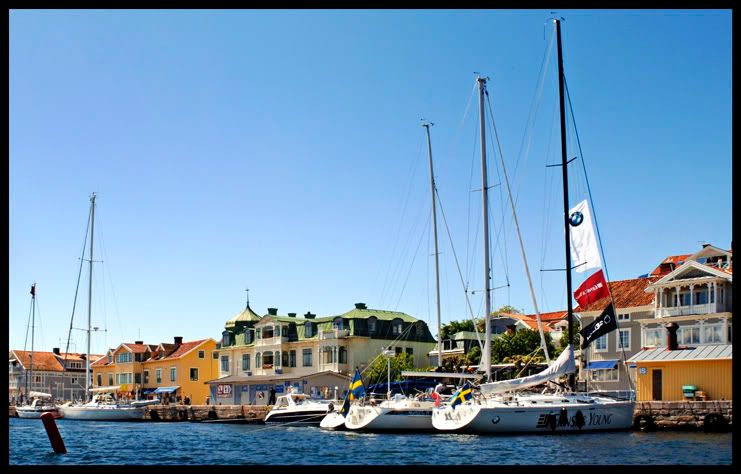 A view while Crossing Marstrand Harbor in a small boat. Skippers Lena and Gunnar Danielsson, Inn Keepers of Korsgatan 5–excellent, highly recommended Marstrand accommodations (and extremely nice hosts as well!). lena.gunnar.danielsson@telia.com
"Summer was a glorious time in Marstrand. How wonderful the breeze felt. Cool, yet warm blowing through my hair. And the sky–how blue it was. The water was crystal clear and I could see rocks at the bottom and fish swimming around."
One of Greta's cherished memories is when Grandfather August took her fishing. Gunhild packed a picnic lunch for them. Pork sandwiches with cheese and home churned butter on heavy brown bread. Coffee cake and wild pears for dessert. August Palm had a common row boat. He fished with only a simple baited line, or string, held by hand. There was a bit of ritual or method he taught Greta. After catching a fish, he instructed her to blow on its mouth before casting for the next. With the second fish she blew on the tail. With the third fish and all the following ones, this procedure progressed. One eye, then the other. One gill, the next. Top fin, bottom fin, and so forth.
"It was so amazing to me how when grandfather August told me to blow on a part of the fish that I would immediately catch another one." Fishing was over for the day when there were no more parts to blow on.
At evening time August Palm liked to regale family and guests with fishing tales. Gunhild noted he added to the stories each time he told them. Sometimes he enjoyed a glass of schnapps. The stories became wilder and wilder. The fish got bigger as well.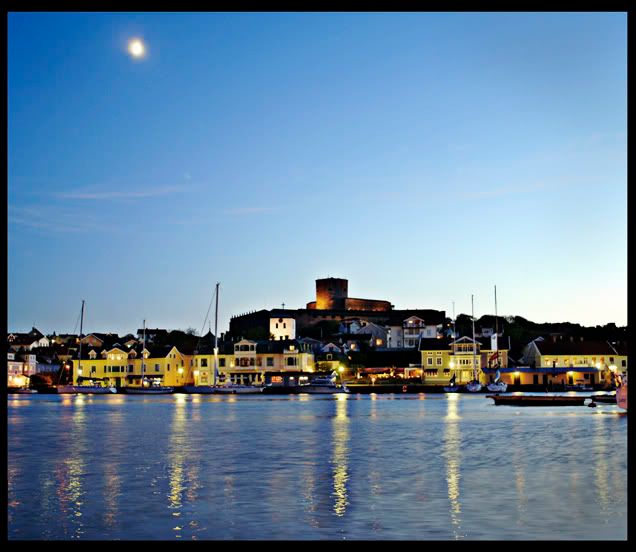 On summer evenings with a full moon, the nights appeared almost as day. Neighborhood ladies gathered at the Palm residence. They "talked and talked and talked" about old times. August Palm conveniently disappeared from the "hen party," and kept company with a radio in his room.
Marstrand wharf and Harbor, circa 1938/39
Fish was plentiful and Swedes ate a lot of it. Most food in 1938 Sweden was expensive and often scarce.
Much of this had to do with trade arrangements Sweden had with Germany. For instance, every week a German ship came to dock at Marstrand's wharf. Crates of butter were loaded on board. Gunhild wrote there were 23 tons of butter loaded up every year and sent off to Germany. The ship remained docked for a week before rotating out for another to take its place. Aboard each ship were thirty five to forty German soldiers that made their presence known.
Hotels and restaurants had priority to meat, produce and other goods not shipped to Germany. Gunhild was perhaps mindful of that when she observed German soldiers at Marstrand hotels living it up. "They ate like horses," she said.
Meanwhile butter in Sweden was expensive. So was milk. There were very few vegetables. Gunhild wrote that fruit was hard to get and "nearly the price of gold." Meat of any kind was hard to obtain. Once she went to the butcher shop for calves liver, but had to order it. Two weeks passed before delivery.
Sweden had to placate an aggressive German war lord and to remain as neutral as possible during his rein of conquest. By the Summer of '38 Hitler had taken Austria without resistance. Czechoslovakia was his next target. It appears whatever hardships Swedes were asked to endure during these years–there were many– it was considered a better option than to infuriate der Führer and to suffer bloodshed, bombs and stripped sovereignty.
Critics contend Sweden was an armed camp for Hitler. However it is certain Sweden aggressively bolstered its defense budget, mobilized forces, called up reserves, and educated citizens on what to do in the event of hostile invasion. In the words of one government official "to make ourselves as indigestible as possible." Sweden intended to go down swinging if the bully came looking to fight. In Marstrand that thought appeared to be on everyone's mind. And as Gunhild noted, "Swedes vowed to fight to the last man." Even Greta's young playmate and best friend Gunnar wanted to fight as well.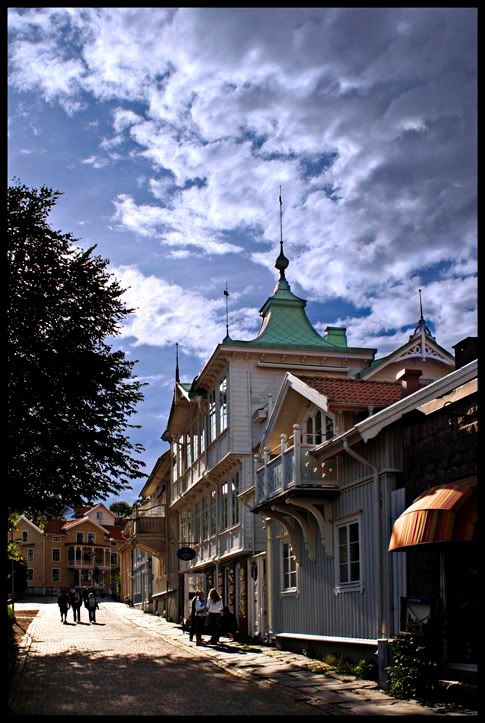 The Meat Market and Bakery once occupied the nearest two storefronts of this photo.
Gunnar's father owned a meat market. When Gunhild sent Greta to pick up some meat, Gunnar's dad handed over some salami or bologna with some cheese and crackers for Greta to much on for her walk home. At the bakery they surprised her with miniature bread loaves suitable for doll's tea parties. Even the pastry shop provided doll size pastries for the young American girl who quickly learned Swedish.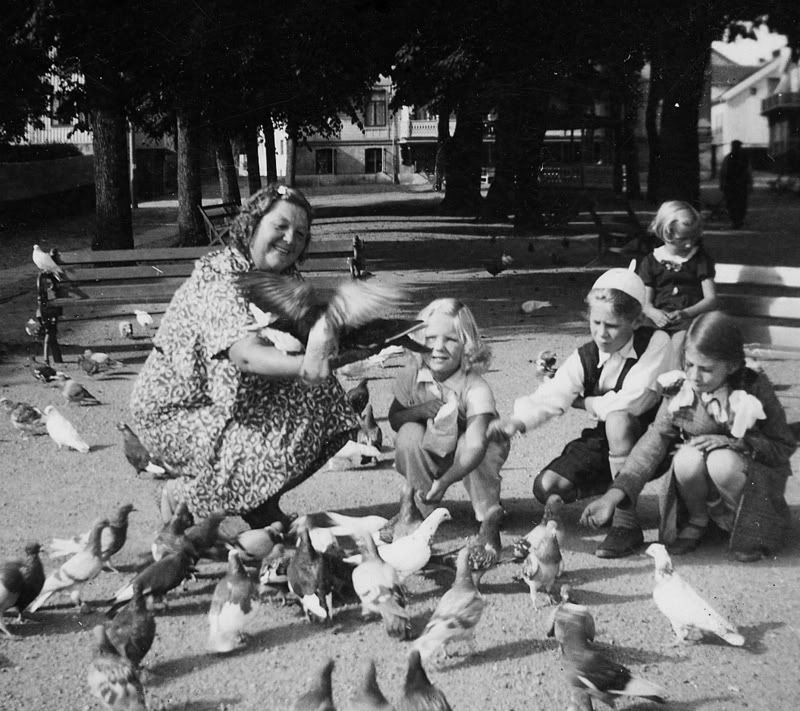 The hardware store also provided treats. Here Gunhild, Greta and the Mayor's children use complementary bird seeds to excite Marstrand pigeons.
Not only was her quick learning of Swedish helpful at making friends, but so was her possession of gum sticks Keith enclosed in every letter. "I shared with my new friends who thought American gum was the most wonderful in the world."
Next Chapter: Routines, Daily Life and Social Customs in Marstrand