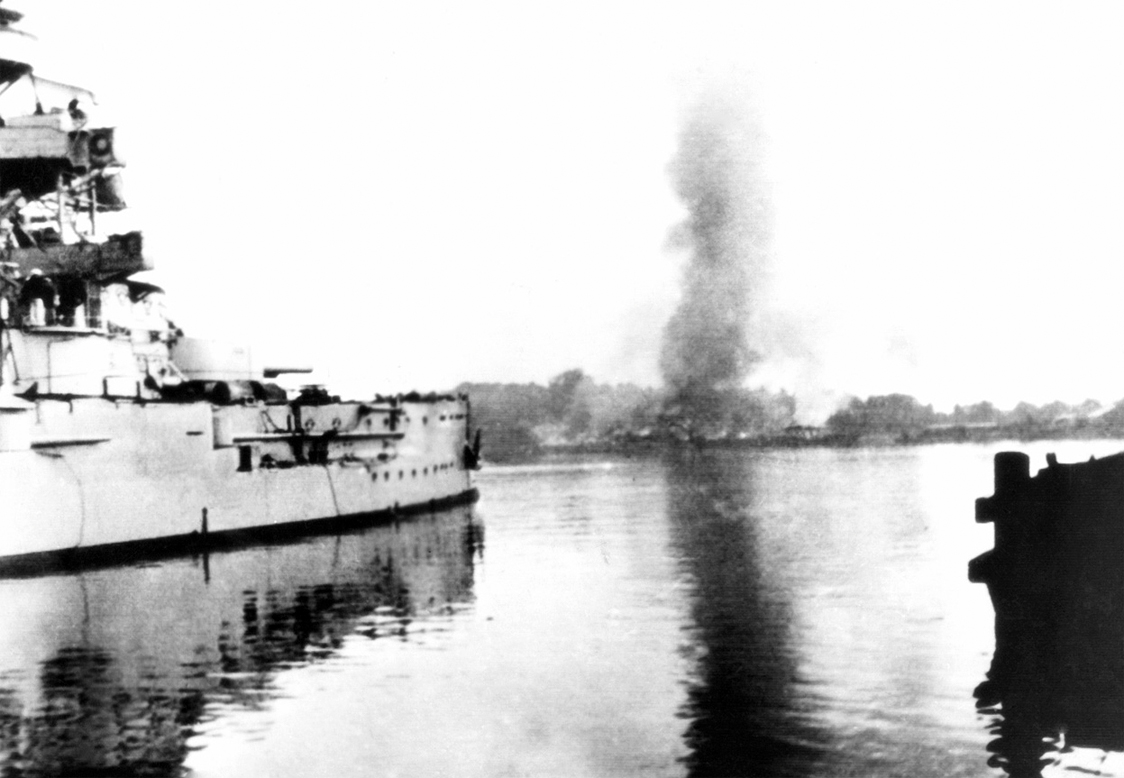 Thursday August 31, 1939. "Quiet lazy day. Nite: read + listened to the radio – war is more imminent every minute. Up late listening to the news, fighting between Nazis + Poles begun."
In August of 1939, Nazi Germany and the Soviet Union signed a non-aggression treaty. One week later, Germany invaded Poland and World War II began. The first attack of the war took place on September 1, 1939, as German aircraft bombarded the Polish town of Wielun, killing nearly 1,200. Five minutes later, the German battleship Schleswig-Holstein (above photo) opened fire on a transit depot at Westerplatte in the Free City of Danzig.
Friday September 1, 1939. "War on between Poland and Germany. Home and listening to the newscasts most of the day. Nite: Harry H. from Beverly + Amy phoned – I called Tony. Letter from B.K."
Aerial view of bombs exploding during a German bombing run over Poland in September of 1939
Saturday September 2,1939 "To the Fair with Tony. Saw Jack Benny Show. ToBrazil + talked with the boys. Nite: Went to party at Ross's. Stayed all night. Marc, Palmer and Sam in Uniform. Britain + France declare war on Germany.
Following the huge success of Benny Goodman performing at the Fair, a line up of more big name entertainers followed. Fair goers then saw Jack Benny and his wife Mary Livingstone with the Phil Harris Orchestra on stage.
Sunday September 3,1939 "Breakfast at Louis. Sam and R. stopped the cable cars. Went to Doc's Ranch in a caravan car. Back by train. Ross brought us home."
Monday September 4th, 1939. "Labor Day. Home all day reading and listening to the radio. Jeanne went to the Fair."
Tuesday September 5, 1939. "Went downtown – paid Sherer. Went to the new Telenews Theatre. Saw the war pictures – horrible. Bought a slip and necklace. Nite: walk in the park. Letter from Carola. Wrote to Carola, Irene, and B."
The Mikado is a 1939 British musical film based on Gilbert and Sullivan's operetta. Directed by Victor Schertzinger. With Kenny Baker, John Barclay, Martyn Green, Sydney Granville.
Wednesday September 6, 1939. "Up at 9:20. To picture matinee of Mikado. Nite to library after walk in the park. Bought sugar which is going up on account of war.
Thursday September 7, 1939. "Shopped on Clement Street. Walked in the park with Bijou. Nite to Tony's, got a Jacket and skirt. 9 pm Marc, Palmer, and Frank G came over and we drove to Sausalito. Interesting saloon – Marc + Palmer stayed all nite."