Glen Ellen's first post office was established in July 1871. Once railroad service was available to Sonoma County in the 1880's, San Franciscans began spending their summers in Glen Ellen to escape the cold and fog in The City.
"Jack London lived in Glen Ellen 'Valley of the Moon.' We used to go out that way–beautiful country. And of course those days there weren't the freeways like there are now"
Jack London lived, farmed and wrote in Glen Ellen from 1905 until his death in 1916. Jack London State Historic Park was created in 1959 with about 40 acres of London's 1,400-acre Beauty Ranch.
Sonoma Hotel

"The little town of Sonoma; we used to drive over there.  That's where they first raised the bear flag in California. It was a charming little place too. There was a hotel there, some Italians ran it, that had Oh! the best meals."
"And there was an old Mission there, the Sonoma Mission."
The Sonoma Mission was the last site and Northern most of the 21 missions founded by Fr. Junipero Serra. The Mission San Francisco Solano (Sonoma Mission) was selected and ceremoniously consecrated by Father Jose Altimira on July 4, 1823.
Leon and May Bridinger, left

The Historic Landmarks League bought the mission property in 1903, and they finished restoring the mission in 1926, when they turned it over to the State of California. After further restoration, the mission is part of the Sonoma Mission State Historic Park.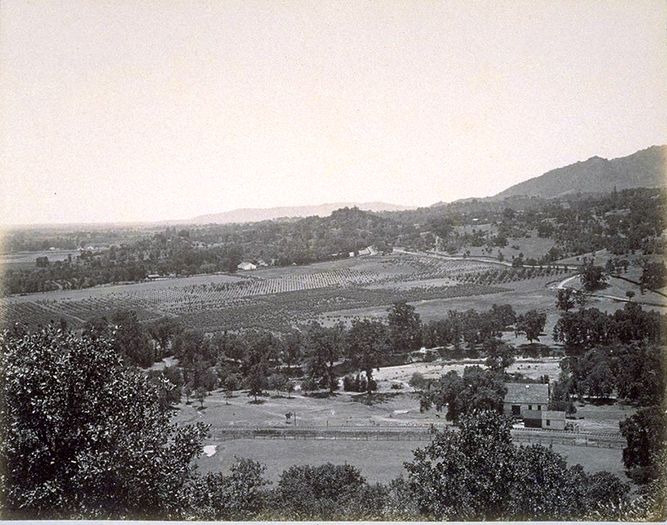 "There were a lot of Italians in Sonoma County. Many of them.  Wine makers, ranchers. A lot of wineries around there."
The Seghosio family is just one example of the Italian influence in Sonoma County. Their winemaking roots back to the vineyards of 1800s Italy. That was when Edoardo Seghesio decided to pursue a new life in Sonoma County, which at the time was the home of a flourishing Italian community. Like other Italian immigrants at the time, Edoardo recognized the potential that this area had for creating terrific wines that reminded them of home.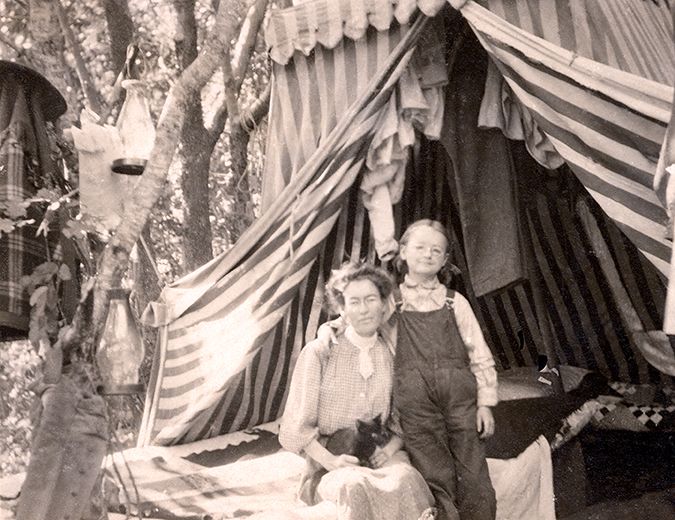 Camping trip, all the comforts of home. May and Helen.
The "back country" wasn't too far away in the 1910's. Helen's scrapbook shows excursions and camping trips the the Russian River Valley, River View Grove, Petaluma, Camp Rose, Peach Flat, Muir Woods, Cotati, Monte Rio, Guernewood Park, and others.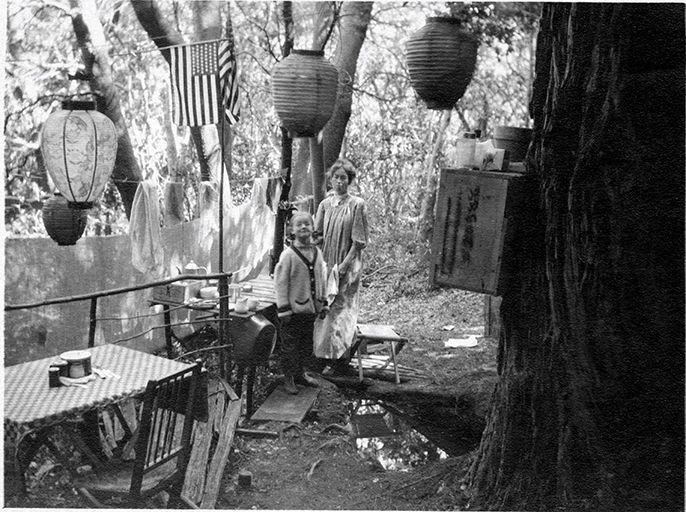 There is no caption for this photo, but likely this is one of the locations mentioned before. Lake Tahoe was another camping destination they enjoyed.
Group photo with the automobile. That's mom's (Jeanne's) writing. She didn't indicate Lawrence next to Helen.
Meanwhile, back at the Ranch, May Bridinger with a new addition to the family.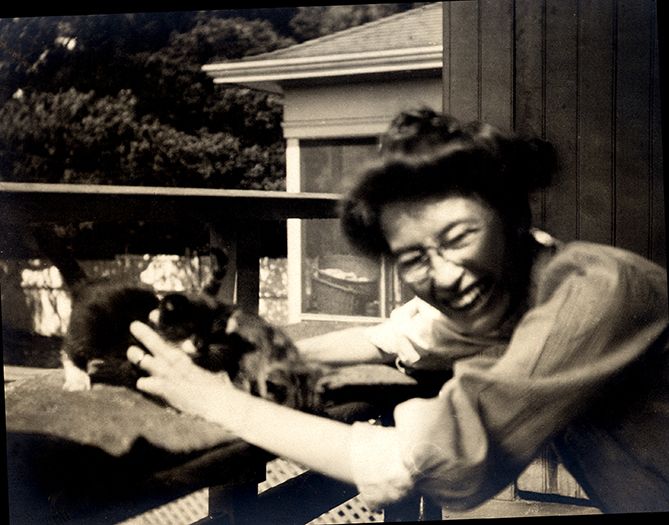 May enjoying her kitties. Helen through her life kept both dogs and cats. But in my life she was a cat fancier. I remember Salome, Ulysses–both solid black cats. Then Adonis, pure white.
Next Chapter: "We'd Ditch School and Go To The Movies."