Part two of my family history, The Delanos. After Helen's mother Julia dies in Silverton, Colorado, Helen is adopted by Julia's sister May Delano Bridinger and her husband Leon. Wearing a white muff and a sign "I am an orphan," Helen travels alone by train to California to join her new family.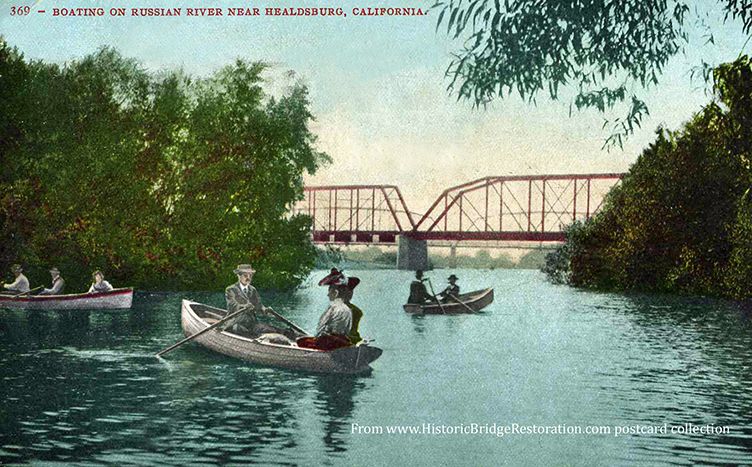 These bridges are still intact along the Russian River
"We were living in Alameda when Leon (father Bridinger) got TB. He was working for the Diamond Rubber Company. We then moved to the country, Kernville first. Then up the Russian River. I went with him while Mother closed everything in Alameda.
I first went to school when we lived in Healdsburg. It was a one room school way up on a hill. I'd have to walk to school one mile. It was way up on a hill and there were six grades. There was an Indian boy who sat in back of me. His name was Sam. He was always pestering me! (laugh).
But that one room school. That was fascinating–kids in the sixth grade were grown up as far as I was concerned!
Healdsburg Plaza, the town square, photo Healdsburg Museum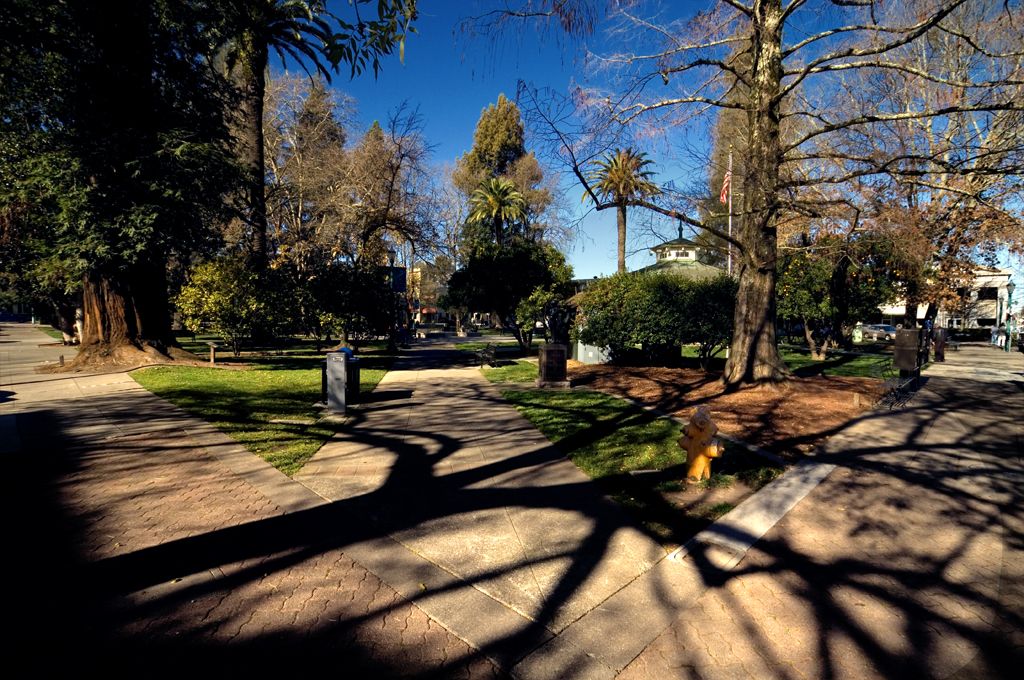 Healdsburg Plaza today. Mature Trees, but still the focal point of central Healdsburg.
"In back of the little ranch where we lived there was an Indian reservation. Every Saturday Indians would trek by into the little town because there was a band concert in the little square."
For thousands of years before White settlement, the lush area now called Healdsburg was home to the Pomo Indians. These early residents built their villages in the open, fertile valleys along the Russian River. They hunted the elk, bears, and mountain lions that roamed the dense oak and madrone forests along the meandering river.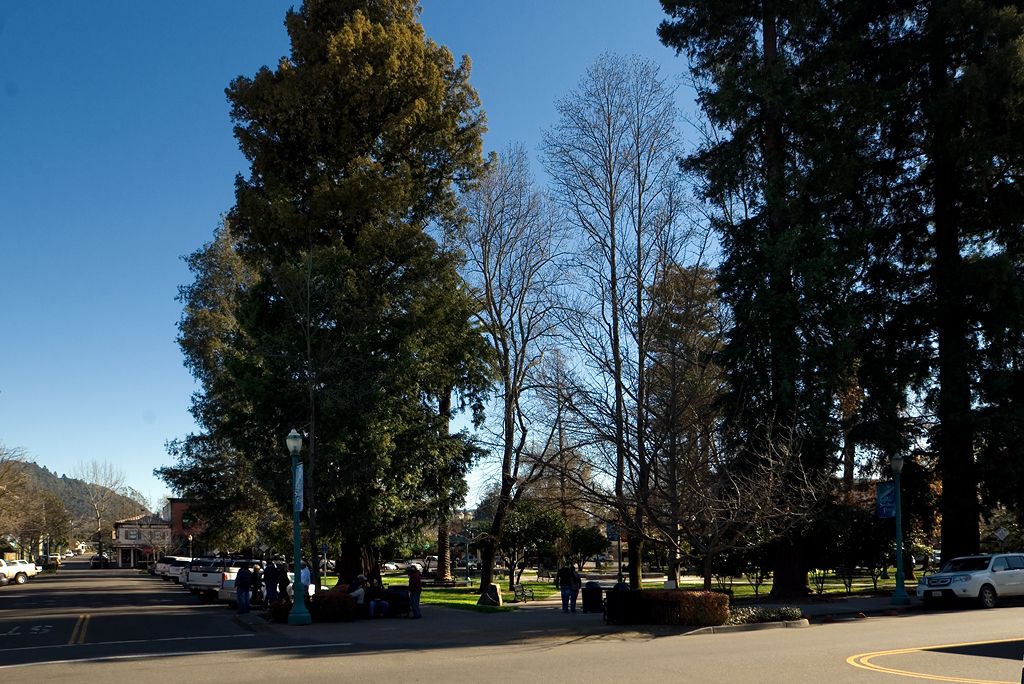 Healdsburg Plaza with Fitch Mountain in the background. Healdsburg claims Captain Henry Delano Fitch just as much as Old Town San Diego. Fitch held a Mexican Land Grant in Healdsburg. He lived long enough to learn that gold was discovered in the area, but died before he could relocate from San Diego. His family however migrated to Healdsburg and built a large house that became known as "The Fitch Castle."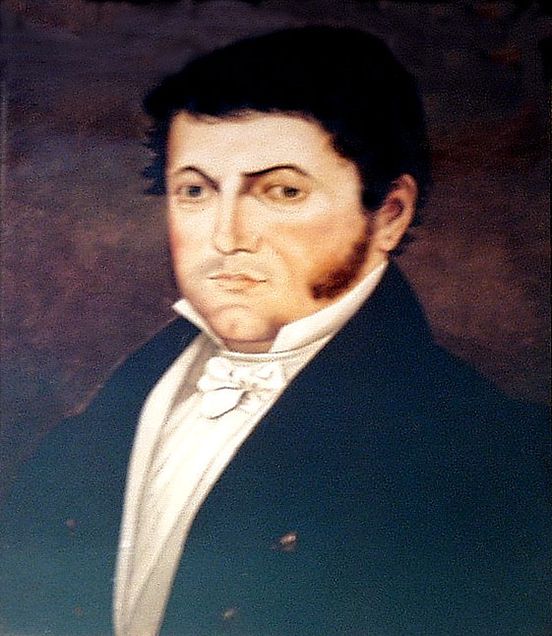 Captain Henry Delano Fitch. Painting, Healdsburg Museum.

May Delano Bridinger and Helen Bridinger weren't the first Delanos in Healdsburg. After the Mexican government established the vast 48,000-acre Rancho Sotoyome, this enormous land grant was awarded to sea captain Henry Delano Fitch in 1841. Fitch promptly hired trapper Cyrus Alexander to manage his bountiful rancho (the magnificent Alexander Valley is named for this early tenant).
Fitch's father, Beriah, was a master of whaling ships whose ancestors in America date back to the 1600's.
His mother was Sarah Delano.
The Delanos in America descend from Philippe de Lannoy. The family name was was anglicized to Delano. He was a Pilgrim of Flemish descent arriving at Plymouth, Massachusetts on November 9, 1621 at the age of 19. His was the Pilgrim ship after the Mayflower called the Fortune.
His descendants include Philip Delano Jr., Frederic Adrian Delano, Jonathan Delano and Franklin Delano Roosevelt, Ulysses S. Grant, Calvin Coolidge, Laura Ingalls Wilder, Robert Redfield, Captain Paul Delano, and Alan B. Shepard.
Delano family forebears include the Pilgrim who chartered the Mayflower, seven of its passengers and three signers of the Mayflower Compact.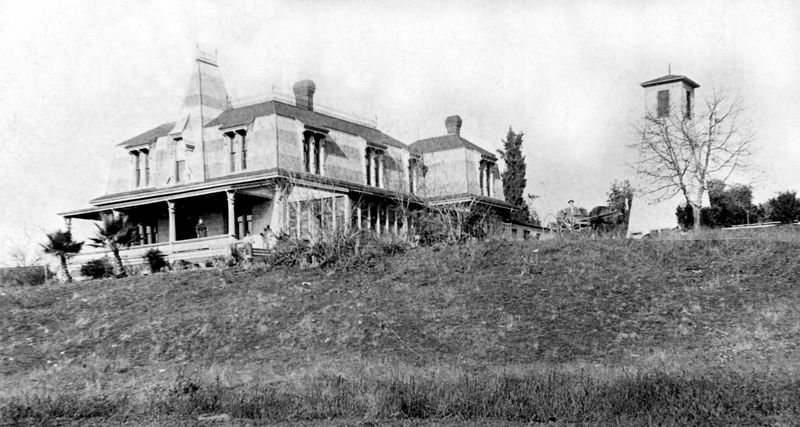 The Fitch Family Residence "The Fitch Castle," began in 1840's by Cyrus Alexander. Photo, Healdsburg Museum
The California gold rush of 1849 brought itinerants, squatters, and failed miners to the more generous farming land of the rancho. Over the years, these squatters settled on the verdant land owned by the Fitch family. In 1857, a fight named the "Westside Road Wars" commenced among the squatters. One of the winners of this colorful conflict was Harmon Heald, an Ohio entrepreneur. "Healdsburg" was incorporated in 1867.
The Fitch Castle. The couple seated in front is said  to be Anita Fitch Grant and her husband  J.D. Grant. Photo, Healdsburg Museum
Captain Henry Delano Fitch is not only an important name in Sonoma County history, but in San Diego history as well. Fitch was San Diego's first permanent American resident, its first storekeeper, and an early "Mayor" of San Diego. The San Diego home of Fitch and his wife, Josefa Carrillo, still stands in Old Town San Diego. "The Carrillo Adobe," is the oldest house in San Diego.

After gold was discovered near Fitch's rancho in Healdsburg, he was anxious to move permanently to Sonoma County. But he died in 1849.
Fitch was buried in the church cemetery is in today's Presido Park, San Diego.
Archeologist Ron May was part of the crew that discovered his grave on a "dig" in 1968. The letter F slowly began to to appear on the coffin lid. May and the crew knew this had to be none other than Fitch. Finally they read the initials H.D.F.  The lid to his coffin is decorated by designs made by the copper heads of nails. There is a cross, and under it, two hearts.
Ron May tells us "H.D.F was at least six foot, five inches.  According to Paul H. Ezell, who organized a Fitch reunion, there was a bible with a note that HDF actually died from poisoning in San Francisco and his body shipped to San Diego. His daughter, Natalia Fitch, was found adjacent to him and she too died in 1849."
Fitch was one of the most colorful and romantic figures of early California history. His courtship and marriage of Josefa Carrillo is legendary.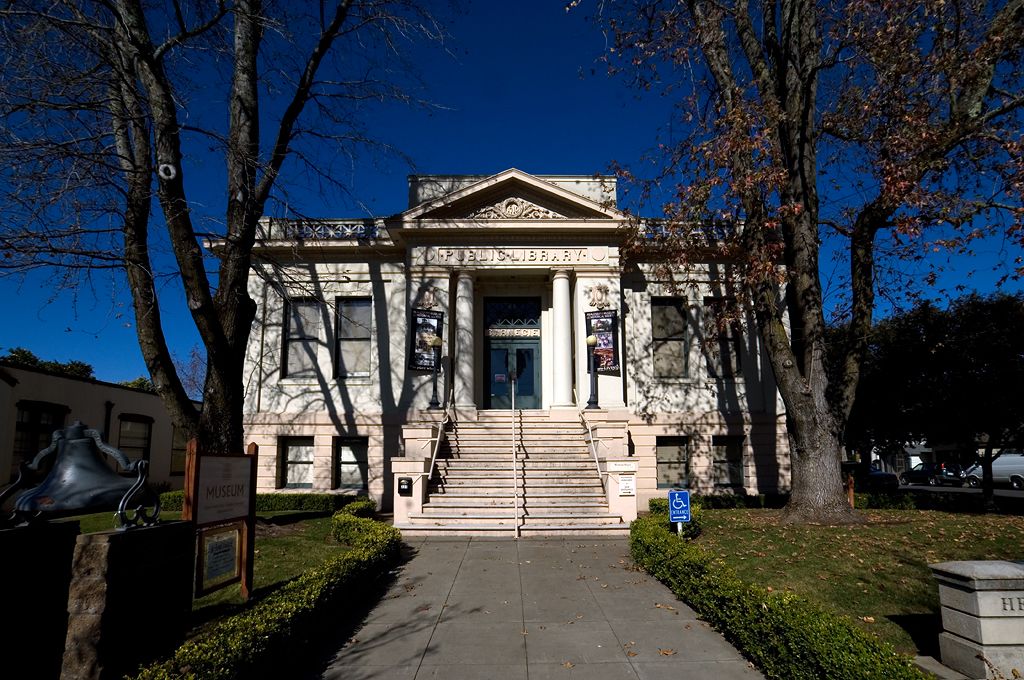 The Healdsburg Museum
There's a rivalry between Healdsburg and Old Town San Diego as to whom has dibbs on Captain Henry. A bidding war took place over the Captain's ornate desk which he had delivered to San Diego around Cape Horn. Healdsburg, and one determined (wealthy) benefactor, prevailed in the bidding war. The desk now resides in the Healdsburg Museum. The building is an old Carnegie Library building, restored and looking good.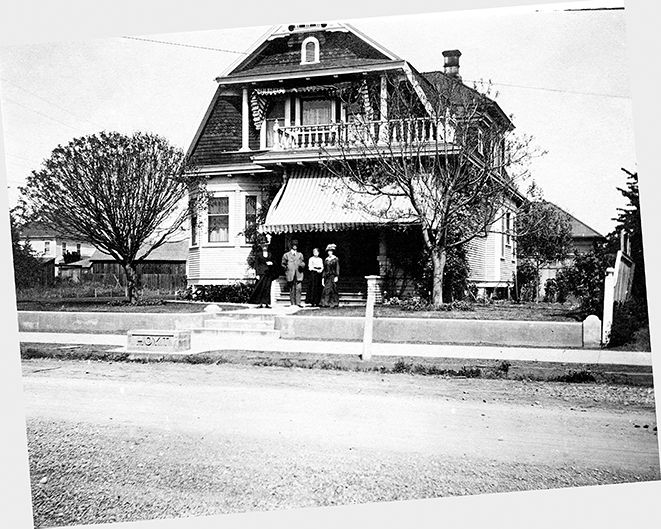 "Then we moved to Santa Rosa. Our ranch was just outside Santa Rosa but for a while we lived in town.
It was huge house, two story with a dutch-like roof on Humboldt Street. No gingerbread or anything like that.
It had a living room, dining room, kitchen, a little room in the back, a big back porch, and a little front room they called a parlor. They never did anything in there except there was a desk and  once in a while they'd write in there. And there was a huge bedroom clear across the front of the house. And then two other bedrooms and just one bath upstairs!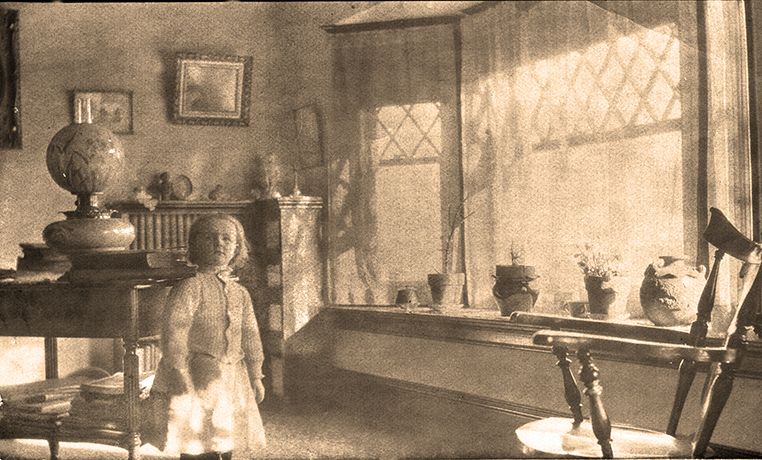 "Mother Bridinger wouldn't talk about my mother Julia or what happened to my father.
They thought that I was so young that I would forget and think that Mother Bridinger and Leon were my real parents. I would go to bed at night and wonder "which is real and which is a dream." But I always remembered.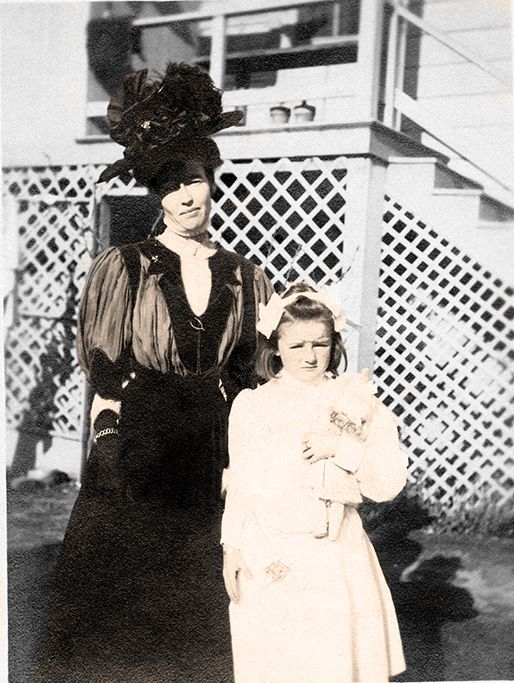 "My mother Julia had taken a lot of snap shots. And I found them one day when I was older–in my teens, I guess. I think my Mother Bridinger knew I had found them. Next time I looked they were destroyed. Isn't that awful?"
Apparently Helen had no knowledge of her natural mother's stage renown as a singer and musician of San Francisco theater. It seems she never knew Julia had refused to live the role of a proper Victorian housewife by not giving up her San Francisco theater and stage career where she was an accomplished singer and musician. It's a story that seems to have considerable indignation and outrage – if not total scandal-in 1902 San Francisco. The headlines practically demonize Julia.
San Francisco Call January 30. 1902
San Francisco Call April 28, 1902.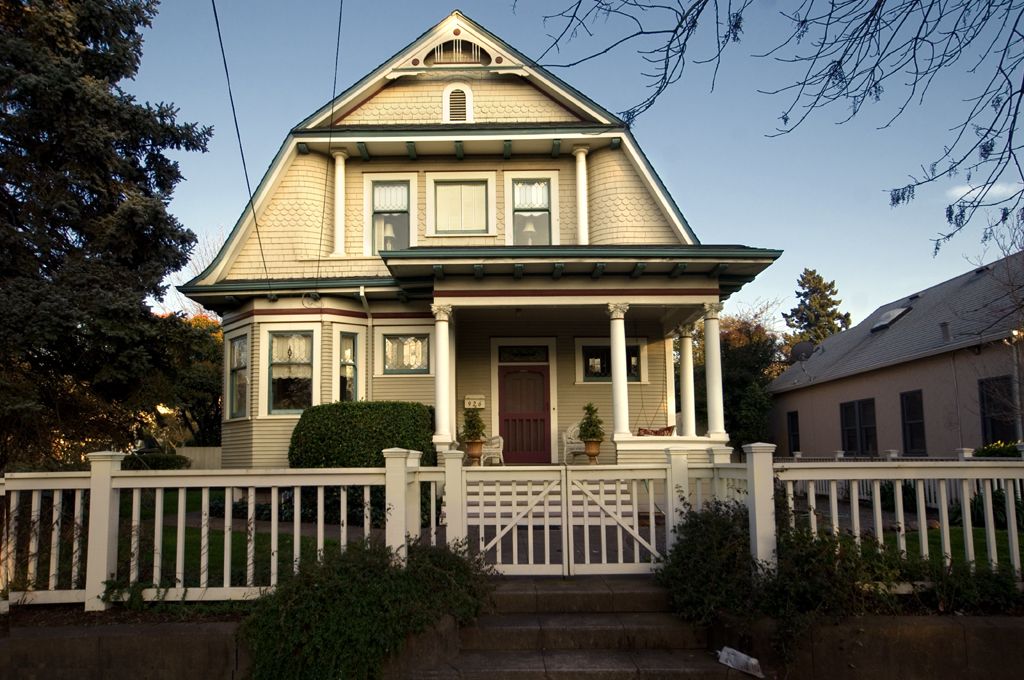 The Humbolt Street House today.
Next, School Days and Life On The Ranch.