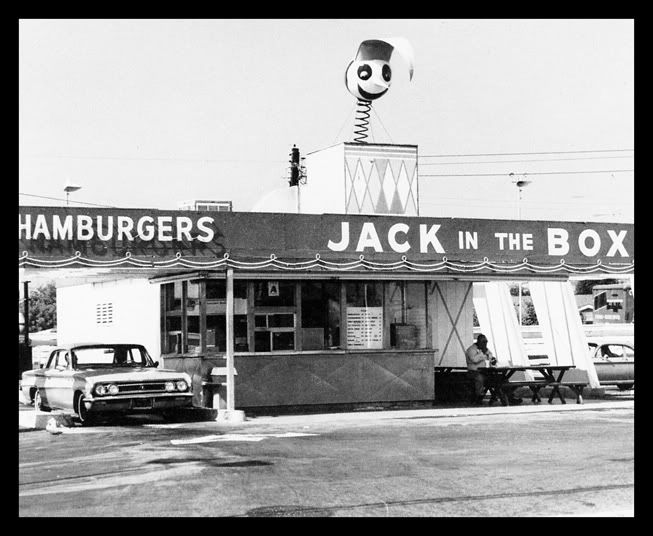 Jack In The Box #1. Was located at El Cajon Blvd. at 63rd.  Jack in the Box was the first "hamburger stand" to utilize intercom technology and the drive-thru window. McDonald's and Wendy's didn't have drive-thrus until the 1970s!
1951 Southern California.  The rise of the car culture and rapid service convenience. It was the year Robert O. Peterson matched hamburgers with the speed and convenience of the automobile.  An American Drive-Through icon was born, Jack In The Box.

Jack In The Box, 30th and Upas, North Park.
The Company has brilliantly kept pace or has been ahead of changing times.  However  in the process we are on the verge of losing the last remaining identifiable architectural elements of the original Jack In The Boxes.  Why is this important to note and be concerned about?  The answer is found in consideration of two great individuals and their legacies.  Robert O. Peterson and his architect Russell Forester.
The story of San Diego's cultural history can not be fairly told without a chapter about Robert Oscar Peterson, the founder of Jack In The Box.  The brand is not only a San Diego success story, but there are at least 2100 shops in 18 States, making this a story of national significance as well.
But  through and through it is all about San Diego. Peterson grew up in North Park.  He attended Jefferson Grammar School and Graduated from Hoover High.  He attended San Diego State majoring in economics and graduated from UCLA.
To pay for his last year of college he rented Balboa Park's Cafe To The World (present site of the Timkin Gallery) and charged admission for Friday night dances.  At least two notable names in history were a part of this enterprise.  A young Gregory Peck tore tickets.  Art Linkletter was a bouncer.
As stated in the above newspaper clip from 1983 "Robert Oscar Peterson has exerted a profound effect on the life of San Diego."  He was an active supporter of cultural and fine arts in San Diego. He was backer the Symphony and San Diego Zoo.  And he had a great eye for architecture.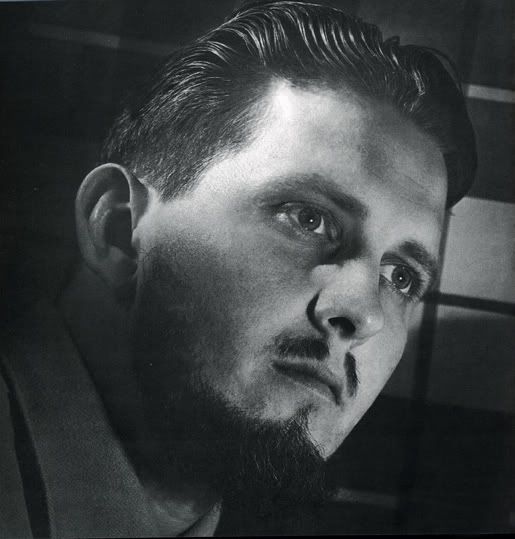 It could very well be argued Peterson's best business decision was the choice of his architect, Russell Forester.  He also grew up in San Diego–graduating from La Jolla High in 1938.  From 1943 to 1946 he was a draftsman with the Army Corps of Engineers, along with another great name in San Diego architecture Lloyd Ruocco.  Forester began his formal education in 1950 at the Institute of Design in Chicago.
Forester admirer Don Schmidt, recalls his conversation with Forester in 2000/2001. "I wrote him a letter and I followed up with a phone call. He didn't know me from Adam, but he was extremely nice to me and was very patient. A rare person in any time! He worked for William Kessling in the late 40's/early 50's. Kessling was not technically an architect, so Russell would clean up the plans so they would be presentable to the city. He said the designs were all Kessling, including the famous McConnell House on Spindrift, photographed for Life magazine by Julius Shulman in 1947."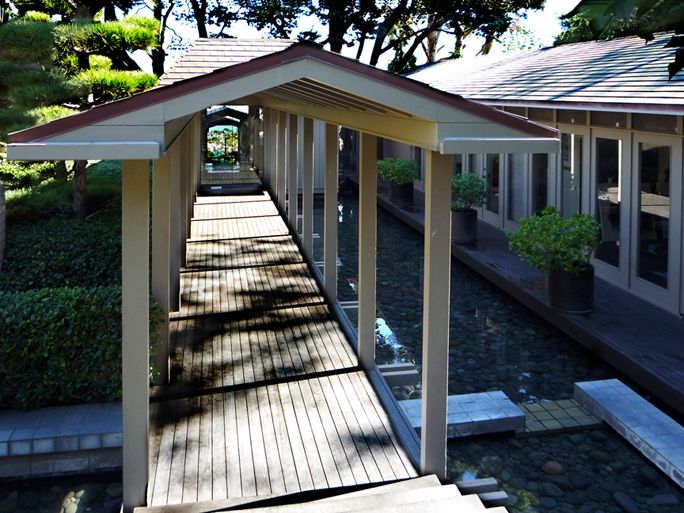 The Peterson Residence in Point Loma, 1965. Russel Forester, Architect.  Photos, Jaye Furlonger.
Russell Forester is listed among San Diego's Master Architects in the City's San Diego Modernism Historic Context Statement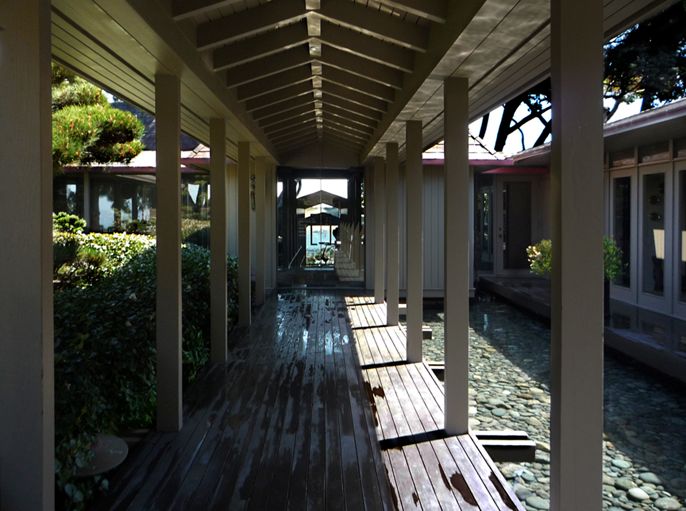 Forrester brought forth Mies Van Der Rohe's steel and glass design sensibility of the International Style.  Here, however, the organic arrangement of space and gardens hint of Japanese inspiration.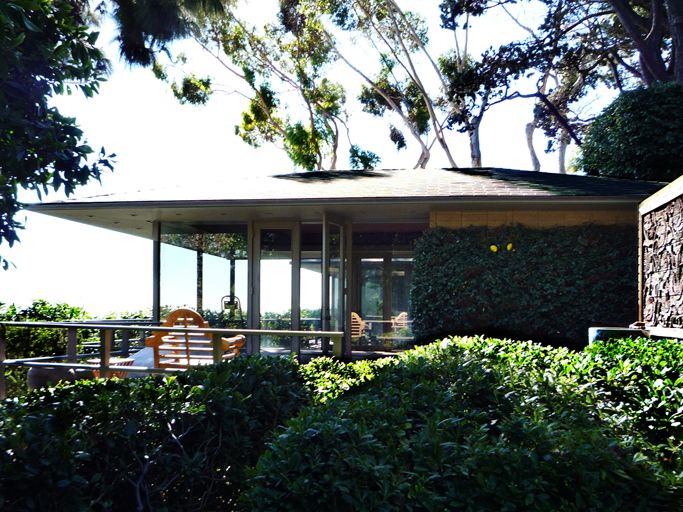 The Peterson Residence, "The House Jack In The Box Built."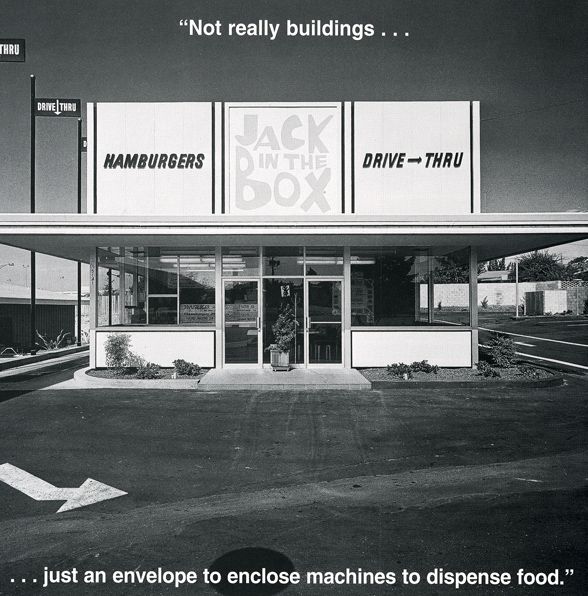 The architecture is familiar to anyone who grew up in mid-century San Diego.  It was so commonly a part of our urban landscape no one could have imagined the day these buildings would become rare or extinct.  But that is what is happening.  "Keeping up with the times" has meant more and more changes to the originals.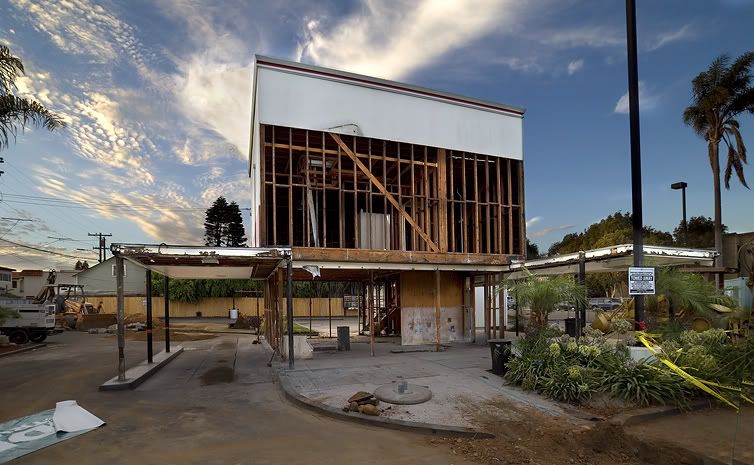 A "Mark II" Russell Forester Jack In The Box on Washington Street in San Diego undergoing change.
If there ever is a time for Jack In The Box to go "Back To The Future," this would be it. While there are still a few shops around with some identifying Russel Forester features.  It would be a worthy accomplishment  to save one or two of the oldest shops, both Mark 1 and Mark II designs, as permanent landmarks and monuments to a great entrepreneur and brilliant architect.  Doing so could have tremendous business potential as well.  It's a great P.R. opportunity and a chance to boost community historic character.  Here are some great success stories to illustrate how this has worked elsewhere:
"Back To The Future" has proven very successful at the world's oldest McDonald's in Downey, CA.
The shop features all original neon trim and signage.  An antique panel truck out front attracts passers by.  Car clubs gather here regularly to show their shiny fenders as well as to chow on burgers and fries.
In addition to the fully restored hamburger stand, there's a pavillion next door (red neon trim) that serves as indoor eating space, gift shop and McDonald's history museum.  It is simply a wonderful educational experience–especially for young people to learn about an exciting by-gone era, American mid-century.
Even the folks not dining at the museum pavillion have a chance to learn history while waiting in line to place their order.
Besides being a busy food operation, the site is a source of community pride.  People gather here to socialize, to see and be seen, and to help create the sense of community that is sometimes lost in the fast pace urban landscape today.  It is great P.R. for McDonald's. And another example of the many benefits of historic preservation.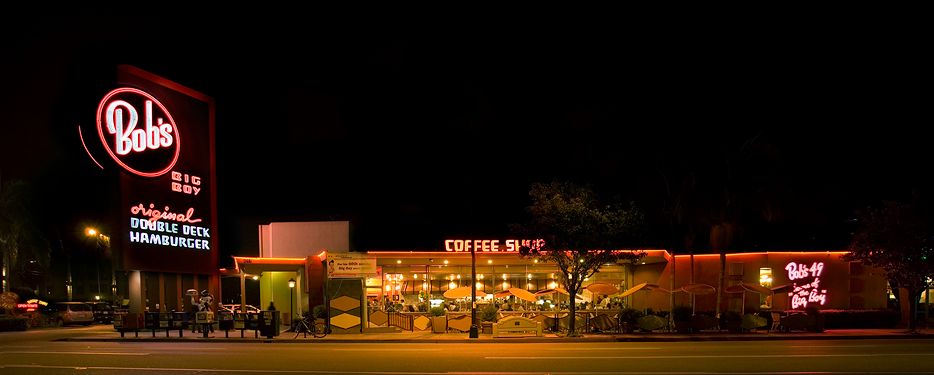 Another successful "Back To The Future" operation is Bob's Big Boy in Burbank.  Fully restored to its 1949 glory with a hint of 50's Googie on the outside patio area.  These photos were taken close to midnight.  The restaurant was still packed with business.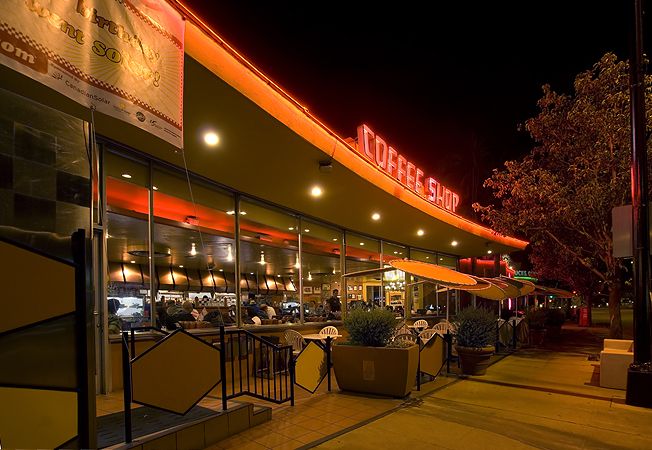 Bob's Big Boy, Burbank is a museum in itself.  Packed with historic mementos and old photos.  You can even sit at the booth where The Beatles had their meal.
As with the McDonald's in Downey, vintage car cruises are popular here.  Bob's has even brought back car-hop service for designated busy nights.
The Retro business model has worked so well for Bob's, they were able to recognize a golden opportunity for expanding it.  Here's the story of Harvey's Broiler, later known as Johnie's, in Downey: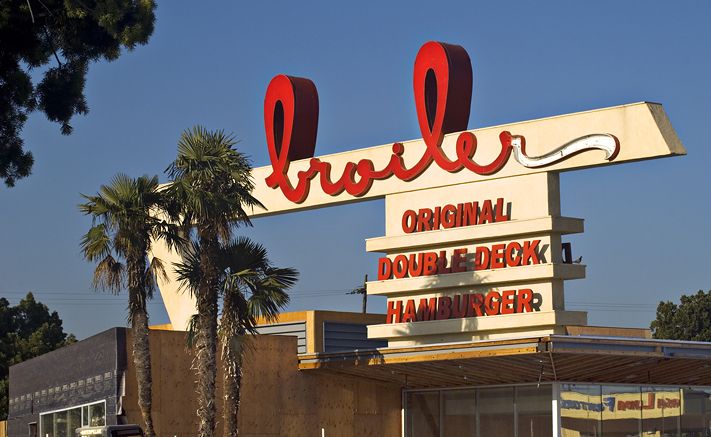 What you see here is a work in progress.  The on going reconstruction of the legendary Harvey's/Johnie's Broiler in Downey, CA.
The effort exerted in the attempted demolition and then the successful saving of this 1958 diner is an epic tale.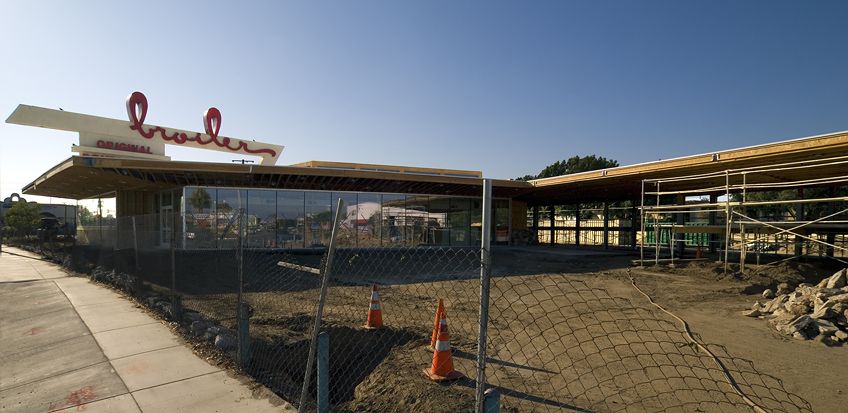 In its mid century hay-day, the site was a mecca for teenage car-cruise culture.  It was a classic Googie style diner and car hop.  It has been the site of countless film and television shoots.
It declined in the 80's and 90's.  By the end of 2001 it shut down as a diner and became a used car dealership.  But an appreciative following was not happy saying good-bye to their beloved diner.  A coalition  "Save Harvey's Broiler" was formed in 2002.  It began the process of nominating the building for the California Register of Historic Resources.  The owner, however, was not cooperative.
Then one Sunday afternoon,  a man named Ardas Yanik "allegedly" hopped aboard a bull dozer and maniacally attacked the building.  As debris spilled helter skelter onto the sidewalks, horrified and outraged citizens called the police.  But by the time the crime was stopped, the damage was done.  Mr. Yanik, who was identified as the lessee of the property,  pleaded no contest to three misdemeanor charges involving unpermitted destruction of a structure, conducting the demolition in the presence of live wires, and illegal dumping.  He was sentenced to three years of probation and community service.
The building seemed mortally wounded.  However a coalition of concerned interests and the sheer will of a community would not let this cherished landmark go away.
Seizing a great opportunity to operate another retro diner, Bob's Big Boy is rebuilding Harvey's Broiler, bringing it back to its former glory–including car hop service.
Does this "Mark I" Jack In The Box at El Cajon Boulevard at Kansas Street in Robert Peterson's childhood neighborhood of North Park have retro- theme potential?  It is one of the oldest (1961) Jack In The Boxes with remaining Russel Forester features.
This section of El Cajon Boulevard is part of historic U.S. Highway 80 "America's Broadway."  It is an area with all the elements in place to become a mid century revival zone.  First, the shop appears completely restorable.  Reinstalling the criss-cross pattern steel siding at the walk up window, the historic neon signage, and the  The Box on top with the large clown head looking down would draw great attention and from locals and visitors alike.
A restored Jack In The Box drive-in would have a great next-door historic neighbor, Rudford's.  The two could be a powerful one-two punch in attracting the kind of activity Bob's Big Boy in Burbank and McDonald's in Downey is known for.  Vintage car cruises and neighborhood gatherings.
El Cajon Boulevard was once known as San Diego's car cruise mecca.  Ceremonial recreations of that era would be great fun–and great business.
This nearby Denny's with its many preserved late 1960's Googie elements is also reflective of this important era of El Cajon Boulevard.
El Cajon Boulevard's Historic Red Fox Room at Layfayette Hotel.
Other eateries may fit in as well because of their historic neon. There could be possible "Taste Of" events during the year featuring food sampling at these various landmarks.
But there are more possibilities to explore as well.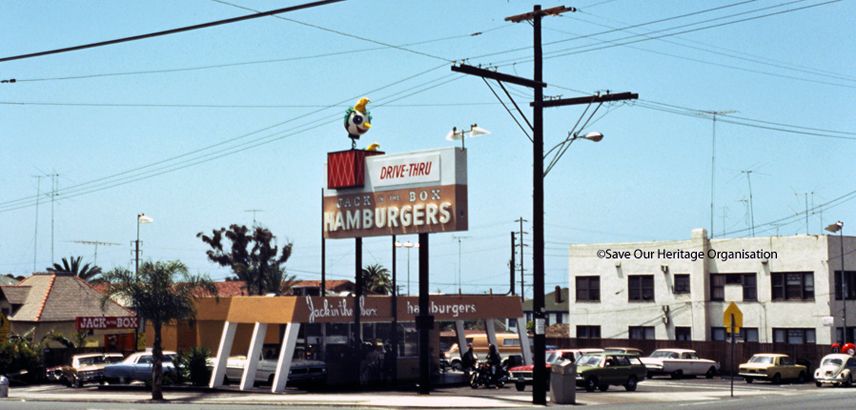 Former Jack In The Box site at 24th and Market in San Diego in the 1970's.
Note the "spider leg" columns, the exquisite neon lettering above the drive through, and of course the "clown head" jack-in-the-box sign.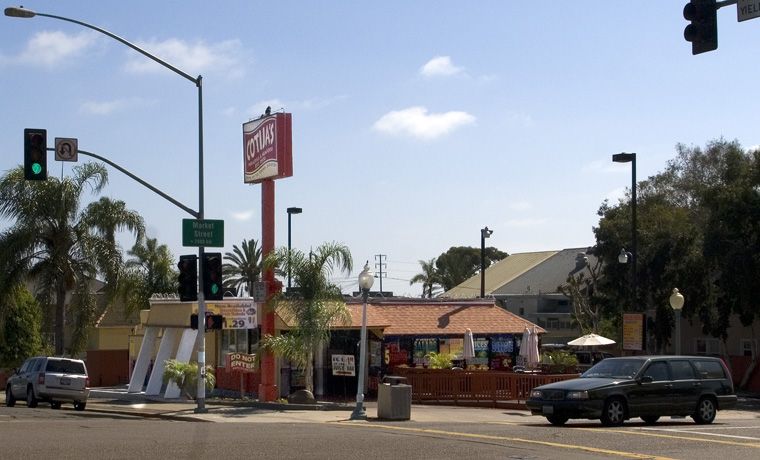 24th and Market today.  The "spider legs" remain, but the character, as well as the proprietorship, has changed.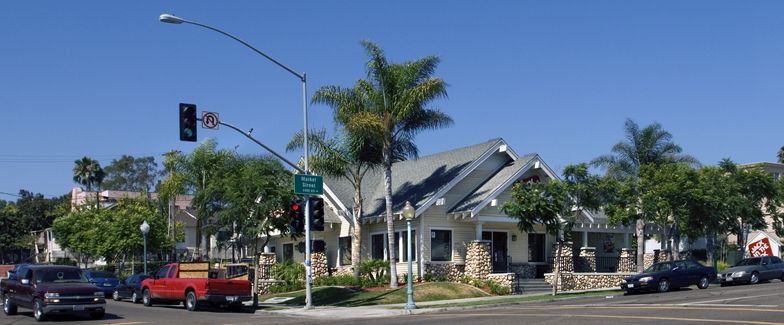 Catty corner to the original Jack In The Box site is a newer very large one.  It clearly seeks a community character appearance rather than a typical one-size-fits-all look.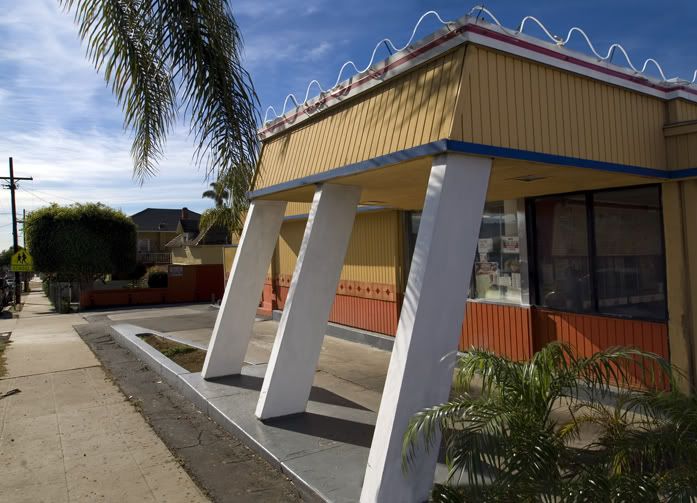 Perhaps the old site could be reclaimed and then both sites could work for one common purpose.  Have the newer site as the main dining area.  Restore the original site and establish it as a cultural history museum and monument to Peterson and Forester.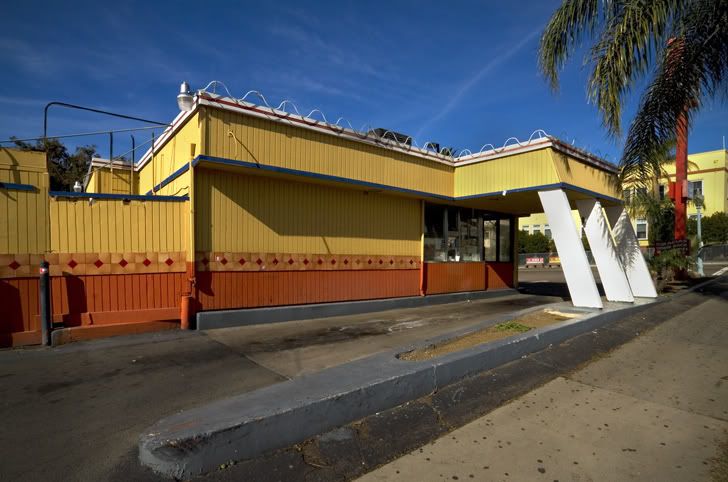 There's a timely opportunity at hand to create a win-win-win situation.  Make a great business decision based on the appeal of nostalgia and fond memories of the "Baby Boomer" generation.  To teach history–cultural and architectural–to their children and grandchildren.  And to enhance neighborhood revitalization.
All these suggestions point to one thesis.  Concerned citizens don't want to see a great legacy disappear in the name of progress.  Mid Century San Diego had a lot to say about the the shape of Modern America.  We contributed astronauts, entertainers, aviators, business people, scientists, artists and architects–just to mention a few categories. Robert Peterson and Russel Forester were among our greats.
Resources for this article:
SOHO, Save Our Heritage Organisation
Special thanks to Jaye Furlonger.  Photos, newspaper clippings, and insight on the Peterson Residence.
And Dionne "Back To The Future" Carlson.