The Boulevard is a stream of constant change. An ever present "pardon our dust" sign.

Dust. The Desert Inn, photo circa 1980. A loss of Boulevard neon around College Avenue second in importance only to the loss of the Campus Drive-In Theatre.
Dust.
Dust. This Streamline Moderne dinner night club. It spent its last days as a Chinese Buffet before being bulldozed.
Dust. Chuck Wagon Restaurants. There were three. Pacific Highway, Midway Drive and El Cajon Blvd.  The Chuck Wagon on Midway Drive was the largest. Besides the expansive downstairs eating area, there was a "Longbranch Saloon," and the "Gaslamp Room." Both sections featured live music and entertainment. Most remembered performer, Dr. Michael Dean, the hypnotist. Then a local talent at the time Regis Philbin mangaed the Gaslamp Room in the 1960's.
Of the three only the Pacific Highway structure remains. Look for it if you will, but it bears no resemblance to its glory days pictured above.
Rust. Old mechanic's shop.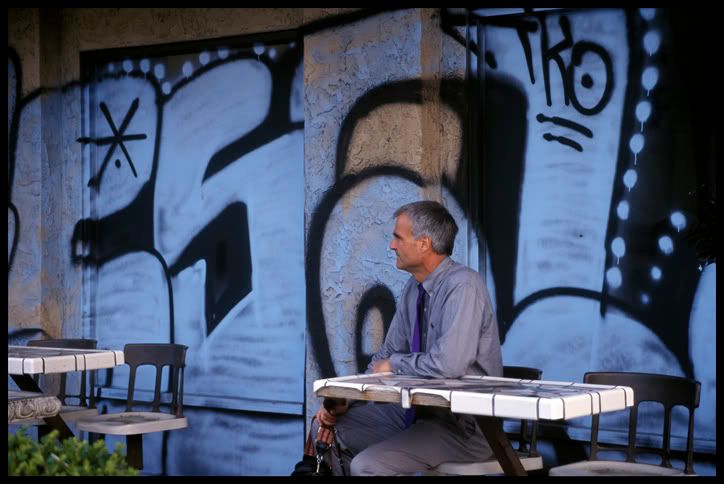 Rust. A closed Baskin-Robbins Ice Cream store. Windows blacked out and thoroughly "decorated." (Apologies here to Mr. Hitchcock.)
Rust and Dust–must be. The proprietors descended upon me and the camera like Britney's bodyguards. "You can't take pictures here!" They called the police. I said "Good! I'll be happy to hear the policeman say I can use a camera here on the side walk." The police said as long as I'm not on private property or pointing my lens into someone's window, I have every right to shoot pictures on a public street.  The man calmed down and disappeared. But the wife was unrelenting even after the police had left. Weird, huh?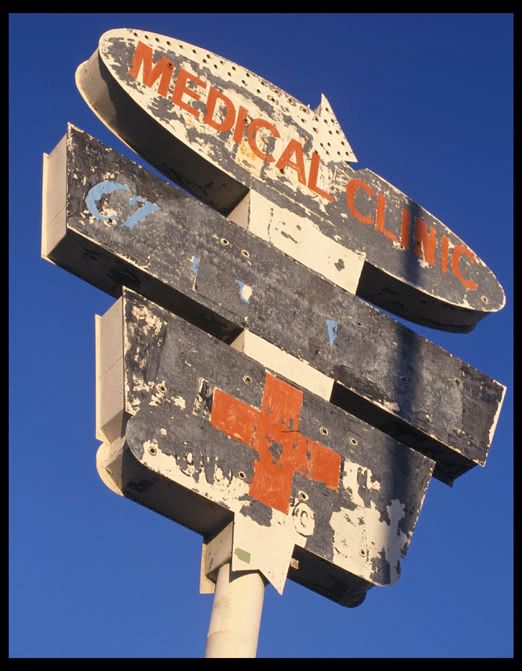 Rust. The Boulevard is a gallery of faded, rusted signs and skeletons of signs.
Dust. Remaining portion of State Theatre's terrazzo.
Detail, State Theatre terrazzo.

State Theatre and its space needle spire.
State Theatre Interior.
State Theatre snack bar.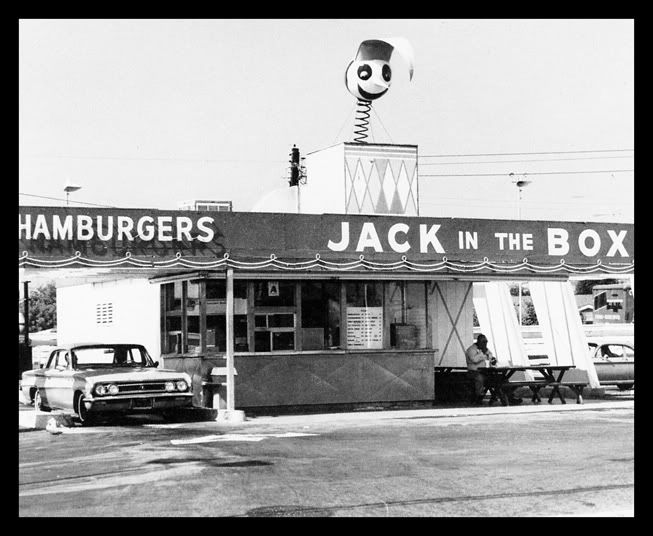 Dust. The very first Jack In The Box, 63rd and El Cajon Blvd. Dull, bland commercial architecture is there now.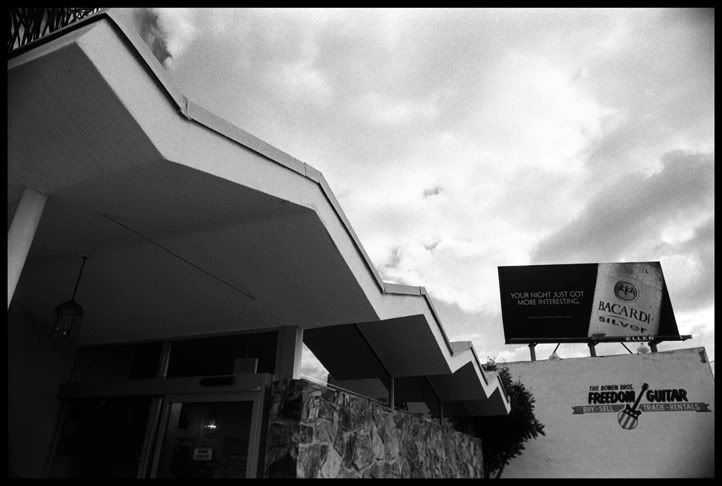 All is not rust or dust fortunately. The outstanding Featheringill Mortuary and Fairlane Cleaners do survive at 63rd and El Cajon Boulevard.