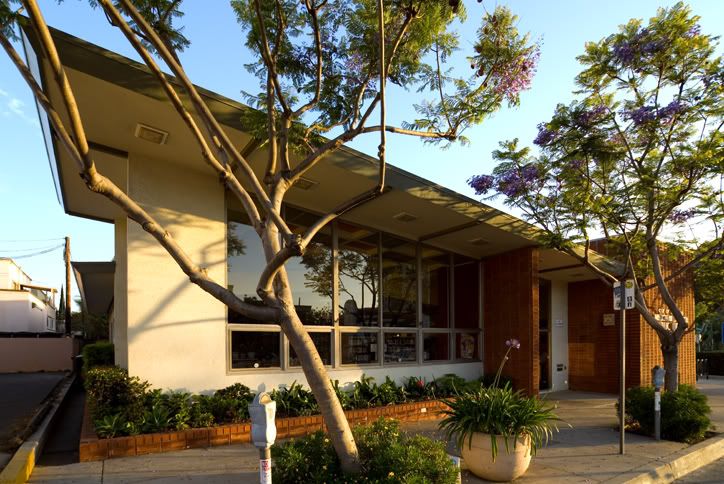 The Mission Hills Library is not unlike the first library I ever knew in National City. Both employed brick and lots of window glass. They had different roofs though. National City's roof had a lower profile. The Mission Hills Library roof almost takes flight.
National City's mid century library closed years ago. That South Bay city can boast having a fine looking slick modern library. San Diego on the other hand limps along with a collection of libraries that have been way too small for a very long time. It is a city that has pumped hundreds and hundreds of millions of tax payer dollars into sports stadiums and guaranteed purchases of unbought Chargers tickets. For Petco Park alone the city will be playing to the tune of eleven million dollars a year until 2037. Mean while the city has been unable to fund its employee's pension program, maintain its infrastructure, or to build modern libraries, especially a central library.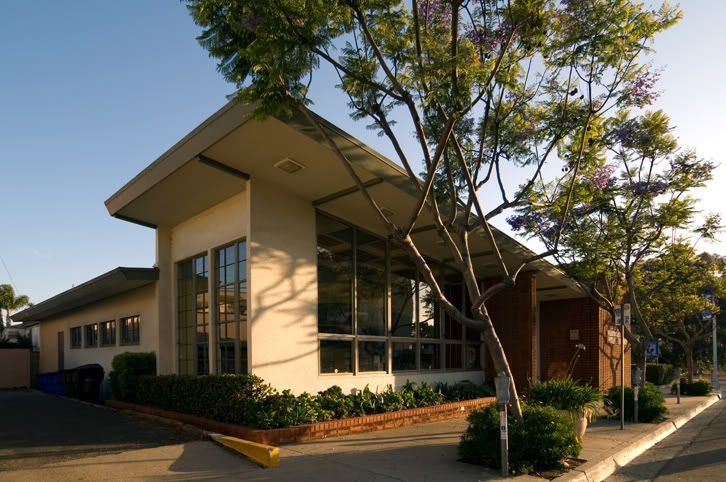 Still, the days are numbered for this little jewel. It may have outlived its usefulness as a library, but this is a smart looking warm friendly structure that can live on wonderfully serving some other purpose. It astonishes me to hear the number comments people make while I shoot old buildings. "What are you doing that for? I can't wait for the bulldozers to knock this down!" I would have thought library patrons might have more sense of history and culture–especially about the library that served them so well, so long.


And its not as if the new library needed this land. The plans are in place for a new library to be built up the street. Maybe I should have asked "what's the big hurry to scrape this little library for a six story faux Spanish strip mall deluxe loaded with condos and anchored at ground level by Starbucks? You can get that by walking down the street a few blocks. And plenty more a few blocks after that."