Rhyolite. It was once the third largest city in Nevada. Boomtown it was. Between 1904 and 1908 she was the queen of mining towns. Not just your ordinary canvass and wood makeshift structures. Rhyolite was solidly built with obvious intentions of staying around awhile. It boasted all the cosmopolitan features. Water and power. There were forty-five saloons, an opera house, an orchestra, a number of dance halls, a slaughterhouse, two railroad depots, and three public swimming pools serving as many as 10,000 residents.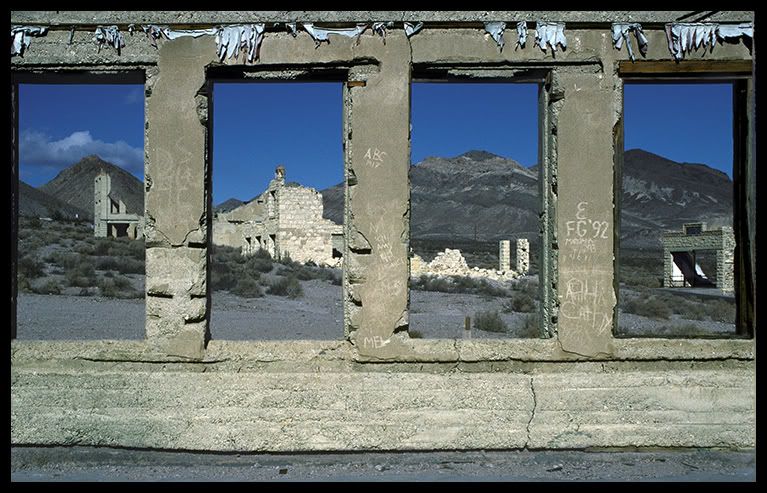 Looking out the school house window openings to the town. The Cook Bank building, left. Overbury Building (jewelry store), center. General Store, right.
Two things killed Rhyolite. The gold mines tapped out. City investors pulled out when the national economy turned sour. By 1911 the population was down to 675. In 1916 utilities were shut off. Boomtown became ghost town.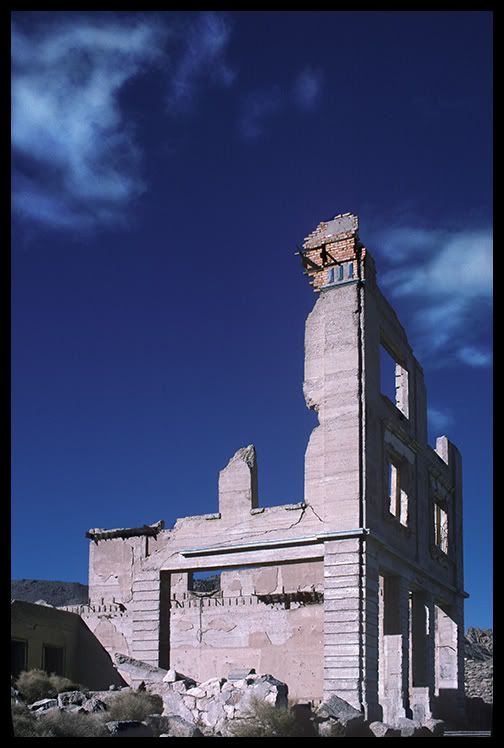 Cook Bank Building
This substantial structure of 3 stories cost $90,000. It had marble floors imported from Italy, mahogany woodwork, electric lights, telephone and inside plumbing. Various interior components and fixtures were sold off when Rhyolite shut down. Staircases, banisters, floors, etc., live on today as parts of various buildings scattered through the region.


General Store.
Rhyolite is perhaps the best known of all ghost towns. Likely the most photographed. It has served as a set for numerous motion pictures and music videos.

Train Station
Three Railroad lines came through Rhyolite. The Depot today appears in use by someone. The structure seems restorable to me.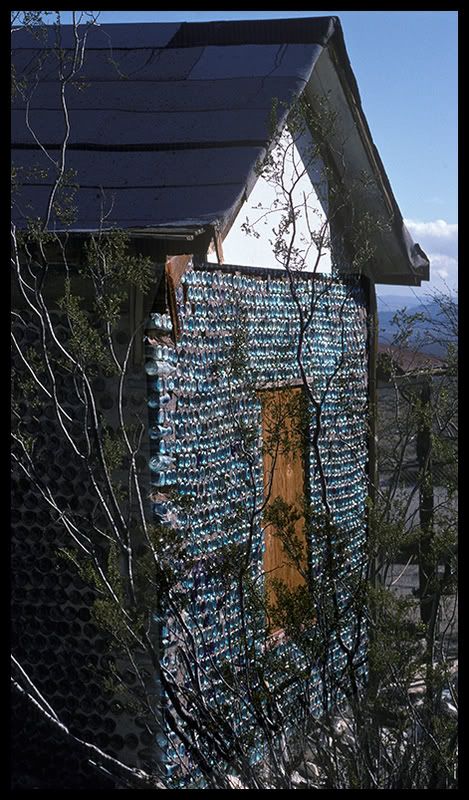 Bottle House of 1906.
The walls are completely made of glass bottles. The house has lived on through the years as a tourist attraction. However upon my visit I didn't see any caretaker. It seemed closed up.