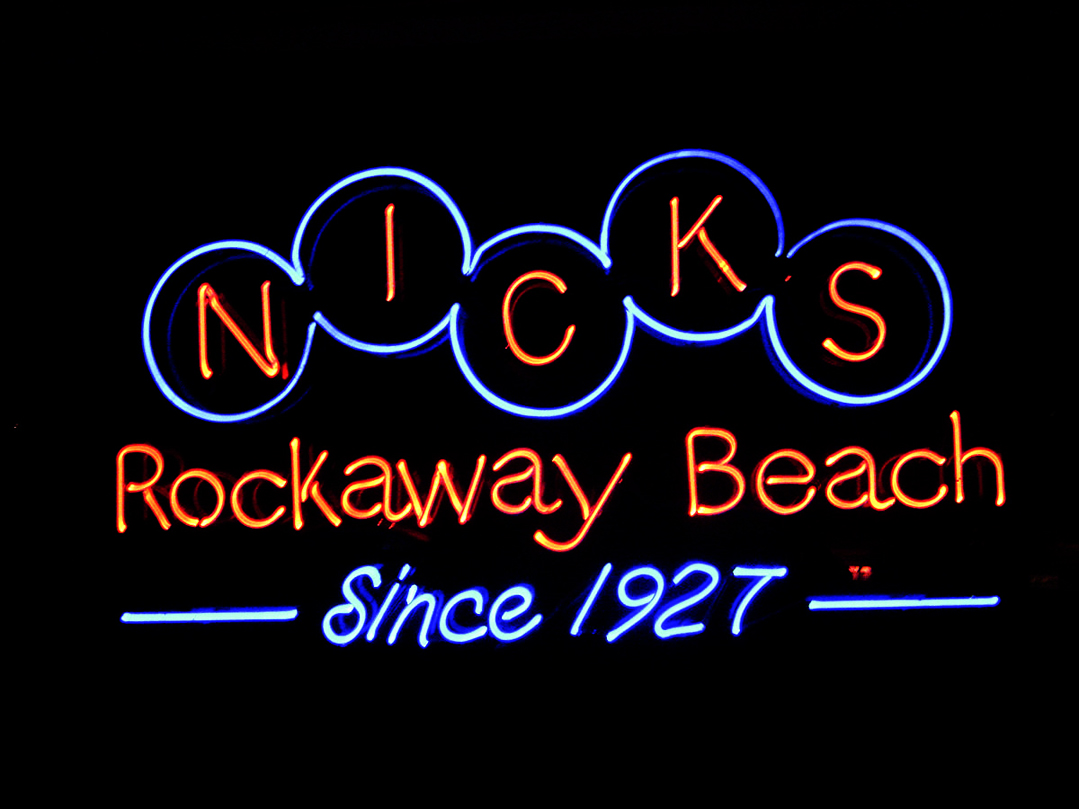 Friday September 22, 1939 "Hotter than ever. Jeanne and I drove to Rockaway Beach (Pacifica). At nite surprised by Cy and B. calling. Later Amy and S. Ross over for Tom Collins. Bed at 1:40."
Saturday September 23, 1939 "Another hot day. Sam, Tony, and I to Vanessi's late…"
"After went to the Fair – Coffee at Brazil…"
Leopold Stokowski conducts the Philadelphia Orchestra, 1939
"…And then to Stokowski's concert. Marvelous! Home about midnite. B came in later and spent the nite."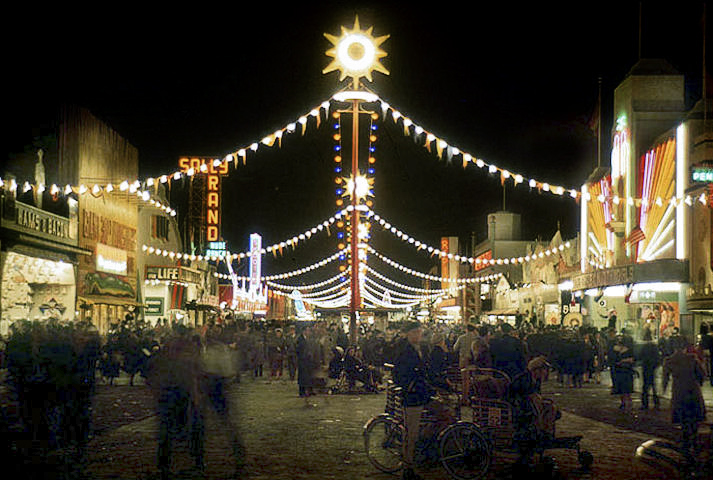 Sunday September 24, 1939. "Cool again. B., J., & I to the Fair. A lot of walking. Jeanne came home early. B.& I did the Gay Way."
Monday September 25, 1939. " Showers today. Took B. to the 11:50 bus. Registered at the Emporium. Then went shopping at Crystal Market. Picked Jeanne up after school. Picked Sam up at 6:30 or 7."
The Emporium, 835 Market Street, operated from 1896 – 1995. The site became a reconstruction project with much of the original "bones and fabric" of the building demolished, save the facade and iconic dome.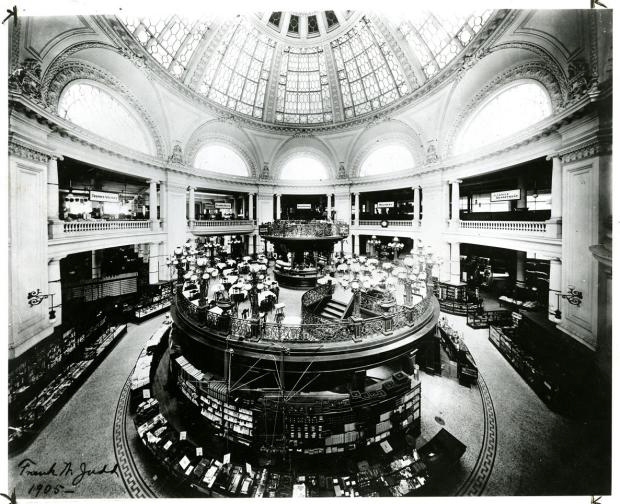 The Emporium Rotunda in 1905. The building was gutted by the 1906 Earthquake, but reopened 2 1/2 years later including the rebuilt dome.
Photo source blog.sfgate.com
The enormously delicate operation of saving the historic facade and dome during the modern day reconstruction.


Emporium facade today. The cast-iron window system, sandstone walls, columns, historic wood windows and glazing were completely restored. The revived street level features extensive display windows, bronze doors and copper piping, all elements of its 1908 appearance, as well as charming concealed entries and windows. Balustrades removed in years past are again prominent at the building's cornice and over the main entry of the fourth floor. At night, lighting highlights the facade's remarkable architecture. The Market Street facade serves as a main entrance to the centre preserving the old world charm of historic Union Square and Market Street. Image source: www.kainc.com
The Crystal Palace Public Market on Market Street at 8th Street in the 1920s. – Photo Source: Jack Tillmany via www.outsidelands.org
On August 1, 1959, the Crystal Palace Market closed its doors and was demolished to make room for an $8 million, 400-room Del Webb TowneHouse luxury motel.

"The complex was originally built in the 1960s as a motor hotel known as Del Webb's Towne House. Webb may be better known for building a Japanese internment camp during WWII, and later The Flamingo Hotel & Casino for famed mobster Bugsy Siegel. Webb built the Towne House as part of a national chain. The motel was unsuccessful from the start, and later converted to apartments." — http://sf.curbed.com

Replaced by 1,900-unit Trinity Place apartment project. Looking hard to see just what part of this architecture says anything uniquely positive about San Francisco.