There was a coffee house in San Diego/Hillcrest called Euphoria. It enjoyed a popular run before the lease expired and the proprietors relocated in North Park with a new title and clientelle. But Euphoria had a diverse following. It seemed to attract more than a share of European visitors.
This is where I met Andrej and Bostjan of Slovenia. We shared a table for coffee one afternoon. And met again on different occasions. Then I began showing them around town.
Andrej, though only in his mid twenties, was a noted physician specializing in diabetes. A real life Dougie Howser. He was in San Diego attending a world conference on Diabetes, and making presentations.
Bostjan was about the same age, but still in medical school and doing internship.
They invited me to Slovenia, to their home town and national capitol, Ljubljana.

Ljubljana has the charming looks of many renown European capitals, but enjoys a slower–yet energetic–pace with a population of only 300,000 or so.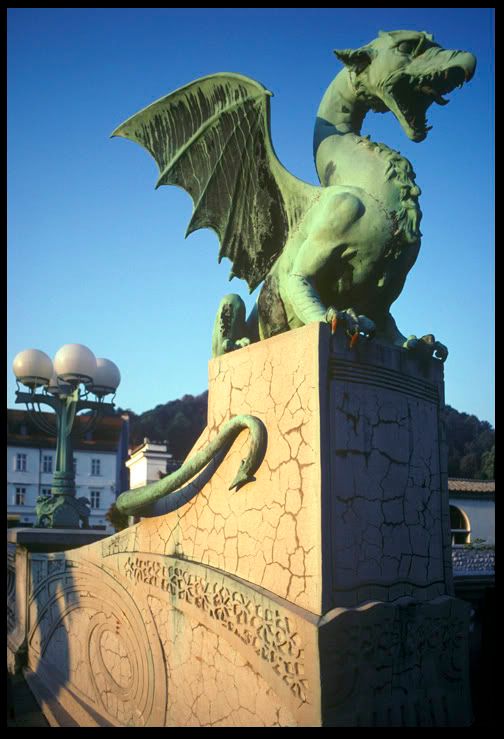 Ljubljana's mythological dragon made habitat at the near by lake. He was slain by Jason and The Argonauts. They were in possession of the stolen golden fleece when the encounter occurred. Today the dragon guards a town bridge.
A river runs through it. Providing the town a lot reflective beauty. With close proximity to Venice, Italy, the Italian influence is evident in the architecture. Not to mention the many Italian favorites on eatery menus.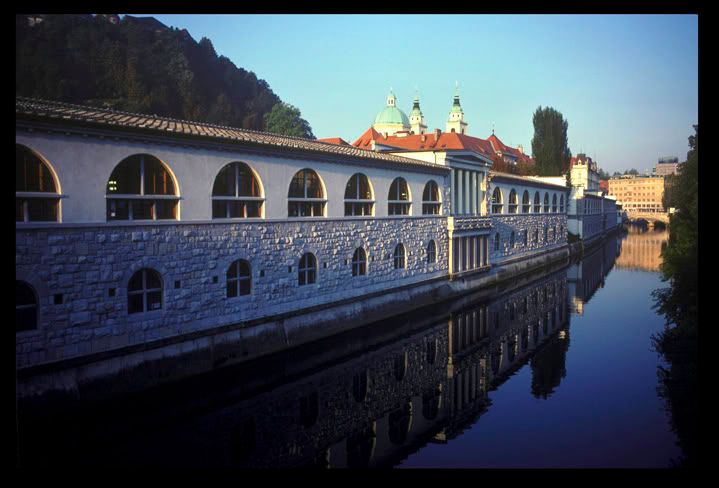 The Market Arcades were designed by Slovenia's best known and loved architect Jože Plečnik (1872-1957). He was a student of Otto Wagner in Vienna. Three cities in particular showcase his best work. Vienna, Prague and Ljubljana.

The City has many fine examples of Art Nouveau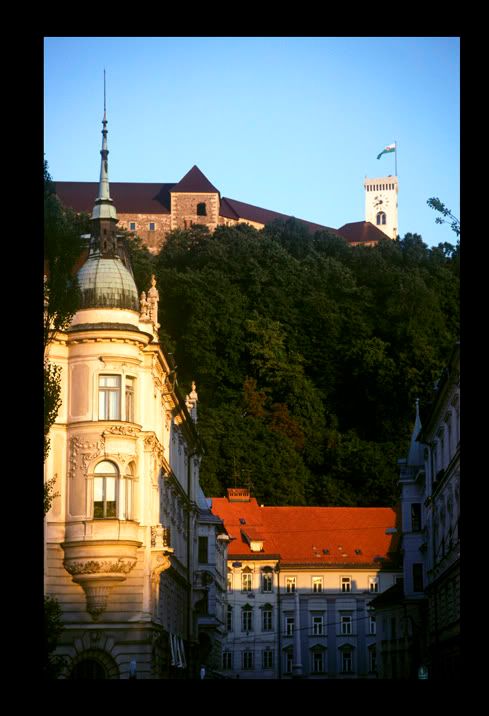 Looking up to Ljubljana Castle. Digs reveal this site has been active since the 12th Century B.C. Fortification began in Illyrian and Celtic times. On through Roman Times and beyond. The tour I took with Andrej showed how the castle became more of a hunting lodge for European royalty. The interior walls are laden with heads of various beasts taken for prize.
That's not exactly a close up. But that's my host, Andrej.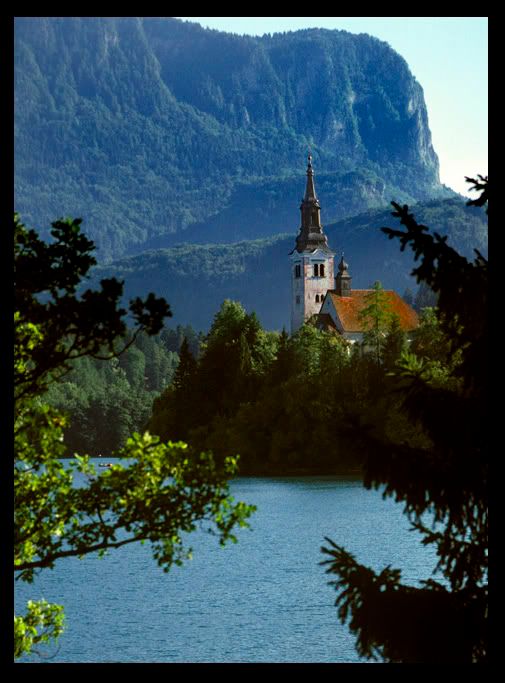 There's The Lake. Former home of The Dragon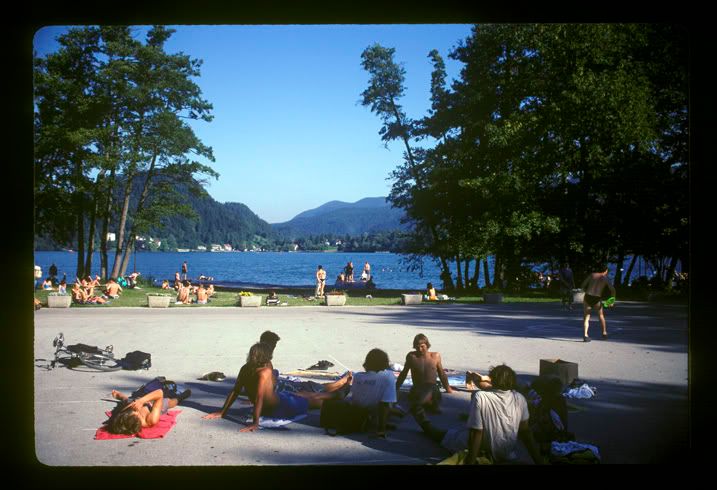 Now the summer play ground for other species of monsters.
.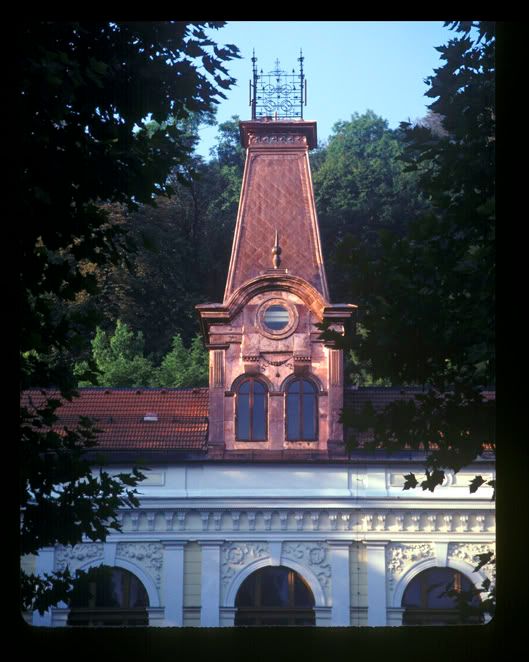 A city of charming architecture. That's a freshly polished copper clad roof.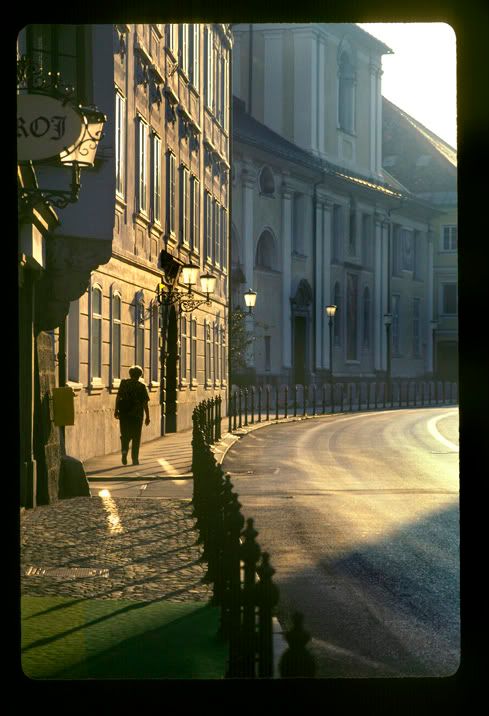 A quiet morning. But later the streets are busy. And city residents love their sidewalk cafe lifestyle.