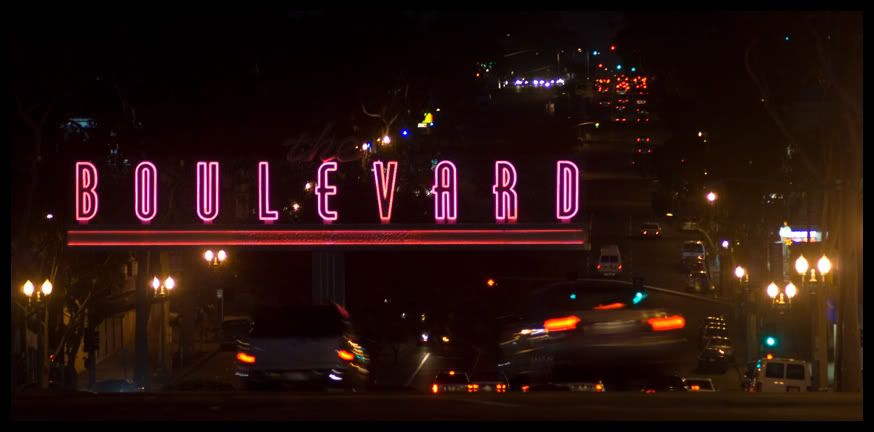 A fellow Boulevard fan, Steve Freed–who grew up around The Strip–remembers El Cajon Boulevard as "a sea of
neon."
"Not only was it a sea of neon," he said, "but it was animated neon."
Frank The Trainman, though actually addressed on Park Boulevard, is poised in perfect view at the head of El Cajon Boulevard. Though the storefront attached to this sign was razed, the sign was preserved for the new structure.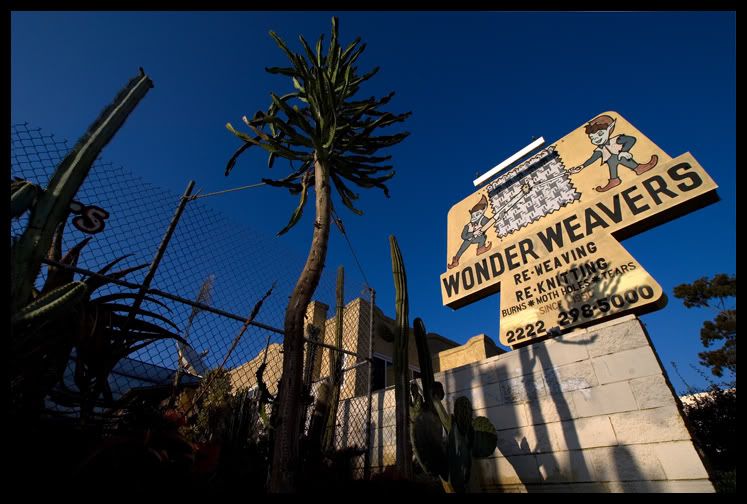 This Wonder Weavers sign was among El Cajon Boulevard's most appealing animated neons, said Steve Freed. Nowadays you can see the holes where the neon was held. But no neon today.
Steve Freed, 1977
Steve brought me some pictures from his photo album to scan and work on. This one was a bit tough to work with, but I included it here because the Magic Corner at Guaranty Chevrolet was a great piece of neon animation. That's a neon outlined magician figure at the Magic Corner sign. He waved his magic wand.
No more magic at that corner. Just an ugly strip mall. The Guaranty Chevrolet building, now dilapidated, is a furniture store.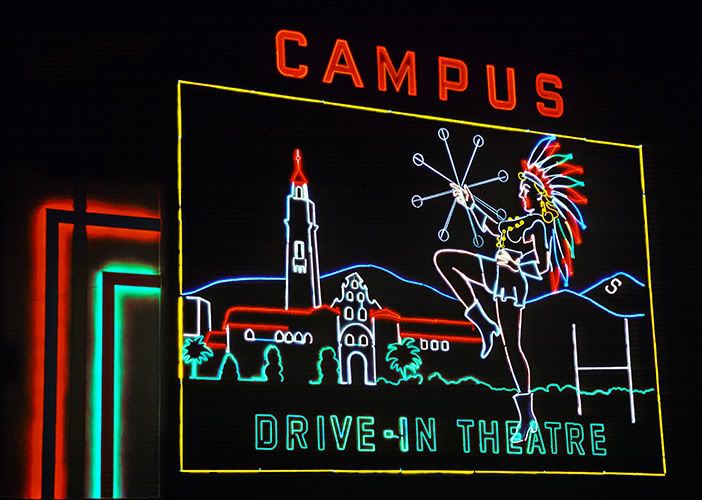 The undisputed queen of Boulevard animated neon, The Campus Drive-In Theatre.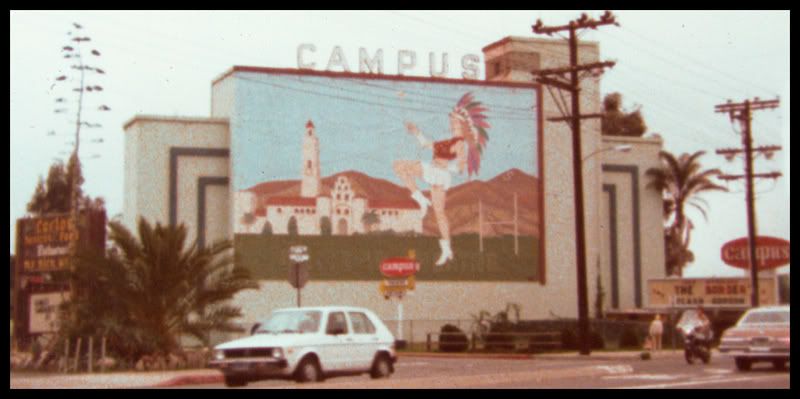 S. Freed, 1982
Steve snapped this shot in 1982 just before The Campus Drive In's final curtain. Although the Majorette was saved the mural and all the artwork associated with the scene surrounding the majorette was demolished. The neon outline of the mountains, campus buildings, and the letters no longer accompany the baton girl.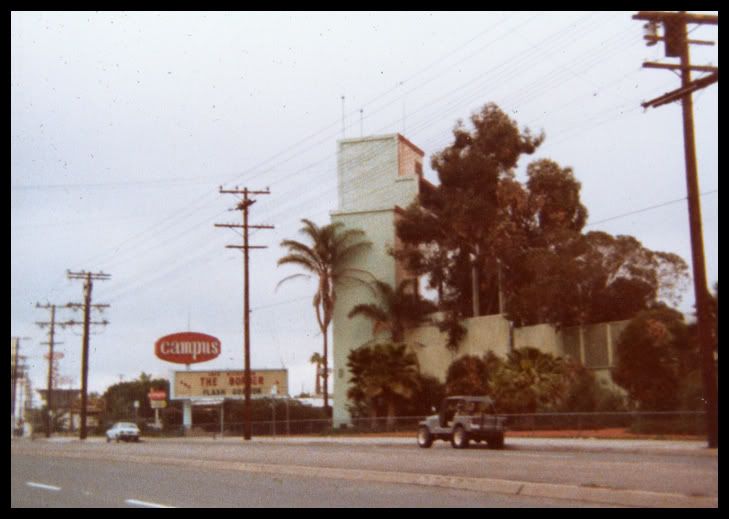 S. Freed, 1982
Said Steve: "Trees were grown to surrounded the sides of the movie screen because cars used to park and watch a movie from the street."
S. Freed, 1982
Campus Drive-In Ticket Booth.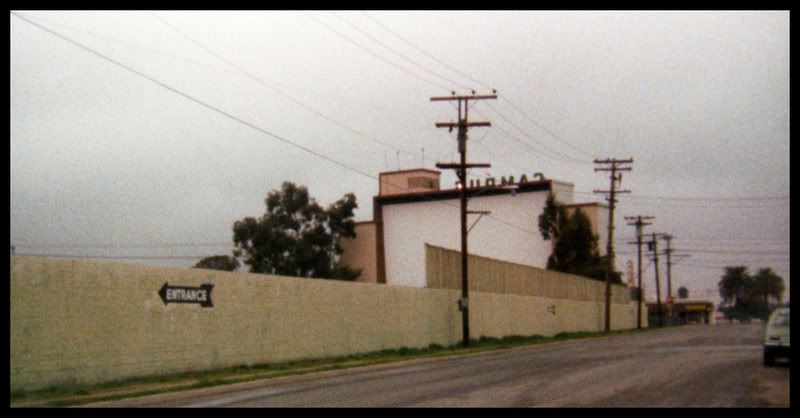 S. Freed, 1982
Side street to the ticket booth.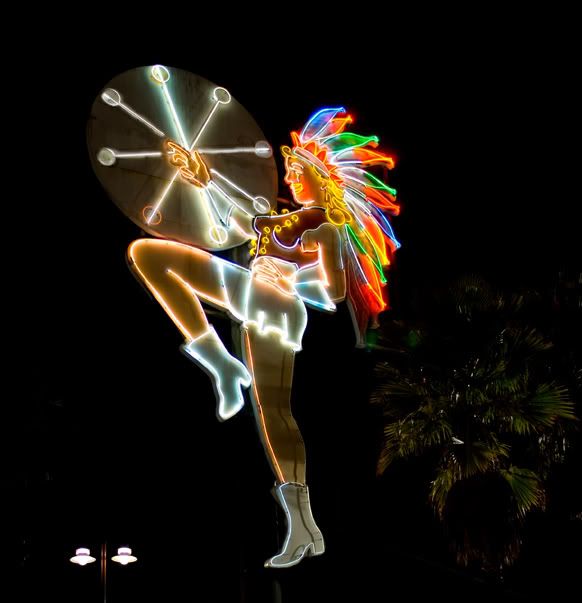 The Campus Drive-In Majorette today at College Grove Shopping Center. I took the liberty of cropping out the marvelous Mervyn's back-lit plastic sign. She twirls away just a proudly as ever.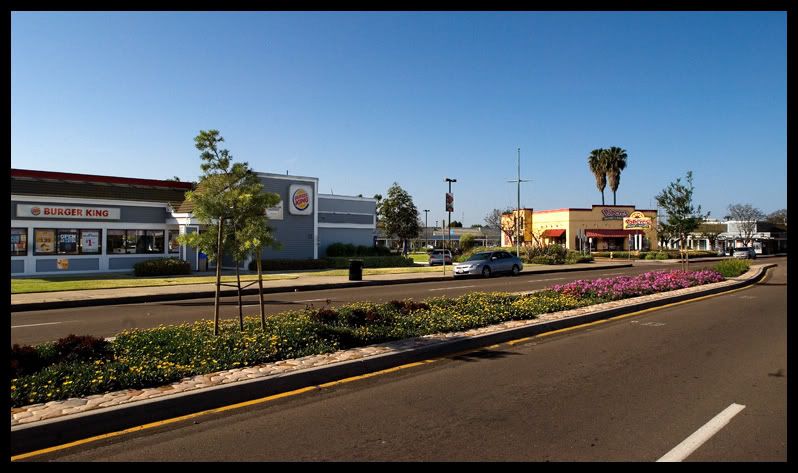 There's not a lot to see at the site where the Drive-In once stood so dramatically.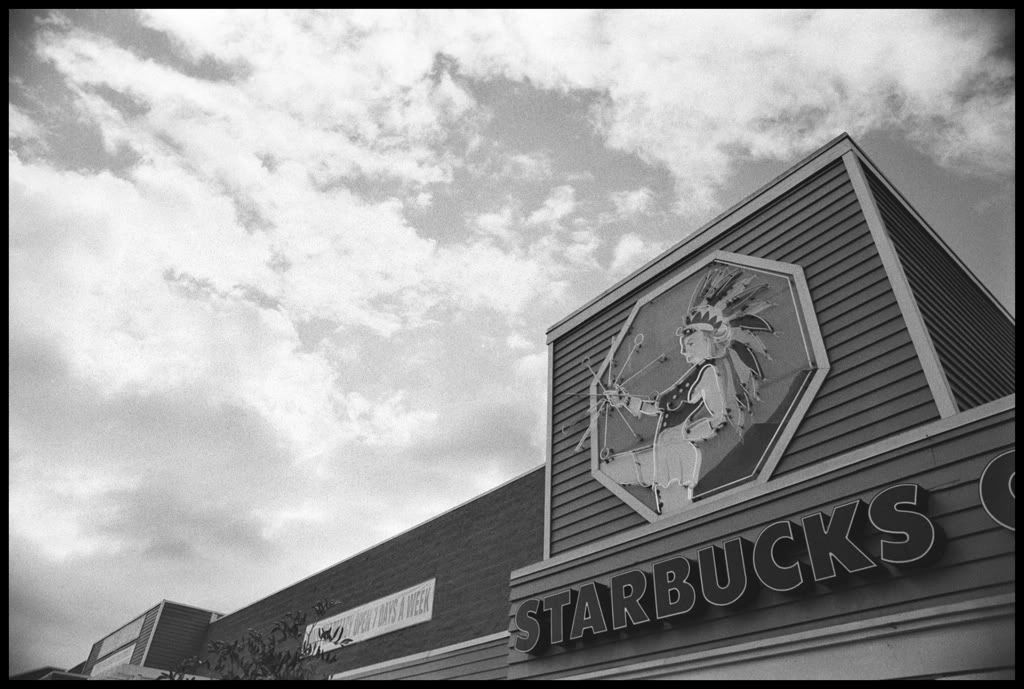 There are small token neon majorettes sprinkled through the development to pay homage to what once stood there. But otherwise you'd have to say one old icon was replaced a new one. Starbucks.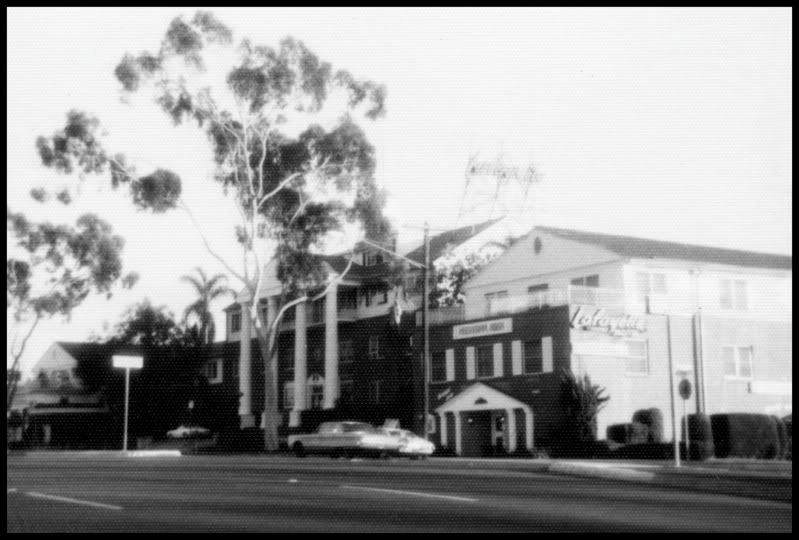 Steve snapped The Layfayette Hotel in 1977. The neon was still intact.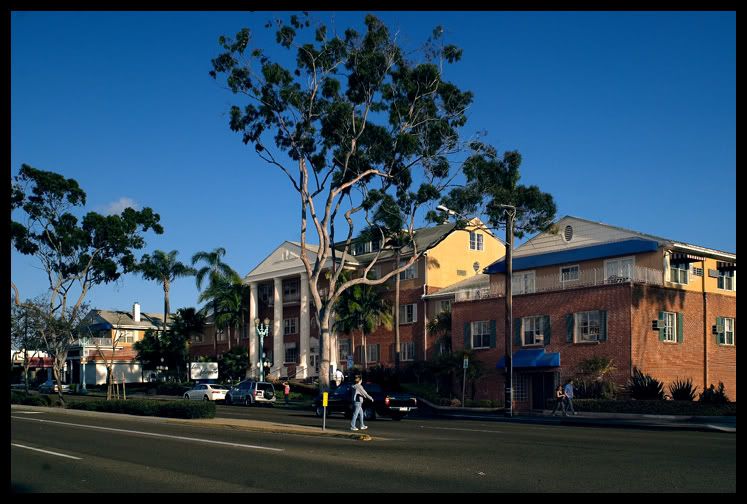 Changes are due for the Layfayette as well. At one point it faced demolition. Then compromise. The facade was to be saved as a front for a behemoth high rise behind. That apparently is still the plan, except the height has been reduced, "Mitigated." Let's hope it works better than other completed hybrid projects around town.
The Red Fox Room at the Layfayette kept the neon.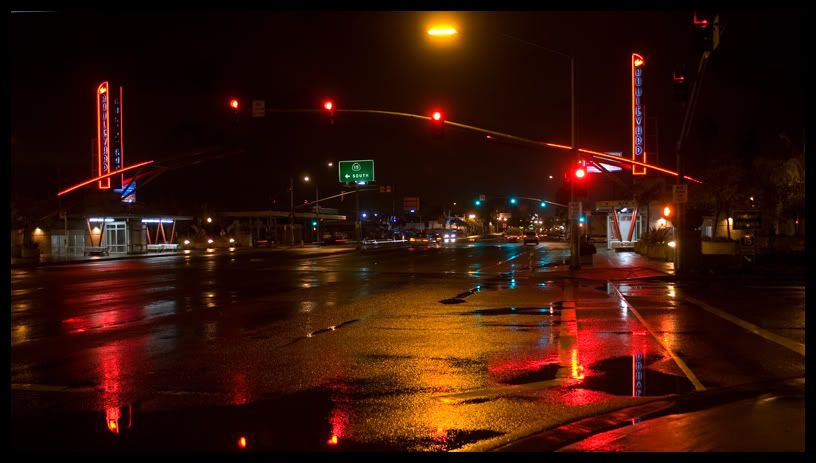 Neon is coming back. Perhaps it will never again rival the glory days of the 1950's, but neon is gaining favor once again. This is the new transit plaza on El Cajon Boulevard at Interstate 15.
Next: Boulevard Memories: Sights Then and Now. Comparing various Boulevard sites with "before" and "today" shots.