Bonita Woods in Bonita, CA, was maybe 1/2 – 2/3rds complete as a tract development by Drogin Homes (Leonard Drogin) when we moved in, February of 1965.
The firm Palmer and Krisel had also developed a tract "Pacifica" in San Diego just before that. Drogin's instruction to Krisel for Bonita Woods was to "tone down" the modernism. "Bonita is horse country!"
Above, left, is how a mid-century Bill Krisel designed tract house should be treated – restored and looking great! It's in Drogin's San Diego tract called Pacifica. Compare it to a similar Krisel design in Drogin's Bonita Woods tract on the left – all slathered up with "home improvements." Sadly most of the homes in Bonita Woods have been remuddled beyond recognition. It seems no one there has even a clue of what they have. Or what it could be, or should be.
The design quality of a master architect has an integrity that can not be equaled and can never be surpassed – not by loading a house up with gimmicky "updates." Historic home restoration works just as well for Modernism as it does Victorians, Craftsman, and Revivals styles.
Remuddling of a lot of great homes and the extreme over development Bonita Valley as a whole has taken the "horse" out of horse country.
Here's an early 1960's view of the Bonita Valley, specifically the golf course built in the basin of the Sweetwater River plane. The golf course was a big part of the push to bring residences and businesses to Bonita. Hall of Fame golfer Billy Casper owned a home overlooking this golf course in the early to mid 1960's. Maybe as late as 1971 because I remember having a class with Billy Casper Jr. at Bonita Vista Jr. High School.
Billy Casper's home was directly across the valley from Bonita Woods on a hilltop. So it was a quick drive for him over to Bonita Woods for this photo shoot.
These were the model homes of Birchbark Lane, 1963/64. This is a xerox off of micro film, so its grainy blurry view. But you can make out the stubs sticking up near the right side curb. Those are terminals for the underground telephone lines, a big midcentury innovation. The big two story house at the end of the cul de sac was the home of San Diego TV personality Bob Dale. He only lived there a couple of years, but I remember seeing him drive around in his Mercedes convertible. Also note the tree boxes. When we bought our house on Bonita Woods Drive, there was a planter exactly like the one shown. But it didn't come with the house. It got moved further up to another part of the tract as the new models and home were built and opened up.
Long horizontal lines of Krisel's mid century ranch houses. The Bonita Woods sales brochure – which I had a copy for years, but don't now – had similar drawings and floor plans of the models as seen here in this San Diego Union ad.
A September 22, 1963 San Diego Union article reports "Another subdivision taking advantage of the rural appeal of the (Bonita) area is Bonita Woods, a development with 73 sites along the slopes on the northern end of the valley being developed by Bonita Woods Construction Co., a Leonard Drogin organization. Bonita Woods also features half-acre sites, many with a view overlook of the valley and the golf course. To keep variety in this project, buyers have a choice of 15 floor plans, including two story models, and each plan features optional expansion variations.
"These home range in size from 1600 to 2,654 square feet, with from three to six bedrooms plus a family room, and many of the plans include three bathrooms. Six families have moved into their new Bonita Woods homes."
The 1963 article "Bonita Feels Lift Of Allure," goes on to say "Bonita is on the move."
"The picturesque rural community in the South Bay area, known for its residential appeal because of it rustic beauty, wooded acreages and the quiet country atmosphere of its surroundings, is now caught up in the rush of a development surge.
"Current and proposed projects are adding and will add hundred of homes and apartments. Before it tapers off, the prospect are this growth wae will attract accompanying commercial development of similar scope.
"Bonita Valley stretches east from Chula Vista six or seven miles to Sweetwater Reservoir. The valley floor is bordered on the north and south sides by rolling, wooded hills with gentle slopes. These hills are covered with large luxury homes, most of them on sites of an acre or more and many of them secluded among towering trees, predominantly eucalyptus. There is natural beauty all about.
"In fact, Bonita has been termed the Rancho Santa Fe of the South Bay. The homes are not as elaborate as some of the residential extravaganzas in the other community to the north of San Diego, but Bonita has many dwellings on the upper-luxury side. The country atmosphere is also comparable. The location is convenient, too, close to shopping, schools and the metropolitan centers of business and industry. In this respect, Bonita has an advantage over the more distant Rancho.
"It is no wonder, then, that Bonita has undergone a residential building boom. The built-in appeal has attracted a great many new residents, and hundreds of new homes have been erected in the past decade. Through it all the area has retained its rural charm.
"However, the pace of the last decade in Bonita has not been comparable with what is happening there now. Mass-scale development has come to the valley. Large new residential sub-divisions are under way at the moment. More are proposed for the near and not too distant future.
"There are some who are apprehensive, lest the progress will turn Bonita into a crowded suburb at the expense of its rural flavor. In tact, Chula Vista, by the strip technique of annexation, already brought a large acreage in the heart of Bonita into the city.
"But so far, at least, at least the fears are not valid. The country look remains. The new developers themselves realize the basic appeal of the area an are capitalizing on it instead o destroying it.
"The two largest residential subdivision now being developed, Bonita Woods and Bonita Bel Air, are on the opposite rims of the valley where each home site is at least one-half acre or more. The homes are large and far above the average in cost, with prices starting at $24,000 and ranging up to the $40,000 – $50,000 bracket.
"Bonita Valley also has a man-made beauty safeguard — golf courses. There are two, Bonita Golf Club with an 18 hole course at the western end of the valley and the more recent Bontia Valley Country Club, with a long 18-hole course that winds through the eastern section of the valley.
Carrol Mohr and Gordon Pettit survey some of the 500 eucalyptus trees to be set out on Bonita Valley Country Club fairways.
"The new golf course, with its series of small lakes and its verdant fairways line with young trees, is perhaps as much responsible for the current surge of Bonita development as any other one factor.
"Homes along the bordering hills, including the dwellings in the new subdivisions, have an overlook of the golf course. Other proposed residential developments will border the fairways and greens.
Once again Billy Casper as Bonita's First Resident and spokesman. Also Bill Krisel was not the only great architect at work in mid century Bonita. The Bonita Valley Country Club was a great modern ranch style architectural creation by Master Architect William Lumpkins.
"The Bonita Valley Country Club golf course was opened three years ago. Currently under construction, due for completion and opening in October is an 8,400 sq ft clubhouse., valued at approximately $125,000,which will include dining room, cocktail lounge, a pro shop and administrative offices, as well as locker rooms for for men and women. A large swimming pool is also being installed.
"The clubhouse is designed for expansion as the need arises. The membership is now 250, and expanding toward an eventual goal of 400, with a social membership of 200 or more. Next project on the organization's schedule is a youth center, with a swimming pool and activity building for children. It will be on a site adjoining the clubhouse.
Also designed by Master Architect William Lumpkins, The Bonita Village Shopping Center. My earliest memory of it was eating at "La Pinata" Mexican restaurant under the gable of this broad roof.
"Even Bonita Village, with its shopping center of 14 stores and offices including a gas station, is keyed to the rural atmosphere, patterned more after the country store of the Old West than the modern lines of today's centers. A wide porch like arcade provides the link between shops and offices.
"The shopping center, completed more than two years ago at a cost of about $500,000 is on Bonita Road, at the western end of the new golf course.
Sara Pettit, right, and Columbian living with the Pettits. Sara was Gordon Pettit's daughter. This photo was 1964.
"Several other major developments are proposed in this vicinity.
"Daniel Thomas of National City has announced plans for a deluxe apartment project, La Bonita Town and Country, on a 10-acre site bordering the golf course. Proposed are 200 units of one, two and three-bedroom apartments, the buildings clustered around a recreation area, which will include a recreation building and game courts. Sauna baths are also planned.
"The entire project is expected to cost $3 million or more. According to the present design each of the apartments will have a view-window overlook of the golf course.
"The first increment of this development includes 66 apartments. Spokesmen said construction would now be underway, had it not been for the differences of opinion the developer had with the Chula Vista Planning Commission. Thomas presented plans for three-story apartment buildings, rejected by the planner who would limit the height to two stories. The matter is now on appeal before the Chula Vista City Council. Whatever the decision, it is expected the development will get under way soon, even if the plans must be revised.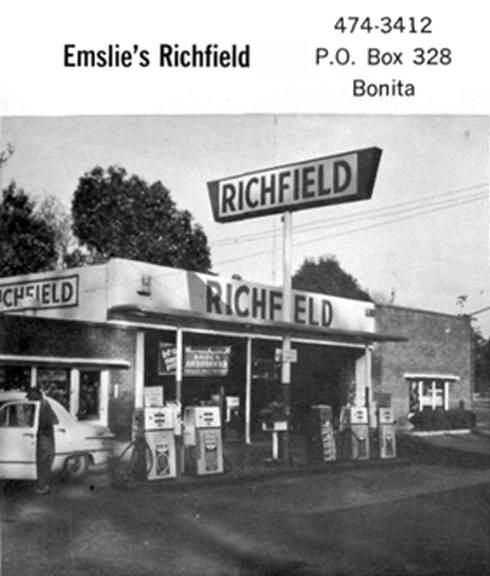 There were two gas stations when we moved there in 1965. Note the ranch style architecture of the Standard station. Blending well with the William Lumpkins designs of the country club and shopping center, if it wasn't designed by him personally. It may have been!
In concert with the new golf course, country club and shopping center was Bonita Verde Estates. The Pettit family had a home there overlooking the golf course.
From 1964 "Site improvement work is expected to start this week on another new subdivision of 49 sites, each one-half acre, on a 25 acre parcel where Sweetwater Road borders the golf course at the western end. Twenty-six of the home sites will adjoin the fairway."
"This project, called Bonita Verde, is being developed by Long Construction Co., headed by two brothers, Walter and Herbert Long. The Longs said Bonita Verde is intended for custom homes. They plan no building there themselves, but will offer the sites, fully improved with utilities, to builders or individuals who may want to erect their own custom designed dwellings. All utility line will be placed underground at Bonita Verde. Herbert Long said prices have not yet been set, but he expects these lots will sell for $10,000 or more.
"George Fretz, Chula Vista planning director, said Bonita Verde "should be interesting from the contour standpoint," even though the natural terrain is relatively flat. The reaso is that each building pad must be terraced higher than the 50 year flood line of the valley. The Sweetwater River bed winds through the middle of Bonita Valley."
"Also proposed for future development are 52 acres of truck farm crop lands at the southeastern end of Bonita Valley golf course, Merle F. Palmer of Chula Vista purchased this acreage earlier this month, and said he intends future residential development. "I may sell lots or I may sell home." said Palmer, "and there are other types of development which I am considering.
Today's Google view of Bonita Verde Estates. As with Bonita Woods, this development has suffered the awful blight of ugly remuddeling and other "improvements." A lot of today's development tracts come with an owner's association with design guidelines and restrictions for changes to the master plan elements to better retain community character and quality of living environment. I've been to Del Webb projects managed that way. No doubt lessons learned from their earlier well designed projects turning ugly over the years. Sad no such community association guidelines existed for Bonita Woods. That paradise got completely plundered.
It looks like the original entrance to Bonita Bel Aire got a bit neglected over the decades, including lost lettering. A little sprucing up obviously came along.
"Largest single family homes project now under way in the area is Bonita Bel Air, on a plateau above the valley at the Bonita and Otay Lakes roads interesection.
"Gerald and Lee Patrick Hart of Hart and Sons Construction Co have 80 acres under development. There are 50 houses under construction and nearing completion and plans for 50 more to be started within a month."

I remember this development had big flags on tall poles to attract people to the site. I also remember the sign indicating the contractor's and builders name. A red heart was a symbol or logo, Hart and Sons Construction Co. My dad who was a licensed Journeyman Carpenter said the homes in Bonita Woods were better built.
"Many of these homes are on the rim, overlooking the fairways and greens. In fact Gerald Hart was so impressed with the site that he sold his Chila Vista residence and is now constructing a large new luxury home for himself on one of the rim lots.
"All homes in Bonita Bel Aire are in the luxury category, ranging from 1,800 to 2,600 square feel, and priced from $29,000 to $42,000. The homes include three, four and five bedrooms, all with two and one-half bathrooms, and all are on half acre sites. All garage doors are equipped with electric opening devices.
"Hart said the second unit of Bonita Bel Air will include homes in a wide range of price brackets, from $25,000 on up.:

"The Hart brother last year also developed Bonita Golf Highlands, a subdivision on the north side of the valley. Thirty-one homes in the $29,000 price bracket were built there, all of which have been sold and are now occupied.
"Many San Diego County areas are complaining this year of a slowdown in sales activity, but not so Bonita. Sales records at the new projects are significant of the attraction that living in Bonita holds for prospective buyers.
"In spite of the fact this luxury housing priced at levels much higher than the average, all 24 houses under construction in Bonita Wood have been pre-sold.
"The Hart Bros report 19 sales so far, in their new Bonita Bel Aire, with more in negotiation from prospects who have seen the models. Some families have started moving into the few homes that have been completed.
"Near the western end of the valley is another new subdivision, Bonita Manor, a small one of just 20 homes built by Jack R. Mestler Co. More than half of these have already been sold. The homes, along Duffy Way just off Bonita Mesa Road, are priced at $22,800.
"Also indicative of the development upsurge in Bonita are rising land values.
"Gordon Pettit, one of the owners and the manager of Bonita Village shopping center, said commercial acreage in the alley which could have been bought for around $8,000 an acre five years ago has sold recently for as much as $20,000 to $30,000 and acre, depending on the location.
"Several factors, other than golf courses and the valley's built-in rural appeal, are figuring in Bonita's current growth.
" link of the new South Bay Freeway has just been completed, skirting the norhtern edge of Bonita. It provides better travel connection with other major thorough fares, both to the west and the east.
"Also under construction is the new Southwestern College in the Sweetwater Junior College District, a $6 million educational plant just tow and one-half miles up Otay Lakes Road from the heart of Bonita. Construction has started here on 19 school buildings, which will be ready for classes next fall. The construction alone was put under contract at a cost of $4,396,000.
"Southwestern College has a site of 158 acres, but the building will be grouped within 40 acres. The school plant consists of nine sperate complexes, including fa school of business, science, phyial education, liberal arts and so forth. Already there are 2,613 full and part-time students enrolled in this two-year ollege, whih now hold its classes in the Chula Vista High School.
"A part of Bonita's natural beauty is Glen Abbey Memorial Park, with its famed Chapel of the Roses. The cemetery, dotted with lkes and spreading over lawn covered, wooded, rolling hills, has been there a long time – since 1923 – but the park covers only 29 acres. It has expansion room of more 132 acres.
"New development is also under way in Glen Abbey. Nearing completion is is the high terraced, two story high Sleep Hollow Mausoleum, a steel and concret structure faced with marble. The garden-type mausoleum, costing about $250,000, cover three-fourths of an acre and has 5,000 crypts, pule other ground crypts within the courts of the structure. There are long rang plans on the board for another mausoleum to provide at least 7,500 more crypt.
"Primarily the appeal of Bonita i still the same as it has been for years, a rural home close to urban areas, for country living almost with the city.
"Bonita still has farms, its riding trails, stable and now golfing and recreational facilities. Otay Lake with its boating and sometimes excellent fishing is a few miles away.
"Many Bonita families with ranch homes stable their own horses. For others, the is the Bonita Valley Farms riding academy with stable, corral, riding rings and more than a 100 sadde horse on a 25-acre place at 2905 Bonita Mesa Road, the western section of Bonita Valley. The stables are operated by Bob Bradley, who moved hsi "School of Equitation" to Bonita four years ago from San Diego's Balboa Park.
"Bradley's riding stable are active every day, but each Sautrday they draw from 150 to 200 youngerst form Bonita nad othere areas to learn the fine opoing of horsemanship. Bradley said he also has extensive plans foro expansion of hisriding establishment, which includes two clubhouses.
"The Indians discovered the appeal of Bonita ages before the white man.
"They made it one of their meccas as long as 7,000 to 10,000 years ago or so the evidence indicates.
"When grading was underway for Bonita Woods, many Indian relics were found. When the bulldozers dug deeply into the terrain, sign were found of La Jolla Indian culture, at leas some 5,000 years before, so the exerts believe.
"Ages later, the San Diegueno Indians dwelled on this same land, as indicated by the artifacts and relic unearthed near the surface. One spot was found where ancient Indians apparently made their tools. Among the relics was a quaint, cumbersome stone drill.
""Indian artiacts have also been found on the floor of the valley where the fair ways of the new Bonita Valley Counry Club now meander along the river bed.
"Some studen say the Indians undoubtedly were attracted by the water they found in Bonita.
"But like the moderns today, they also probably found it to be a swell place to live."